40 Fun Facts About the Most Popular American Baby Names of the Last 100 Years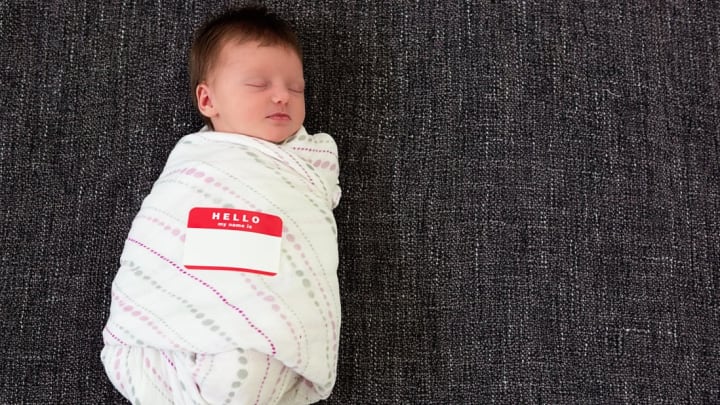 iStock / iStock
Baby naming trends come and go. Some names spike and then drop out of view while others stick around for years. The Social Security Administration's list of the top names over the last 100 years shows how many people have been given a particular name since 1917. Some names accrue numbers slowly, by maintaining a low level of popularity over a long period of time, and some rack up the numbers by being wildly popular for a few years. Boy names tend to be less variable than girl names, so their overall numbers are higher. By the numbers, the first six most popular names are boy names, with the most popular girl name first making an appearance at 7th place overall. The second most popular girl name comes in at 15th. Here are some other things to know about 40 of the most popular U.S. names of the last 100 years, organized into 20 boy and 20 girl names.
BOY NAMES
1. JAMES
The most popular boy name over the past 100 years is James. More than 4.5 million boys have been named James, nearly 3 percent of all boys born during that time. Though it has ranked as low as the 19th most popular name, it was number 1 from 1940-1952.
2. JOHN
John, like James, has stayed consistently popular for boys, though it has slid from number 1 to number 28 over the last 100 years. In 1923, more than 5 percent of all boy babies born that year were named John.
3. ROBERT
Like James and John, Robert has stayed consistently popular over the years. It hasn't appeared in the top 10 since the end of the 1980s, though. In 1934 Robert, and its variations of Bobby and Bob, all made the top 100.
4. MICHAEL
Michael is the most common boy name for people currently alive. It has not been out of the top 10 names given to baby boys since 1943, and had an unbroken streak at number 1 from 1961 to 1998. In 2016 it was still ranked at number 8.
5. WILLIAM
William is another steady classic, like James, John, and Robert, that has maintained its consistent level of popularity. It did have a brief, minor dip in the 1980s and '90s, but it's back on top again, or nearly, ranking as the number 3 name for boys, ahead of the other classics, in 2016.
6. DAVID
David has been another steady classic, but it only reached number 1 once, in 1960. But that was a big year for births, so almost 86,000 babies got the name David in that year alone. Dave was also a big hit that year.
7. RICHARD
The name Richard had its biggest year in 1947, and stayed in the top 10 until 1970. In 1959 there were also over 13,000 babies named Ricky, as well as thousands of Ricks.
8. JOSEPH
Joseph's peak year was 1917, but it has been in the top 25 for the 100 years since. It has never reached number 1 though.
9. THOMAS
There were more than 45,000 baby boys named Thomas in 1955. Its popularity began to decline in the 1970s, but it remains one of the top 50 boy names.
10. CHARLES
Charles ranks 10th of all boy names over the last 100 years, with over 2 million total. It has maintained a steady general popularity, but hit its peak in 1929.
11. JOSHUA
Joshua is the 22nd most popular name of the past century, but it's notable in that it is the highest ranking name that was neither consistently popular over the whole time, nor a baby boomer name. Joshua didn't break the top 100 names for any year until 1971, and it achieved peak popularity in 2006.
12. KEVIN
Kevin, the 23rd most popular name of the last 100 years, started to spike in popularity at the beginning of the baby boom, reaching a peak in 1963, when more than 30,000 baby boys got the name. It was the first in a string of popular Irish names ending in n, possibly establishing a preference for boy names ending in in/an/on that has continued through the current decade.
13. BRIAN
Brian, another Irish name ending in n, is the 24th most popular boy name overall. It was not particularly popular during the baby boom years, but peaked later in 1977.
14. JASON
Jason is a classic name from Greek mythology, but it was not commonly given to boys in the U.S. until it suddenly spread like wildfire in the 1970s. Its rise was swift, high, and relatively short, making it, according to certain measures, the trendiest boy name of the past 100 years.
15. RYAN
Ryan, a common Irish last name, took off as a first name in the U.S. in 1971, the year after the hit movie Love Story was released, starring Ryan O'Neal. The name Jennifer, a character name in the movie, took off at the same time and went on to dominate the girl name list for years. Ryan also fit it well with the trend toward other boy names ending in n, like Brian and Jason.
16. GARY
Gary is the 31st most popular boy name of the last century. It peaked during the boomer years, boosted by the popularity of actor Gary Cooper.
17. JACOB
Jacob was a rather old-fashioned sounding name when it cracked the top 100 in the mid 1970s, but after a 14-year run as the number 1 baby name for boys starting in 1999, it established itself as the name of a new generation. Just within that time frame, it became the overall 32nd most popular name of the last 100 years.
18. SCOTT
Scott is the 39th most popular boy name of the last 100 years. It's notable because it was primarily a surname until it began to rise in popularity as a first name in the 1950s and '60s. Many last names became popular first names in the following years (Tyler, Jackson, Cooper, etc.).
19. ALEXANDER
Alexander, which peaked in popularity in 2009, is the 47th most popular boy name of the last 100 years. Unlike most popular boy names, which tend to have one or two syllables and begin with a consonant, Alexander starts with a vowel and has a whopping four syllables.
20. NOAH
Noah is the current number 1 boy name (as of 2016), and though it only broke the top 100 starting in 1995, it already ranks 85th on the most popular of all time. It's part of a newer trend toward biblical names ending in a vowel sound, like Elijah, Jonah, and Isaiah.
GIRL NAMES
1. MARY
The most popular girl name over the past 100 years is Mary. Almost 3.5 million girls have been named Mary—about 2 percent of all girls born during that time. It was the number 1 or 2 name from the beginning of record keeping until 1965, when it started to slide. In 2016 it was ranked at 127.
2. PATRICIA
After Mary, the second most popular name for girls over the past 100 years is Patricia. Though it never made number 1 for any particular year, it stayed close to it through the baby boom years, from 1946-1964. Over 53,000 baby girls were named Patricia in 1952.
3. JENNIFER
Jennifer had a spectacular post-baby-boom rise to the number 1, and it stayed in that position from 1970 until 1984, the year of its peak popularity. It probably got its long-term boost from the 1970 film Love Story, starring Ali MacGraw as a beautiful, tragic character bearing the name.
4. ELIZABETH
Though the name Elizabeth had its year of greatest popularity in the early 1900s, it has stayed consistent over the last 100 years, resisting and weathering trends, hovering near the top 10, and neither spiking nor dropping off in popularity.
5. LINDA
In contrast to Elizabeth, the window of popularity for Linda was relatively brief. It was mostly confined to the baby boom years, but its spike was so dramatic that it qualifies as the trendiest baby name in American history. The number of Lindas rose sharply, putting the name at number 1 in 1947, after a Buddy Clark song, "Linda," topped the charts. It fell just as sharply after a few years, and by 1978 was down to 100th place.
6. BARBARA
In the early Hollywood film era, glamorous actresses like Barbara La Marr, Barbara Bedford, Barbara Kent, and Barbara Stanwyck gave the name Barbara a boost. It stayed in the top 10 from 1927-1958, but dropped off quickly after that.
7. SUSAN
Susan, like Linda and Patricia, was a quintessential baby boom name. At its peak in 1960, over 39,000 baby girls were named Susan.
8. JESSICA
Jessica's rise to popularity started a little after the Jennifer craze began, but it was probably bolstered by Jennifer and other popular J names like Jason and Joshua. It stayed in the top 10 through the 1980s and '90s.
9. MARGARET
Margaret was far more popular in 1917 than it is 100 years later, but its decline in popularity has been very slow and gradual, meaning that although it hasn't made the top 10 for decades, it manages to rack up enough numbers year by year to put it at number 9 overall for the century. Over 1 million baby girls have been named Margaret.
10. SARAH
Sarah is another slow-burn classic, varying in popularity a bit over the years, but never swinging wildly. It performed most modestly during the baby boom years. It reached its peak in 1993, when over 24,000 baby girls were named Sarah.
11. KAREN
Though it did first rise from seemingly nowhere at the end of the 1930s, Karen belongs to the latter half of the baby boom years, peaking in 1965. It had a slower decline than other baby boom names like Linda and Susan.
12. ASHLEY
Ashley is the 17th most popular name for girls of the past 100 years, but it didn't even crack the top 1000 until 1964. It was traditionally a boy name, notably as the name of Scarlett O'Hara's love interest in the hugely popular novel and film Gone with the Wind. It got a big boost as a girl's name in the early 1980s, when it was the name of a female character on the soap opera The Young and the Restless. The name stayed in the top 10 until 2005.
13. CAROL
Carol is another name that started as a boy name; it's a version of Charles. It became popular as a girl name in the 1920s and reached peak popularity 1941.
14. MICHELLE
Michelle had a huge spike in popularity to 4th place in 1966, after the Beatles song "Michelle" became a hit. It stayed in the top 10 for 15 years, making it the 21st most popular girl name of the last 100 years.
15. EMILY
Emily spent over a decade as the number 1 girl name, from 1996-2007. As of last year it was still in the top 10, and it's become the 22nd most popular name of the past century.
16. SHIRLEY
Shirley, like Linda, was another trendy name, rising quickly to a high level of popularity and then falling off. It reached its peak in 1936, when Shirley Temple was a child superstar and over 35,000 baby girls were given the name.
17. JACQUELINE
In 1960 John F. Kennedy announced his candidacy for president. The next year the name of his glamorous wife shot up almost 50 places to become the 37th most popular name for girls. The name reached a peak in 1964, after Kennedy's assassination, when almost 12,000 girls were named Jacqueline. It never reached top 10, or even the top 30, but it stayed popular enough to become the 72nd most popular girl name of the last 100 years.
18. MADISON
The name Madison was not on any list of girl names until the movie Splash came out in 1984. In the film, a mermaid (played by Daryl Hannah) finds her way to New York, where she decides to take the name Madison after seeing a street sign for Madison Avenue. The movie was a hit and so was the name. By 2001 it had become the number 2 name for girls, and it's become the 90th most popular name over the last 100 years.
19. KAYLA
A fictional character also gave rise to Kayla, the 100th most popular name of the last 100 years. According to the baby-naming guide Beyond Jennifer & Jason by Linda Rosenkrantz, the spark that started rocketing Kayla up the name list in 1982 was the introduction of a character by that name on the soap opera Days of Our Lives. It spent 17 years in the top 20.
20. EMMA
Emma is the current number 1 name for girls (as of 2016) and the 50th most popular girl name of the past 100 years. It was also popular in the year 1900, but it declined in popularity to a low of 461 on the list for 1976. It then started gradually rising to return to the top 20, where it's now been since 1999. Names go in and out of style, but Emma proves that they can go out and come back after a long absence.