9 Interesting Facts About the Ribs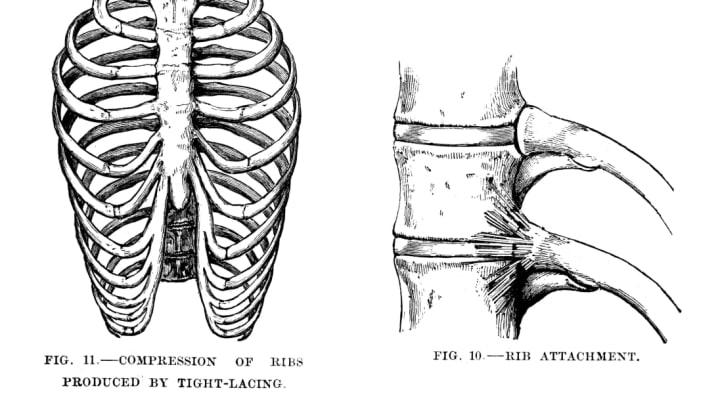 iStock / iStock
Ribs are not just an incredibly tasty order on the menu at the nearest steak house: These bony spindles in your torso attach to your sternum (breast bone) to protect your lungs, heart, spleen, and most of the liver and help with giving shape to your chest cavity, which assists in breathing. Ribs are protective on the one hand, but if badly broken, your ribs can turn lethal to you, piercing your organs. Mental Floss spoke to John Martinez, MD, an urgent care provider with Dignity Health Medical Foundation in California for these nine fascinating facts about the ribs.
1. YOUR RIBS MOVE LIKE A BUCKET HANDLE.
The ribs allow chest expansion for breathing, Martinez explains. "They function similarly to the bucket handle on a bucket and swing upwards as we take a breath, allowing the thoracic cavity to expand." This increase in the thoracic cavity makes it easier to take a breath.
2. YOU HAVE THREE TYPES OF RIBS.
The human skeleton has 12 pairs of ribs. Working from the top of the torso down, ribs 1 to 7 are considered "true ribs," as they connect directly from the spine to the sternum, Martinez says. Ribs 8 to 10 are called "false ribs" because they don't connect directly, but have cartilage that attaches them to the sternum. Ribs 11 and 12 are called "floating ribs" because they only connect to the spine in back. These, he says, "are much shorter."
3. THIS MYTH ABOUT WOMEN'S RIBS PERSISTS.
In an effort to prove the Bible story of Eve as wrought from Adam's rib "true," pastors and Sunday School teachers sometimes pass along a tale that women have more ribs than men. It's not true (and that story is sexist, anyway). Gender plays no part in the number of ribs you have: It's 12 ribs for everyone. However, women's ribs are about 10 percent smaller in volume on average than men's ribs.
4. IN RARE INSTANCES, HUMANS CAN HAVE A "GORILLA RIB."
In rare cases, which have nothing to do with gender, a human might turn up sporting extra lumbar ribs, for a total of 13 pairs of ribs, much like our distant cousins, the gorillas. Thus, it's colloquially known as a "gorilla rib."
5. RIBS ARE THE REASON NEANDERTHALS DIDN'T NEED BELTS.
Neanderthals had wider, thicker rib cages than we modern slim-waisted humans, which would have made them terrible models for skinny jeans. A 2016 study in American Journal of Physical Anthropology found that the Ice-Age diet is likely responsible for the larger ribcage and wider pelvis in Neanderthals. Essentially, carbs were scarce and fat was abundant. This led to an enlarged liver, kidneys and "their corresponding morphological manifestations," the authors write. In other words, they needed more space to house bigger organs.
6. TWO VERY DIFFERENT KINDS OF ATHLETE SHARE ONE COMMON INJURY. 
"Rowers and baseball pitchers are the most common athletes to suffer from stress fractures of the ribs," Martinez says. This is caused by the serratus anterior muscle pulling on the delicate ribs. "Other athletes that may be more likely to suffer from rib stress fractures include golfers, dancers, weightlifters and volleyball players," he adds.
7. YOU CAN SNEEZE YOUR WAY TO A RIB FRACTURE.
"True" rib fractures—where the bone breaks all the way through—are usually from traumatic events such as "a hard football tackle [or] car accident," Martinez says. However, sometimes a rib fracture can occur "from sneezing or coughing due to the force of the contracting chest wall muscles on the ribs." Treatment for true rib fractures is the same as rib stress fractures.
8. WAIST TRAINING USED TO BE ALL THE RAGE … AND STILL SOMETIMES IS.
Women have historically worn corsets, undergarments that cinch the torso in, particularly at the waist, bringing ribs and organs closer together for a smaller waist and more prominent bust. Despite corsets having gone out of fashion by the 1920s, when women began to prefer the looser, more flowing garments of the Flapper era, a number of contemporary women still wear them for reasons ranging from aesthetics to performance art, spawning a practice known as tight lacing or waist training. In this movement, women actively whittle their waists down to exceptionally small circumferences.
Doctors warn that there is risk of permanent damage to squished organs, as well as such uncomfortable syndromes as acid reflux syndrome and back pain. But it doesn't stop those who love the look.
9. THE GUINNESS RECORD HOLDER FOR A TINY WAIST IS 15 INCHES.
2011 Guinness Book of World Records winner Cathie Jung got her waist down to 15 inches through tight lacing by wearing corsets 24 hours a day, and moving down to smaller and smaller sizes. Her waist now has the same circumference as a regular jar of mayonnaise.