You Can Buy the Oldest Surviving Photo of a U.S. President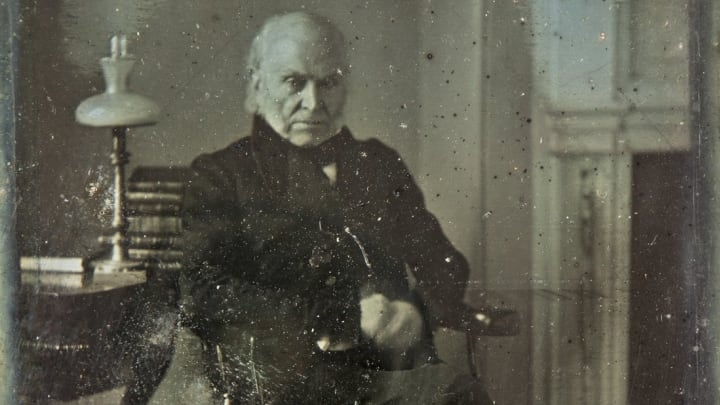 Courtesy Sotheby's / Courtesy Sotheby's
The descendent of a 19th-century U.S. Congressman has discovered a previously unknown presidential portrait that is likely the oldest surviving photograph of a U.S. president, The New York Times reports.
Previously, two 1843 portraits of John Quincy Adams were thought to be the oldest photographs of a president still around. Currently hanging in the National Portrait Gallery, one of them was found on sale at an antique shop in 1970 for a mere 50 cents. Now, an even older photo of the sixth president has been uncovered, and it'll cost you more than 50 cents to buy it.
Adams sat for dozens of photographs throughout his life, so it's not entirely surprising that a few more surviving portraits would be uncovered. At the time this newly discovered half-plate daguerreotype was taken in March 1843, Adams had already served out his term as president and had returned to Congress as a U.S. Representative from Massachusetts. The photo was taken by Philip Haas, who in August of that same year would take other daguerreotypes that we previously thought were the oldest surviving photos. (Despite his apparent willingness to be photographed, Adams called them "all hideous.")
Courtesy Sotheby's
After having three daguerreotypes taken that day in March, Adams gave one of them to his friend and fellow Congressman Horace Everett, inscribing it with both their names. Everett's great-great-grandson eventually found it in his family's belongings and is now putting it up for sale through Sotheby's.
It isn't the oldest picture of a U.S. president ever taken, though. The first-ever was actually a portrait of William Henry Harrison made in 1841, but unlike this one, the original has not survived. (The Metropolitan Museum of Art owns a copy of it, which was made in 1850.)
The head of the Sotheby's department for photographs, Emily Bierman, told The New York Times that the newly discovered image is "without a doubt the most important historical photo portrait to be offered at auction in the last 20 years." (She also noted that the former POTUS is wearing "cute socks" in it.)
The daguerreotype will be on sale as part of a photography auction at Sotheby's in October and is expected to sell for an estimated $150,000 to $250,000. Start saving.
[h/t The New York Times]