8 Fabulous Facts About Shopping Malls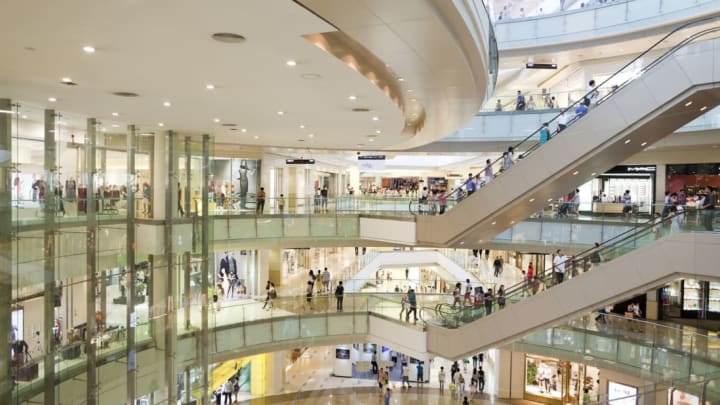 iStock / iStock
This article contains affiliate links to products selected by our editors. Mental Floss may receive a commission for purchases made through these links.
Few places encapsulate American consumer culture as well as the shopping mall. The "shop 'til you drop" craze may have reached its peak in the 1980s, but enclosed malls have been a part of the country's landscape for more than 60 years. In the latest title in Bloomsbury's Object Lessons series, author Matthew Newton covers the storied history of the mall, from its birth in 1950s suburbia to its modern appeal for urban explorers. In honor of the release of Shopping Mall, we've selected some fascinating facts from the book that will put you in touch with your inner mallrat.
1. THE ORIGINAL MALL WAS INSPIRED BY EUROPEAN MARKETS.
When visionary architect Victor Gruen was first commissioned to design a shopping center in Edina, Minnesota in 1952, he looked to his home city of Vienna for inspiration. According to Shopping Mall, Southdale Center was America's first example of a large-scale indoor mall, with nearly 75 shops filling two levels of retail space. At the center of it all Gruen built his version of a European piazza: an indoor court complete with fountains, goldfish ponds, sculptures, and plant life. That addition helped sell Southdale as a place not only to shop but to relax and socialize. The idea of a mall of as a social hub gained popularity when Gruen's design was used as the model for more malls across the country. You can watch footage of Southdale from the year it opened above.
2. FRANK LLOYD WRIGHT HATED THE FIRST ONE.
Southdale was met with mostly glowing reviews when it opened in October 1956, but it had one notable critic. After visiting the site in November of that year, famous architect Frank Lloyd Wright expressed his distaste to the Star Tribune. "You've got a garden court that has all the evils of the village street and none of its charm," he said. "Who wants to sit in that desolate-looking spot?"
3. THE DESIGNER DISOWNED HIS CREATION.
Victor Gruen lived long enough to see the shopping mall transform American culture in the late 1970s, and what he saw deeply disturbed him. The spirit of architectural innovation and community he built into Southdale had been sanitized from the facsimiles that popped up around the nation, Newton writes in Shopping Mall. Instead, developers chose whatever design maximized profit, and once open the mall functioned as a "gigantic shopping machine," as Gruen put it. Dismayed by the phenomenon he had helped father, he announced in a 1978 speech, "I refuse to pay alimony for those bastard developments."
4. THE MALL OF AMERICA CONTAINS AN AMUSEMENT PARK, AN AQUARIUM, AND FLIGHT SIMULATORS.
Since it opened in Bloomington, Minnesota in 1992, the Mall of America has held the title of largest shopping mall on earth. The sprawling complex comprises 530 stores spread out over 4.9 million square feet, according to Shopping Mall. In addition to the attractions listed above, the mall is also home to a comedy club, a children's museum, a mirror maze, and a mini golf course.
5. THEY INSPIRED GEORGE A. ROMERO.
Shopping malls have provided the settings for a handful of horror movies, including Chopping Mall (1986), Phantom of the Mall: Eric's Revenge (1989), and Eight-Legged Freaks (2002). But the first director to highlight the creepy atmosphere of an empty shopping mall was horror auteur George A. Romero. After directing the classic zombie film Night of the Living Dead (1968), Romero headed to the shopping mall for his sequel Dawn of the Dead (1978). As he told the BBC in 1997, the choice to set a zombie movie there was very intentional. "Right then it was just really the beginning of that mall culture where you went there and you hung out all day. My impression of walking through there, going through this sort of ritualistic, unnatural, consuming experience, was that we really do become zombies in here."
6. THERE'S A NAME FOR THAT HYPNOTIC EFFECT MALLS HAVE.
Have you ever lost your sense of time and geography while wandering around a shopping mall, only to realize it didn't seem to bother you? That feeling of pleasant disorientation is what's known as the "Gruen Transfer," a phenomenon named for the original mall's creator. Like casinos, malls are laid out in a way that invites consumers to consume endlessly without offering them a clear way out. As Newton explains, this can corrode a shopper's self-control—after walking around the windowless maze of stores for a while, they forget what they're looking for and give in to impulse buys more easily.
7. THEY PAY THEIR SANTAS HANDSOMELY.
Santa Claus is a major draw for shoppers with kids around the holidays, and malls make sure to pay their most famous employee what he's worth. As Mental Floss has previously revealed, being a mall Santa is a salaried position, and those who pursue it can take home a generous five-figure paycheck for six weeks of work. That's somewhat less surprising when you consider that many Santas earn a degree from Santa University before taking the gig.
8. AMERICA IS HOME TO HUNDREDS OF "DEAD" MALLS.
The shopping mall was one of the many industries disrupted by the rise of the internet. Hundreds of malls have shuttered in the past few decades, and hundreds more are expected to close in the next five years. While some "dead malls" have been reinvented into spaces such as churches, indoor farms, and apartment complexes, others sit abandoned, only to be visited by the occasional urban explorer. There's even an entire website, deadmalls.com, dedicated to documenting these modern ruins. For his book Autopsy of America, photographer Seph Lawless chose dead malls as some of his primary subjects. You can check out highlights from his work here.