More Details Emerge About 'Oumuamua, Earth's First-Recorded Interstellar Visitor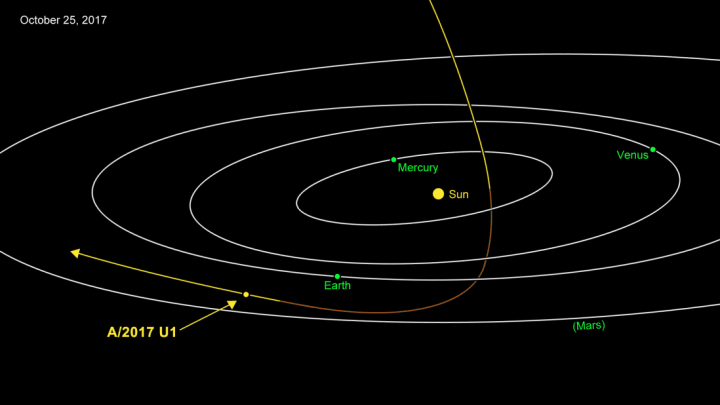 NASA/JPL-Caltech / NASA/JPL-Caltech
In October, scientists using the University of Hawaii's Pan-STARRS 1 telescope sighted something extraordinary: Earth's first confirmed interstellar visitor. Originally called A/2017 U1, the once-mysterious object has a new name—'Oumuamua, according to Scientific American—and researchers continue to learn more about its physical properties. Now, a team from the University of Hawaii's Institute of Astronomy has published a detailed report of what they know so far in Nature.
Fittingly, "'Oumuamua" is Hawaiian for "a messenger from afar arriving first." 'Oumuamua's astronomical designation is 1I/2017 U1. The "I" in 1I/2017 stands for "interstellar." Until now, objects similar to 'Oumuamua were always given "C" and "A" names, which stand for either comet or asteroid. New observations have researchers concluding that 'Oumuamua is unusual for more than its far-flung origins.
It's a cigar-shaped object 10 times longer than it is wide, stretching to a half-mile long. It's also reddish in color, and is similar in some ways to some asteroids in our solar system, the BBC reports. But it's much faster, zipping through our system, and has a totally different orbit from any of those objects.
After initial indecision about whether the object was a comet or an asteroid, the researchers now believe it's an asteroid. Long ago, it might have hurtled from an unknown star system into our own.
'Oumuamua may provide astronomers with new insights into how stars and planets form. The 750,000 asteroids we know of are leftovers from the formation of our solar system, trapped by the Sun's gravity. But what if, billions of years ago, other objects escaped? 'Oumuamua shows us that it's possible; perhaps there are bits and pieces from the early years of our solar system currently visiting other stars.
The researchers say it's surprising that 'Oumuamua is an asteroid instead of a comet, given that in the Oort Cloud—an icy bubble of debris thought to surround our solar system—comets are predicted to outnumber asteroids 200 to 1 and perhaps even as high as 10,000 to 1. If our own solar system is any indication, it's more likely that a comet would take off before an asteroid would.
So where did 'Oumuamua come from? That's still unknown. It's possible it could've been bumped into our realm by a close encounter with a planet—either a smaller, nearby one, or a larger, farther one. If that's the case, the planet remains to be discovered. They believe it's more likely that 'Oumuamua was ejected from a young stellar system, location unknown. And yet, they write, "the possibility that 'Oumuamua has been orbiting the galaxy for billions of years cannot be ruled out."
As for where it's headed, The Atlantic's Marina Koren notes, "It will pass the orbit of Jupiter next May, then Neptune in 2022, and Pluto in 2024. By 2025, it will coast beyond the outer edge of the Kuiper Belt, a field of icy and rocky objects."
Last month, University of Wisconsin–Madison astronomer Ralf Kotulla and scientists from UCLA and the National Optical Astronomy Observatory (NOAO) used the WIYN Telescope on Kitt Peak, Arizona, to take some of the first pictures of 'Oumuamua. You can check them out below.
Color image of U1. / R. Kotulla (University of Wisconsin) & WIYN/NOAO/AURA/NSF

Editor's note: This story has been updated.