8 Odd Items People Have Used to Decorate Christmas Trees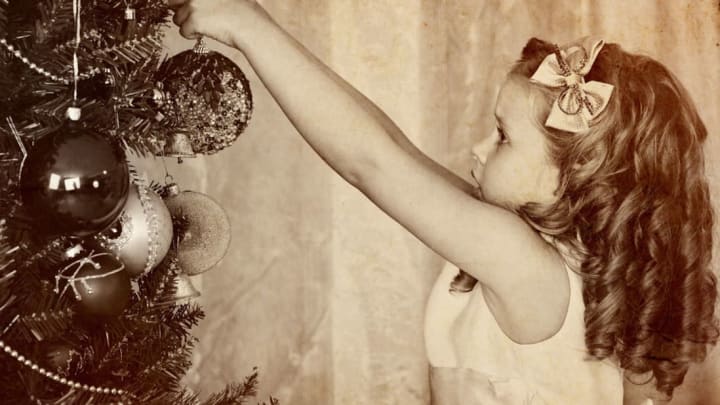 iStock / iStock
Decorating a Christmas tree is a time-honored holiday tradition. But the ornaments that adorned the firs of yore looked a lot different than the colorful bulbs that are likely hanging from your tree right now. And some of them squawked! From ears of corn to live canaries, these old-school trimmings didn't make the jump to modern times.
1. FRUIT
iStock
For centuries, fruit—in many forms—was used to decorate Christmas trees. One legend even directly connects the modern red ornament to the fruit on these old trees. The story goes that in the village of Meisenthal in modern France, residents decorated Christmas trees with a small apple varietal. A drought destroyed the crop in 1858 and red glass baubles were created to fill the gap.
2. FANCY CAKES
Apples aren't the only edibles that have found their way onto Christmas trees. An 1896 Good Housekeeping article noted that, "The fancily frosted cakes in different designs found at German bakeries look well on a tree and are inexpensive ... Candy strawberries look very pretty, but several dozen will be required to make an effective display. They should be suspended near the tips of the branches."
3. EARS OF CORN
iStock
A 1907 Harper's Bazar (as it was originally spelled) article advised country children who couldn't get store-bought decorations to make their own "gingerbread or doughnut animals, men, and birds" and use the ever-popular "ears of corn silvered for icicles."
4. FAUX BIRD NESTS
In 1877's The Girls' Home Book, writer Laura Valentine suggested that a fake bird nest would make a lovely decoration, and directed tree trimmers to "Get the cook to give you some halves of unboiled egg-shells. Dip them in white of egg (but first you must have some moss ready); make a hollow of moss in your hand, and put the half-shell in it. The moss will adhere to the outside very well ... Line it in the inside with feathers, and when dry, put sugar-plum eggs in it. These nests look charming in the foliage of the Christmas tree."
5. LIVE BIRDS
An 1895 Western Journal of Education article is full of tips on how to trim the perfect Christmas tree. Alongside solid advice (don't light candles on the tree as they're "more or less dangerous") and old standbys ('old but effective' popcorn strings), they also had a slightly livelier idea: "Live canaries or mocking-birds, in small cages, are very pretty hung in trees or suspended about the room." But if that doesn't appeal, "stuffed birds can also be perched in trees, and a white dove or a larger bird, with wings spread, can be suspended over a tree with very pretty effect."
6. FAKE SNOW
In 1896, Good Housekeeping had an "updated" idea for the strings of popcorn found on many trees: "[Popcorn] is much prettier and more effective when pinned to the tree, than when strung as is usually the case. Certainly, it requires more labor, but the result is so gratifying that I hardly think you would again return to the old method of stringing the corn." Just get popcorn and very cheap pins and then pin each individual popped kernel to the tree, and "your tree will look as though [it's] covered with snow, and will present a fine appearance without any further decorations."
Don't have time to spend days pinning popcorn to your tree but still want to create the popular Victorian Christmas Snow Tree? A 1978 issue of The Old-House Journal explained that "all one needs is last year's Christmas tree, glue, cotton batting, and patience." They then advised spraying the tree a dark gold color so it looks more alive, tearing the batting into strips, and draping the strips over the tree. As for the glue? That's for the next step.
7. TOXIC SPARKLES
iStock
That glue was important for making your tree sparkle. Instructions in the Western Journal of Education (1895) advised applying glue to the tree and then scattering mica on it to create a spectacular dazzle. Sadly, 80 years later, The Old-House Journal was lamenting that "mica snow ... has all but disappeared from the market and may take some searching to find." (Perhaps because, as a safety data sheet for mica says, "The substance is toxic to lungs [and] mucous membranes. Repeated or prolonged exposure to the substance can produce target organs damage.")
The Girls' Home Book had an alternate idea for these mica-less days, suggesting "[a] very pretty mode of ornamenting the Christmas tree is to hang small garlands or bunches of crystallized leaves ... on the branches." Just take some pieces of fir branches and suspend them into a bucket filled with alum. Pour in a gallon of boiling water and a day later you have twigs that glitter like diamonds. (More safety warnings: "Breathing of dust may aggravate acute or chronic asthma and chronic pulmonary disease." [PDF])
But the desire for a sparkly tree goes back much further than the 19th century, and didn't always require safety warnings. One chronicler recorded that during the reign of Henry VIII there was a banquet for Epiphany (January 6th) that featured a glistening mountain topped with "a tree of gold, the branches and boughs [wrought into ornamental patterns] with gold, spreading on every side over the mountain with roses and pomegranates."
8. PRESENTS
iStock
In 1896, Good Housekeeping explained to its readers that "If the [Christmas] tree is placed in a carpeted room it would be well to previously cover the floor immediately surrounding the tree, with white paper or spread a sheet" on the floor, which all seems perfectly normal by today's standards ... until the next paragraph. "It would be pretty," the magazine continues, "to arrange the gifts about the base of the tree instead of hanging them upon the tree as is customary amongst Americans."
Throughout the mid to late 19th century, there are references to hanging Christmas presents from the tree. "To save expense, yet at the same time to insure a brilliant effect, it is a good plan to hang the gifts so that bright contrasting colors may set off the tree," Ladies' Home Journal suggested in 1890. "Bundles done up in brown paper are never pretty; but dolls, bright-covered books, gayly painted toys, bright silk handkerchiefs and white scarfs, sleds, wagons, etc. should be placed in prominent view." An 1856 issue of Guardian (a magazine for "young men and ladies") proclaimed that "the various presents, shine in the branches, which almost bend under their kind burdens," which even included "a staff for grand-pa, and a pair of spectacles for grandmother."
What killed off this tradition? There are many possibilities, but an 1894 issue of The Cultivator & Country Gentleman has a strangely familiar suggestion from a reader: "A pretty Christmas tree is pretty without decoration, and yet, after it has been stripped of its load of presents, it looks bare unless it has some trimming. In Germany the shining balls and the like are carefully put away each year, a few new ones being added from year to year, and one of the delights of Christmas is the bringing out of these treasures. We have tried this plan and find it works excellently."