9 Grievance-Worthy Facts About Festivus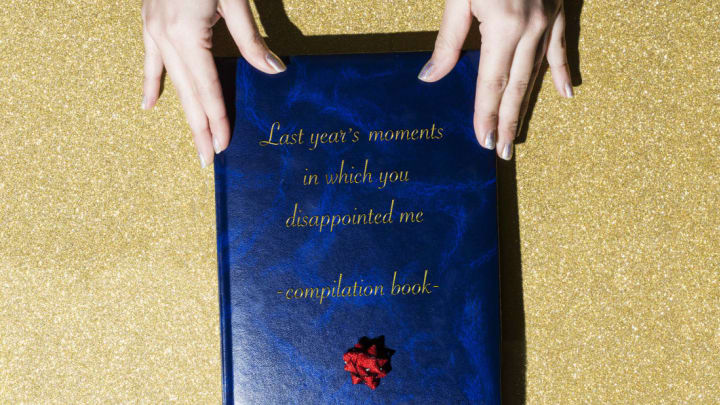 Julia Ramiro Martín/iStock via Getty Images / Julia Ramiro Martín/iStock via Getty Images
Tired of having holiday sales shoved down your throat and Christmas carols stuck in your head? Maybe it's time you considered celebrating Festivus instead. What started out as a single-episode joke on Seinfeld back in 1997 has morphed into a worldwide cultural phenomenon. Here's everything you need to know about the holiday "for the rest of us."
1. Festivus takes place on December 23.
A calendar shows December 23 / iStock.com/Bychykhin_Olexandr
First, some Festivus basics: the holiday (or anti-holiday) is celebrated each year on December 23. As it's essentially a day to rail against the consumerism that infiltrates the holiday season, it's much more bare-bones than the name might suggest. The traditional symbol, at least as Seinfeld told it, is an aluminum pole. Among the annual traditions are the "Airing of Grievances," in which you detail the many ways that people annoy you, and the "Feats of Strength," which really just amounts to a living room wrestling match. Easily explainable events that happen to occur on this day are usually known as "Festivus miracles."
2. Festivus originated decades before Seinfeld.
The cast of Seinfeld / Getty Images
On December 18, 1997, toward the end of Seinfeld's triumphant run on NBC, a holiday-themed episode called "The Strike" aired. In it, viewers learned about Festivus, a holiday invented by the Costanzas, in which each member of the family tells the others all the ways they have disappointed. But Dan O'Keefe, who co-wrote the episode, didn't just pull the idea from his imagination; he based it on a tradition that his father, a former editor at Reader's Digest, created in the mid-1960s.
"It was entirely more peculiar than on the show," O'Keefe told The New York Times in 2004. Though there was no aluminum pole, O'Keefe confirmed that the "airing of grievances" was very real (they said them into a tape recorder) and that he and his two brothers would ritually wrestle. "Most of the Festivi had a theme," he said. "One was, 'Is there a light at the end of the tunnel?' Another was, 'Too easily made glad?'"
While December 23rd has become its official date, that was not the case in the O'Keefe household. "It did not have a set date," O'Keefe told Mother Jones in 2013. "We never knew when it was going to happen until we got off the school bus and there were weird decorations around our house and weird French '60s music playing."
3. You can purchase a Festivus pole.
A photo of aluminum poles / iStock.com/SafakOguz
Don't have an ugly aluminum pole just lying around? You can buy one! In fact, for less than $13 you can purchase an entire mini-Festivus celebration kit from Running Press. In addition to a 9-inch pole that plays sound bytes of Frank Costanza (Jerry Stiller), it includes two magnets and five donation cards for the Human Fund (George's made-up charity).
4. There is a sociological background to Festivus.
A still from 'Seinfeld' / Getty Images
O'Keefe's father, Dan Sr., explained to The New York Times that he created Festivus in 1966 (before any of his kids were born) to commemorate the anniversary of his first date with his wife, Deborah. In the 1970s, Festivus began to take on new meaning and rituals as the elder O'Keefe was doing research for his 1983 book Stolen Lightning, a sociological exploration of how astrology, cults, and the paranormal act as a kind of defense against societal pressures. "In the background was [Émile] Durkheim's Elementary Forms of Religious Life, saying that religion is the unconscious projection of the group," O'Keefe explained. "And then the American philosopher Josiah Royce: religion is the worship of the beloved community." (See? Festivus is not just about beating the crap out of your brother.)
5. In 2013, Florida officially recognized Festivus.
Chaz Stevens from Deerfield Beach, Florida assembles his Festivus pole out of beer cans in the rotunda of the Florida Capitol as the media looks on December 11, 2013 in Tallahassee, Florida / Mark Wallheiser/Getty Images
In 2013, Chaz Stevens, a resident of Deerfield Beach, Florida, petitioned the Florida Capitol building in Tallahassee to let him erect a Festivus pole to sit alongside the building's Christmas tree and nativity scene. Amazingly, they agreed.
"As long as it meets [the] guidelines and there is space available in the capitol, DMS is happy to allow all cultures, and denominations, and committees, and groups to put up their holiday displays," Ben Wolf, a spokesperson for Florida's Department of Management Services (DMS)—the department responsible for the approval—told the News Service of Florida at the time.
Rather than stick up a standard aluminum pole, Stevens chose to build his ode to Festivus out of empty Pabst Blue Ribbon cans. "I still chuckle," he said. "I literally can't believe there will be a pile of Pabst Blue Ribbon cans in the state rotunda."
6. There has been some outrage over public displays of Festivus.
Gretchen Carlson / Ben Gabbe/Getty Images for TIME
The same year that Stevens built his PBR pole, the Wisconsin Capitol added a Festivus display of its own. Not everyone was amused. Former Fox News host Gretchen Carlson aired her own grievance with Stevens's display at the time, saying, "I am so outraged by this. Why do I have to drive around with my kids to look for nativity scenes and be like, 'Oh, yeah, kids, look. There's Baby Jesus behind the Festivus pole made out of beer cans!'"
For his part, O'Keefe told Mother Jones that, "Both displays have equal right to be there. But, you know, the Fox News outrage machine kicked into high gear, and I'm sure there were some hair-sprayed talking heads bobbing up and down, being outraged about it."
7. Dan O'Keefe was against writing Festivus into Seinfeld.
'Seinfeld' writer Dan O'Keefe / Matt Winkelmeyer/Getty Images
Though it sprung from his own childhood, O'Keefe didn't pitch the Seinfeld team on the idea of a Festivus-themed episode. In fact, he wasn't sold that it would resonate with viewers. O'Keefe mentioned his family tradition in passing one day to another writer on the show, and the idea snowballed from there.
"I didn't pitch it," O'Keefe told Mother Jones. "I fought against it. I thought it would be embarrassing and drag the show down, but … Jerry liked it."
8. A true Festivus feast consists of meat. Lots and lots of meat.
Meatloaf right out of the oven / iStock.com/islander
Because of the dearth of HD screens back in 1997, when the Festivus episode of Seinfeld first ran, viewers had trouble making out what the traditional meal served that night was. With improved technology and repeated viewings, the majority of fans agree that it is meatloaf served on a bed of lettuce. In the O'Keefe household, the meal was usually a main course of meat—which might include turkey, ham, beef stew, or lamb chops—and pecan pie for dessert. 
9. There's an official book to help you celebrate Festivus in the most authentic way possible.
Photo of a clock in a shopping bag / iStock.com/Talaj
Tired of trying to separate Festivus fact from fiction? Dan O'Keefe can help. In 2005 he wrote a book, The Real Festivus: The True Story Behind America's Favorite Made-Up Holiday, in which he shares personal anecdotes from growing up Festivus so that fans of the fake holiday can find out how it really all went down.
We already mentioned that there was no aluminum pole (that idea came out of the Seinfeld writers room). But they did have a traditional decoration: "The central symbol of this holiday was not a pole," according to O'Keefe. "It was a clock and a bag. Sometimes a clock in a bag. But not always."