Scientists Name Brazilian Cave Spider After Aragog from Harry Potter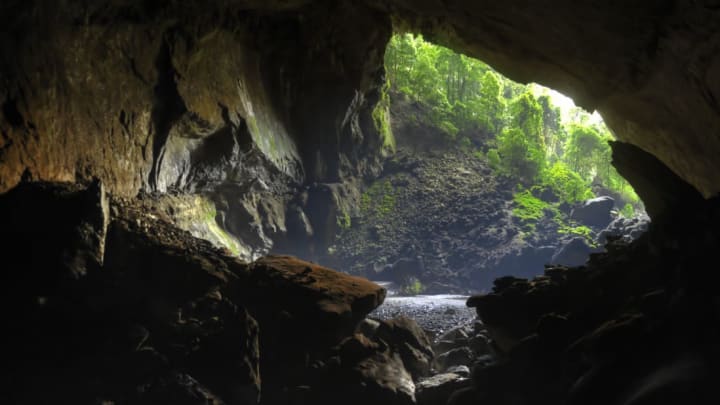 iStock / iStock
Multiple new species, from wasps to crabs, have been named after Harry Potter characters. Now, CNET reports that Brazilian scientists have given a newly identified cave spider the name Ochyrocera aragogue, after Hagrid's enormous pet spider Aragog. Keeping with a theme of literary inspiration, the researchers also chose classic names for six additional arachnids they discovered underground in northern Brazil. They published news of their finds on January 10 in the science journal ZooKeys.
A team from Brazilian biological research center Instituto Butantan, Sao Paulo, found the cave-dwelling spiders among 2000 adult specimens collected throughout five years of field research. All seven species belong to the genus Ochyrocera and reside underground in iron caves across Pará, a state in northern Brazil. (Pará is home to Carajás Mine, one of the world's largest iron ore mines.) Scientists say the region might contain even more spiders like them, though mining activities reduce the area's biodiversity.
Unlike the elephant-sized Aragog, who readers first met in Harry Potter and the Chamber of Secrets, the newly discovered arachnids are all tiny, measuring less than an inch in total size. They're also distinct from many cave-loving critters in that they aren't all pale white and aren't missing any of their six eyes. The spiders are technically able to spend their entire lives in caves, but they've also been known to crawl towards the opening and even venture outside.
In addition to Ochyrocera aragogue, researchers were inspired to name some Brazilian cave spiders after creepy-crawly figures from fantasy works like George R.R. Martin's A Song of Ice and Fire, J.R.R. Tolkien's The Lord of the Rings and The Silmarillion, and H. P. Lovecraft's The Call of Cthulhu. Monikers included Ochyrocera laracna, after the spider Laracna who attacks Frodo and Sam in LOTR; Ochyrocera varys, after GoT's Lord Varys (a.k.a. The Spider), and Ochyrocera atlachnacha, in honor of the Lovecraftian spider god Atlach-Nacha.
Ochyrocera varys / Igor Cizauskas
Ochyrocera atlachnacha / Igor Cizauskas
Since not all literary spiders are spooky, the scientists also paid homage to E.B. White's Charlotte's Web and David Kirk's children's series Little Miss Spider, dubbing two other newly discovered spiders Ochyrocera charlotte and Ochyrocera misspider, respectively.
Ochyrocera misspider / Courtesy of Igor Cizauskas
This isn't the first time a spider has been named after Hagrid's pet; in 2017, scientists from the University of Tehran dubbed a new species of wolf spider discovered in southeastern Iran Lycosa aragogi.
[h/t CNET]