7 Amazing Automatons You Can See in Action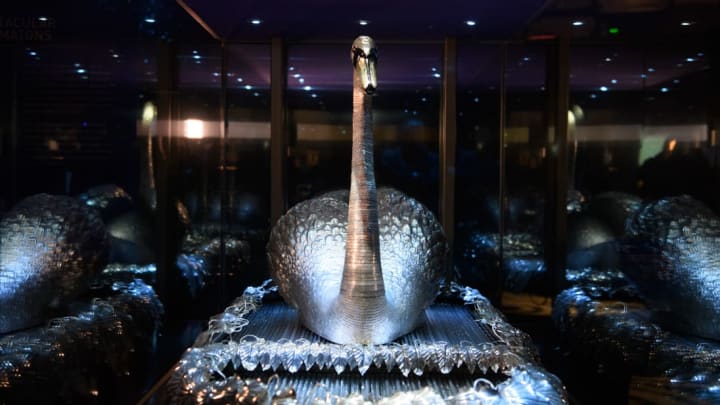 Carl Court/Getty Images / Carl Court/Getty Images
Robots are increasingly becoming a part of modern life, but their roots go surprisingly far back. Most early automatons were created as entertainment for wealthy owners and their mechanisms frequently kept secret, lending them a touch of magic. Today, a number of early examples survive in museums around the world, continuing to delight and inspire us.
1. THE MECHANICAL MONK
This wooden mechanical monk is just 16 inches high. When wound with a key he trundles along in a square shape, mouthing prayers and occasionally bringing a cross to his lips and kissing it. It's believed the monk was built around 1560 by Spanish master watchmaker Juanelo Turriano for the Spanish King Philip II. Philip's son had almost died after an accident, and the king prayed to God for his recovery, promising to give a miracle for a miracle. Legend tells us that the mechanical monk, who constantly prays in penance, was the miracle Philip had created to celebrate his son's recovery. The Smithsonian's National Museum of History and Technology acquired the monk from Geneva in 1977, allowing researchers to investigate the secrets of the monk's uncanny movements and preserve its magic for future generations. Today it is part of the collections of the National Museum of American History in Washington, D.C., where it's sadly not currently not on display—but you can check out its moves above.
2. THE SILVER SWAN
A beautiful musical automaton built in 1773, this life-size swan appears to swim, preen itself, and catch a fish. Its movements are controlled by three separate mechanisms designed by John Joseph Merlin, a famous inventor of his time. The swan was originally part of the repertoire of London showman James Cox, who showed it at his Mechanical Museum, where it was hugely popular with the crowds. The swan later moved to Paris, where it was part of the 1867 Paris International Exhibition. Mark Twain saw it there and was transfixed, writing in The Innocents Abroad: "I watched a Silver Swan, which had a living grace about his movement and a living intelligence in his eyes—watched him swimming about as comfortably and unconcernedly as it he had been born in a morass instead of a jeweller's shop."
Art collectors John and Joséphine Bowes also first saw the swan at the Paris exhibition and made up their minds to buy it, securing it in 1872 for £200 (roughly $23,000 today). The swan can still be seen at the Bowes Museum in County Durham, UK, where every day at 2 p.m. it performs for a beguiling 40 seconds.
3. THE DRAUGHTSMAN, WRITER, AND MUSICIAN
Pierre Jaquet-Droz was an 18th-century Swiss watchmaker whose clocks were popular with royalty, and this patronage allowed him to indulge his passion for automata. His most famous creations are the Writer, Draughtsman, and Musician, three humanoid automatons unveiled in 1774. The Writer dips its pen into an ink stand and can write any word of up to 40 characters. The Draughtsman inscribes one of four pre-programmed images, and The Musician is a girl who can play up to five different songs at an organ. These automatons toured Europe in the 1770s and 1780s, amusing the greatest minds of the day before eventually settling for good in the early 1900s at the Museum of Art and History of Neuchâtel, Switzerland, where they are still on display.
4. TIPU'S TIGER
This fascinating, if gruesome, automaton depicts a tiger mauling a European soldier to death. It was made in the 1790s for Tipu Sultan, the ruler of Mysore in South India. During this period the British East India Company was fighting for control of the region against Tipu Sultan, who used a tiger motif as a symbol of his leadership and a representation of his hoped-for defeat of invading British forces. Unfortunately for Tipu, his optimistic automaton did not foretell victory, and he was killed in 1799 as the British took control of his capital, Seringapatam.
The spoils of war were divided up by the soldiers and the almost life-size wooden tiger was sent back to London as a curiosity. It was an immediate success with the public, the crowds amazed by the marvelous mechanism. When wound up, a pipe organ plays, the man's arm moves plaintively, and he emits a dying groan. Today the tiger is one of the most popular items on display at the Victoria & Albert Museum in London, although unfortunately it is so delicate it is rarely played.
5. THE DULCIMER PLAYER
La Joueuse de Tympanon, or The Dulcimer Player, was made by cabinetmaker David Roentgen and presented as a surprise to his patron Louis XVI for the queen, Marie-Antoinette, in 1784. This automaton is a small, carved wooden woman (rumored to have hair woven from Marie-Antoinette's own hair and to wear a dress made from the fabric of one of the queen's own dresses) who plays the dulcimer, a stringed instrument manipulated by striking the strings with a metal hammer. The mesmerizing little automaton can play eight different tunes and because of the way her head moves as she plays, she is unnervingly lifelike. Today she can be seen at the Musée des Arts et Métiers in Paris, though unfortunately she is rarely wound up and played.
6. KARAKURI TEA SERVING ROBOTS
Karakuri are traditional Japanese mechanized puppets, popular during the Edo period (1603–1868). The most famous are the zashiki karakuri, which are mechanized household servants inspired by European clockwork. Examples of tea-serving karakuri can be seen in the National Museum of Nature and Science in Tokyo; when wound up, they move forward in a straight line, proffering a bowl of hot tea (supplied by a real-life servant), bowing their head once they stop.
7. ERIC, BRITAIN'S FIRST ROBOT
Eric was the first robot built in Britain. He was constructed in the late 1920s by journalist and entrepreneur William Richards and aircraft engineer Alan Reffell as a stand-in for the Duke of York when the latter was unable to open an exhibition of model engineering. Covered in aluminum and standing 6.5 feet tall, Eric could move his arms, bow, and shoot blue sparks from his mouth, which caused a sensation wherever he went. He was so successful that he went on tour to America, but despite initially gaining plenty of coverage in the press, his ultimate fate is unknown (although researchers think he was likely cannibalized for parts). In 2016, Ben Russell, curator at London's Science Museum, discovered Eric's story and became determined to recreate this iconic robot for the museum. Russell ran a Kickstarter to get funding and scoured the archives for images of the robot in action, finally spending five months building a replica of Eric. This replica is now on display in the museum for all to admire.