10 Essential Items Every Bar Cart Needs
The 1950s style was all about fun—and some of that whimsy is reemerging in 21st-century homes. Witness the glorious resurgence of a '50s home staple: the bar cart. This retro piece of furniture pulls double-duty: If styled well, it not only serves as the focal point of a room, but come party time it takes center stage again as a functional, fashionable platform for crafting your guests' favorite cocktails.
There are countless styles of bar carts, as well as products to put on them. But what exactly do you need to get your cart up and running? A bottle opener and some booze are de rigueur. But beyond that? We turned to two experts: Vanessa Dina, author of The Art of the Bar Cart: Styling & Recipes (Chronicle Books); and Brooklyn-based bartender extraordinaire Ivy Mix, who routinely shows up on lists of the country's top mixologists. Here are their suggestions for can't-miss bar cart items.
1. Five Basic Spirits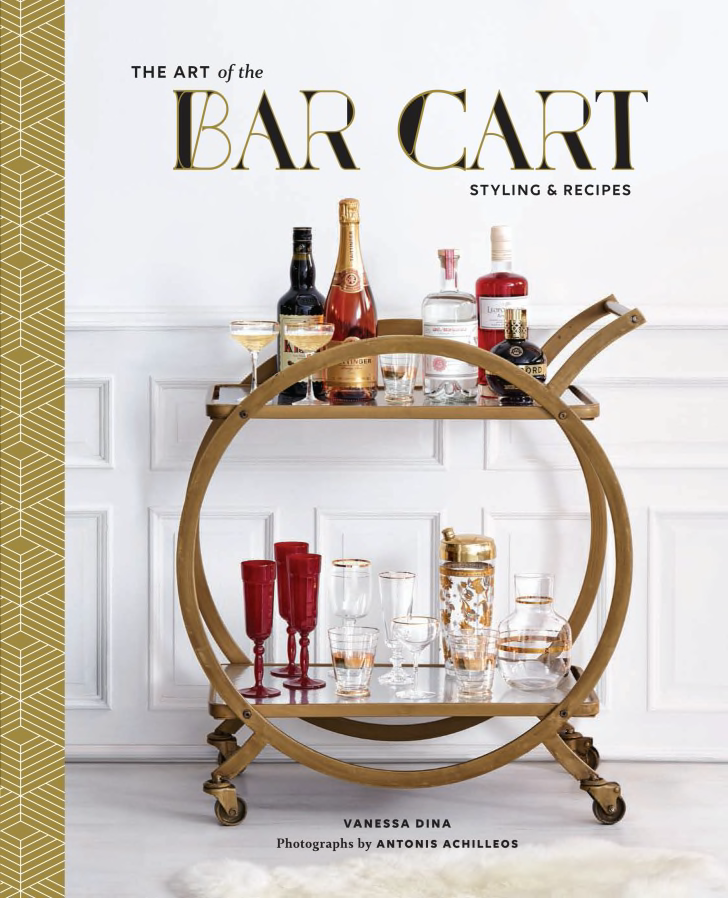 This may sound obvious, but Mix—who designed and built her own modular red and orange bar cart so she could have a place for all of her tools—notes that there are five types of liquor that should always be on your cart: a vodka, a gin, a bourbon or rye whiskey, a rum, and a tequila. "They're the standards," Mix says.
2. Mixers
Once you have your array of five essential spirits, you'll need modifiers or mixers to create the drinks. "The ones that go the quickest in my house are my sweet vermouth, my Campari, and my Cointreau," Mix says. "I make martinis, margaritas, and Manhattans, so they're really important. Having them right there makes it easy: A little bit of this, a little bit of Campari, and voilà—you have a Negroni. In fact, Campari is the most useful thing to make a tasty drink when other stuff is not around."
3. Bitters
These flavorful, alcoholic extracts have taken the cocktail world by storm in recent years: Foodies craft them at home, bars highlight them on the menu, and multiple new brands and flavors are popping up everywhere. They're also perfect for your home bar cart, Dina tells Mental Floss: "It's an easy way to create a lot of variation in your drinks. They add spices, herbs, and other flavorful notes to a drink. But best of all, unlike liquor, bitters take up minimal space on a cart. I suggest a cubby to keep your collection organized."
You can start with the classics—like Angostura and Peychaud's—or dive into flavors like smoked chili, cardamom, or chocolate.
4. Mason Jars
The internet abounds with recipes and ideas for adding a fun touch to your next shindig by serving cocktails in individual mason jars. But Mix sees the jars as an essential and versatile tool that can do the work of either a shaker or a mixing glass. "You can really do anything in a mason jar," Mix says. "You can stir a drink in a mason jar and know that it's going to be OK."
5. Small Hand Juicer
"A lot of people don't think this is important, but one thing I recommend to everyone is fresh juice," Mix says. She notes that people frequently use a lime juice blend from the grocery store when making margaritas. "Most of the time it's not actually lime juice, but this gross God-knows-what. Even if it is lime juice, [the manufacturer] had to pasteurize it or cook it in some way; it's not right. But if you get one of those little hand juicers, you can squeeze a cup of lime juice in a couple of minutes. It's a complete game changer."
6. Citrus Peeler
When guests leave your next party, you want them to remember that the cocktails tasted fantastic—and looked even better. "That's where garnishes come in," Dina says. "Something as simple as an orange twist provides visual appeal as well as aromatics." Lemon, lime, and grapefruit rinds created with a citrus peeler can also transform a simple drink into a professional-style cocktail.
7. Shaker With a Built-In Strainer
Cocktail newbies may not realize there are multiple varieties of strainers. A Hawthorne strainer is best for shaken cocktails; its flat profile and coil of wire that hugs the inside rim of the mixing glass keep chunks of ice, fruit, and herbs from slipping into the serving glass. Cobbler shakers come with a mixing vessel, strainer, and fitted top all built in; using one means that you won't need to worry about misplacing your strainer. "They have a classic look that many people want," Dina says. "In addition, it helps you pour and makes everything a little easier."
8. Ice Container and Tongs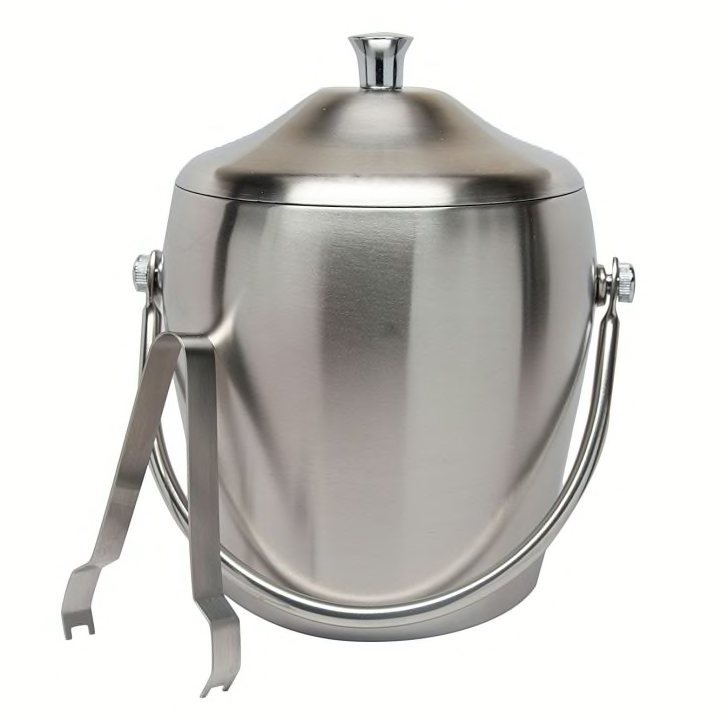 "Ice is an essential, and sometimes overlooked, player in cocktails," Dina says. "Drinks would not be as tasty or inviting without the chill that ice provides, whether it's large, small, hand cut, crystal clear, cubed, or crushed." Ice buckets or containers not only keep your ice cool, but usually serve as a decorative accent as well. "If you have a theme for your bar cart, you can get an ice bucket to match," Dina says. "I've seen a lot of them in rose gold recently." Dina shares a tip: Buy some extra ice tongs so your guests can freshen up their own drinks.
9. Versatile, Attractive Glassware
From cordials to highballs to beer and wine, most drinks are supposed to be served in their very own style of glass. But not everyone has enough room on their home bar for multiple styles, so they have to pick and choose. "Short glasses are the most versatile," says Dina. "You can serve everything from wine to a mixed drink in them and they take up less space. Also, it's easier to find cute designs and styles at flea markets and home stores in the shorter versions." Dina has cordial glasses displayed on her two-level home bar cart. Mix collects antique cocktail glasses; in addition, her father is a glassblower. "He uses his own colors so he can make beautiful, colorful glasses," Mix says. "Having a really nice glass brings it the extra mile."
10. Your Own Personality
Keep in mind that your friends are in your home—and not a bar—so parties are a chance to share a bit of yourself. Dina suggests that small frames with pictures of family, a piece of artwork that you picked up on a trip, or even foraged items like attractive branches can personalize your bar cart. She also recommends plants; her favorite are air plants. "A touch of nature freshens things up," she says. "They are visually pleasing and make the whole area seem homier."
Mental Floss has affiliate relationships with certain retailers and may receive a small percentage of any sale. But we choose all products independently and only get commission on items you buy and don't return, so we're only happy if you're happy. Thanks for helping us pay the bills!