7 Fast Facts About Animal Farting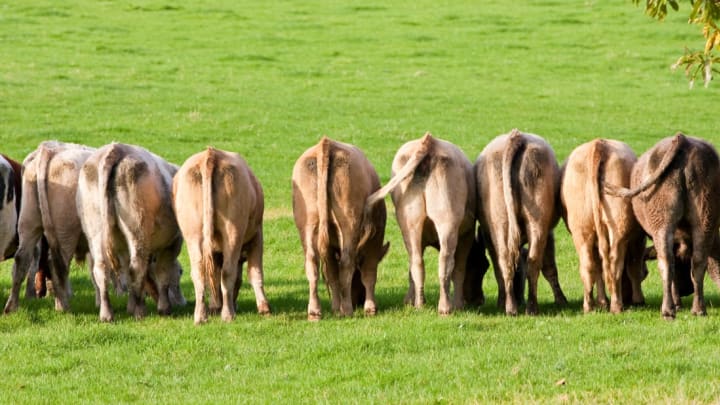 iStock / iStock
Anyone who's had a pet can testify that dogs and cats occasionally get gassy, letting rip noxious farts and then innocently looking up as if to say "Who, me?" You may not have considered the full breadth of animal life passing gas in the world, though—and not just mammals. In a new book, ecologist Nick Caruso and zoologist Dani Rabaiotti detail the farting habits (or lack thereof) of 80 different animals. Here are seven weird animal farting facts we learned from Does It Fart?.
1. FOR ONE FISH, FARTING IS AN EMERGENCY.
Ethan Kocak
The diet of the Bolson pupfish, a freshwater fish found in northern Mexico, can lead to dangerous levels of gas. The pupfish feeds on algae, and it can inadvertently eat the gas bubbles that algae produces in warm temperatures. The air inflates the fish's intestines and distends its belly, messing with its equilibrium and making it difficult to swim. Even if it tries to bury itself in sediment at the bottom of a pool, as Bolson pupfish are wont to do, the air causes the fish to rise to the surface, where it's at risk of being eaten by a bird. If the fish doesn't fart, it will likely die, either from predation or because its intestines rupture under the pressure of the trapped gas.
2. MANATEES USE FARTS AS A SWIMMING TECHNIQUE.
The Bolson pupfish isn't the only animal that needs healthy farts to maneuver underwater. Buoyancy is vital for swimming manatees, and they rely on digestive gas to keep them afloat. The West Indian manatee has pouches in its intestines where it can store farty gasses. When they have a lot of gas stored up, they're naturally more buoyant, floating to the surface of the water. When they fart out that gas, they sink. Unfortunately, that means that a manatee's ability to fart is vital to its well-being. When a manatee is constipated and can't pass gas properly, it can lose the ability to swim properly and end up floating around with its tail above its head.
3. TERMITE FARTS ARE A SIGNIFICANT SOURCE OF GLOBAL EMISSIONS.
Ethan Kocak
They're not as bad as cars or cows, but termites fart a lot, and because they are so numerous, that results in a lot of methane. Each termite only lets rip about half a microgram of methane gas a day, but every termite colony is made up of millions of individuals, and termites live all over the world. All told, the insects produce somewhere between 5 and 19 percent of global methane emissions per year.
4. FERRETS ARE SURPRISED BY THEIR OWN FARTS.
Ferrets are quite the fart machines. They not only let 'em rip while pooping—which they do every few hours on a normal day—but they get particularly gassy when they're stressed. The pungent smells are often news to their creators, though. According to the book, "owners often report a confused look on their pet's face in the direction of their backside after they audibly pass gas." And you don't want your ferret to get really scared: Their fear response involves screaming, puffing up, and simultaneous farting and pooping.
5. A BEADED LACEWING'S FARTS CAN BE DEADLY.
Ethan Kocak
A winged insect known as the beaded lacewing carries a powerful weapon within its butt, what Caruso and Rabaiotti call "one of the very few genuinely fatal farts known to science." As a hunting strategy, Lomamyia latipennis larvae release a potent fart containing the chemical allomone, paralyzing and killing their termite prey.
6. WHALE FARTS MAKE QUITE THE SPLASH.
Ethan Kocak /
As befits their size, whales produce some of biggest farts on the planet. A blue whale's digestive system can hold up to a ton of food in its multiple stomach chambers, and there are plenty of bacteria in that system waiting to break that food down. This, of course, leads to farts. While not many whale farts have been caught on camera, scientists have witnessed them—and report them to be "incredibly pungent," as Rabaiotti and Caruso tell it.
7. NOT ALL ANIMALS FART.
Octopuses don't fart, nor do other sea creatures like soft-shell clams or sea anemones. Birds don't, either. Meanwhile, sloths may be the only mammal that doesn't fart, according to the book (although the case for bat farts is pretty tenuous). Having a belly full of trapped gas is dangerous for a sloth. If things are working normally, the methane produced by their gut bacteria is absorbed into their bloodstream and eventually breathed out.
The woodlouse has an odd way of getting rid of gas, too, though it's technically not flatulence. Instead of peeing, woodlice excrete ammonia through their exoskeleton, with bursts of these full-body "farts" lasting up to an hour at a time.
Hachette Books
Does It Fart? is available for $15 from Amazon or Barnes & Noble.