This Tiny Island in Florida Is Home to America's Wealthiest Zip Code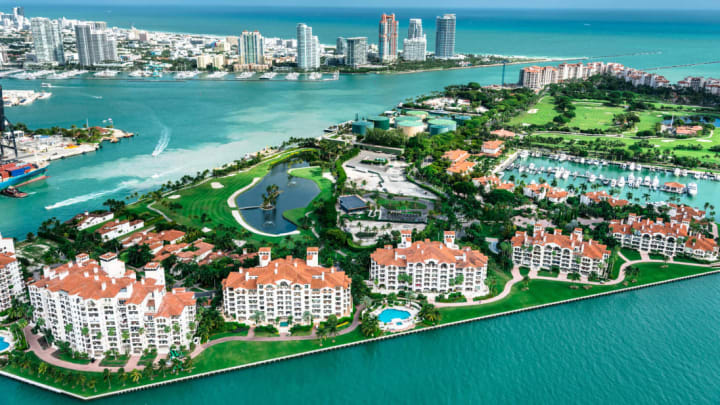 iStock / iStock
Situated just off the coast of Miami and Miami Beach (you can see it from South Beach), Fisher Island—a secluded, picturesque island that's reachable only by boat, water taxi, or helicopter—is the richest ZIP code in America, according to a new analysis by Bloomberg. With residents averaging an income of $2.5 million in 2015, the elite island (ZIP code 33109) is home to some of the world's top earners (including Oprah Winfrey, once upon a time).
Bloomberg analyzed IRS data from 2015 to create its ranking of the top 20 ZIP codes by average adjusted gross income. To be considered, a ZIP code needed to have at least 500 households and needed to have filed more than 200 tax returns as of 2015.
Although such rankings can be "skewed by outliers," Bloomberg notes that more than half of the tax returns in Fisher Island showed an income of over $200,000. The island was once the winter estate of wealthy businessman William K. Vanderbilt but is now an "ultra-private" residential community, according to the Greater Miami Convention & Visitors Bureau. Athletes, models, top executives, and lawyers are just some of the professionals who call 33109 home.
Other cities and towns on the list might surprise you. While ZIP codes in California, New York, and Florida certainly crop up several times, communities in Illinois, Wyoming, and Pennsylvania also make appearances. Here's the full list of the top 20 wealthiest ZIP codes in America:
1. Fisher Island, Miami Beach, Florida (33109)
2. Atherton, California (94027)
3. Palm Beach, Florida (33480)
4. Palo Alto, California (94301)
5. Harrison, New York (10577)
6. Gladwyne, Pennsylvania (19035)
7. Century City, Los Angeles, California (90067)
8. Kenilworth, Illinois (60043)
9. Weston, Massachusetts (02493)
10. San Francisco, California (94111)
11. Far Hills, New Jersey (07931)
12. Boston, Massachusetts (02110)
13. Portola Valley, California (94028)
14. Moose Wilson Road, Wyoming (83014)
15. Naples, Florida (34102)
16. Medina, Washington (98039)
17. Riverside, Connecticut (06878)
18. Old Westbury, New York (11568)
19. Glencoe, Illinois (60022)
20. Greenwich, Connecticut (06831)
[h/t: Bloomberg]