Apply Now to Join an Archaeological Dig at Colorado's Magic Mountain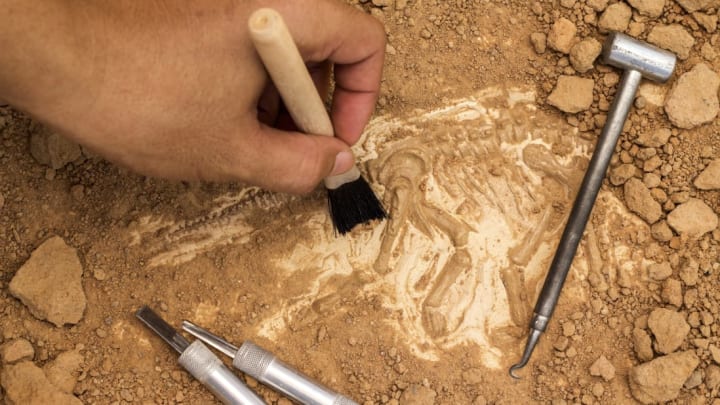 iStock / iStock
If you've ever dreamed of digging for artifacts but don't have an archaeology degree, you're in luck—but you'll have to act fast. The Denver Museum of Nature & Science is accepting applications for volunteers interested in joining a community dig this summer at one of Colorado's most important archaeological sites. Applications close May 3, according to Patch.
Located west of Denver, in Golden, the site is called Magic Mountain, named after a failed amusement park that was briefly located there in 1959–1960—more than a decade before the far more famous Magic Mountain opened in Los Angeles. Now owned by the city of Golden, the site was first excavated in the 1950s after a nearby dig revealed that the Fountain Rock Formation, of which Golden is a part, "was a key 'borderland' between the people of the high plains and Great Basin regions," The Denver Post reports.
The oldest artifacts found at the site date back some 7000 years, when the site was used as a camping grounds for hunter-gatherer groups passing through the region during the Archaic and Woodland periods. According to the museum, other artifacts found at the site, including ceramics and stone structures, suggest that a more permanent residence was established there at least 1000 years ago.
"Although Magic Mountain has been previously explored by archaeologists, this project revives the excavation through a community-based effort that will likely lead to new science and discoveries," the project's founders said in a statement, as reported by Patch. "You can be a part of uncovering and sharing human-environmental history over the last 7000 years, if not more!"
Volunteers will be given shovels, trowels, and other tools, and more experienced excavators will be on hand to demonstrate how they're used. No experience is necessary, but volunteers must be at least 18 years old and be able to complete three shifts during one of the two sessions, held June 18–27 and July 5–15. Space is limited for the program, and chosen applicants will be notified by May 7.
Ready to get your hands dirty? You can fill out an online application here.
[h/t Patch]