20 Facts About Queen Elizabeth II and Prince Philip's Wedding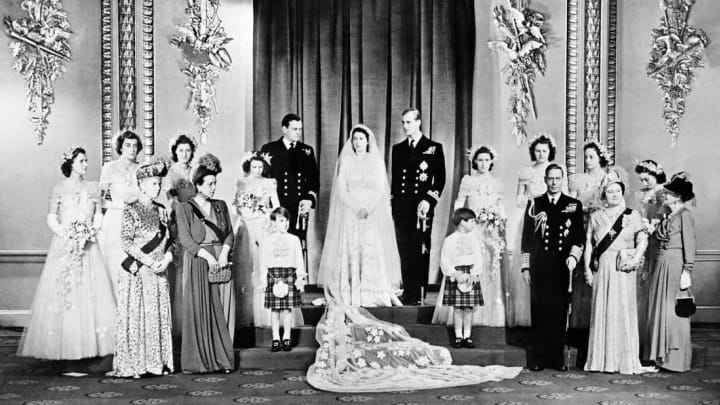 STR/AFP/Getty Images / STR/AFP/Getty Images
When you hear the term "royal wedding," Prince Harry and Meghan Markle, Prince William and Kate Middleton, and Prince Charles and Lady Diana Spencer might be the first couples who spring to mind. But what about Queen Elizabeth II and Prince Philip's big day?
Well, their romance was far from a fairytale. Elizabeth's family wasn't thrilled with the pairing, and Philip's German heritage meant that he couldn't invite his sisters to attend. There was drama, and romance, and gifts galore—not to mention one ill-timed broken tiara. Read on for all the royally fascinating details about Queen Elizabeth II and Prince Philip's courtship and wedding, which took place at Westminster Abbey on November 20, 1947.
1. Queen Elizabeth and Prince Philip met at another royal wedding.
Weddings are known as a great place to meet potential mates, and Elizabeth and Philip proved that, though it would take more than 10 years for them to get together. Which is for the best, as (then-Princess) Elizabeth was only 8 years old when she first met Philip at the 1934 wedding of Princess Marina of Greece and Denmark (Philip's cousin) to Prince George, Duke of Kent (Elizabeth's uncle). The two, who were distant cousins, met again in 1939, and began a kind of courtship via written correspondence (the 1930s equivalent of texting).
2. Prince Philip popped the question at Balmoral Castle.
The exterior of Balmoral Castle / iStock
The couple didn't get to see much of each other during World War II, as Philip was a Royal Navy officer. In 1946, Philip was back in London and a regular visitor to Buckingham Palace. That same year, while spending a month at Balmoral Castle in Scotland, Philip proposed to Elizabeth—who happily, and immediately, accepted.
3. Elizabeth and Philip kept their engagement a secret for a while.
Princess Elizabeth (future Queen Elizabeth II) and her Fiance Philip Mountbatten (also the Duke of Edinburgh) pose in the Buckingham Palace on July 09, 1947 in London, the day their engagement was officially announced. / AFP/Getty Images
While Elizabeth was quick to accept Philip's marriage proposal, that's not the way that royal marriages work. Elizabeth's parents—her father, the King, in particular—should have been consulted. When he learned of his daughter's plans, he agreed to let the marriage go forward—but only if the couple waited until after her 21st birthday to announce their engagement. They agreed. On July 9, 1947, the official public announcement was made. And the couple tied the knot on November 20, 1947, just over four months later.
4. King George VI, Elizabeth's father, was not thrilled about his daughter's choice of mate.
From left to right, Princess Elizabeth, Queen Elizabeth, King George VI, and Princess Margaret Rose wave from the balcony of Buckingham Palace August 15, 1945 on VJ Day in London, England / Getty Images
Though they eventually came around, Elizabeth's parents were not overjoyed by her relationship with Philip. "Despite Philip's British background and his fine war record, George VI was deeply worried about how British opinion, particularly its left wing, would take to a Greek Prince as the husband of the heiress presumptive," according to a 1957 article in TIME Magazine. "There was also something about his daughter's brash young man with his loud, boisterous laugh and his blunt, seagoing manners that irritated the gentle King. Besides, the fellow couldn't shoot."
Shooting prowess aside, it was obvious that Elizabeth had no plans of backing down—or out. At the King's request, Lord Louis Mountbatten (Philip's uncle) began quietly sussing out what the public's opinion of the match might be. When a poll in the Sunday Pictorial (now the Sunday Mirror) showed that 64 percent of its readership was rooting for the couple, Elizabeth finally got her way.
It's worth noting that those in the direct line of succession to the throne must receive permission to marry from the reigning monarch. So if Elizabeth and Philip had not received her dad's blessing, their love story could have had a much different ending.
5. Queen Elizabeth and Prince Philip were told to keep their wedding low-key.
The title page of a bible dedicated to Princess Elizabeth to commemorate her marriage to Lietenant Phillip Mountbatten. A gift from the Young Women's Catholic Association of Great Britain / Reg Speller, Fox Photos/Getty Images
Given that the country was just emerging from World War II, many political insiders took it upon themselves to warn King George VI that it was important for the morale of England that the young couple keep it simple. According to David Kynaston's Austerity Britain, 1945-1951, the King was told that, "Any banqueting and display at your daughter's wedding will be an insult to the British people at the present time … and we would consider that you would be well advised to order a very quiet wedding in keeping with the times."
6. Queen Elizabeth's wedding dress was inspired by a famous Botticelli painting.
Sir Norman Hartnell had the honor of designing Princess Elizabeth's wedding gown, and he took his inspiration from Primavera, a large panel, 15th-century work by famed Italian Renaissance painter Sandro Botticelli. Specifically, according to the Royal Trust Collection, he believed that it symbolized "rebirth and growth after the war."
Hartnell's design for the dress was not approved until the middle of August, giving him less than three months to complete the dress, which was made of ivory silk and decked out with crystals and 10,000 carefully curated seed pearls.
7. Queen Elizabeth paid for her wedding dress with ration coupons.
A sketch of Princess Elizabeth's wedding dress by Norman Hartnell / Central Press/Getty Images
In the wake of World War II, severe rationing measures were in effect, which included clothing. And no exceptions were being made—not even for future queens. So Elizabeth, like so many other brides at the time, had to save up her ration cards in order to purchase the fabric required to create her dress. When the public caught wind of this, hundreds of people from around the country sent their own ration cards to the princess in order to pay for the material. (While she appreciated the gesture, it would have been illegal for her to use them, so she had to return them all.)
8. Prince Philip designed Elizabeth's ring with his mother's diamonds.
A jeweler measures a diamond / iStock
Though Philip Antrobus is the official jeweler responsible for the Queen's platinum engagement ring, Prince Philip had a prominent hand in its design. And the ring—a 3-carat round diamond stunner surrounded by 10 smaller pave diamonds—came with a very personal connection: the diamonds came from the tiara that Philip's mother, Princess Alice of Battenberg, wore on her wedding day (a gift from Tsar Nicholas II and Tsarina Alexandra of Russia). There were enough diamonds left over that the ring came with a matching bracelet, which Philip gave to Elizabeth as a wedding gift.
9. Elizabeth had a last-minute tiara malfunction.
Princess Elizabeth's wedding dress, designed by Norman Hartnell, is displayed at the 'Royal Wedding: 20 Novermber 1957' exhibition at Buckingham Palace on July 27, 2007 in London / Peter Macdiarmid, Getty Images
Speaking of tiaras: the one that Elizabeth wore on her wedding day belonged to her mother and was known as Queen Mary's Fringe Tiara. With its 47 distinctive diamond bars, it's perhaps one of the world's most famous tiaras. It was designed in 1919 by E. Wolff & Co. for Garrard & Co. using the diamonds from a fringe necklace Mary had received as a wedding gift from Queen Victoria. (Those royals sure do know how to recycle their fancy jewelry.) It's a versatile piece, too: the fringe can be removed from the frame and worn as a necklace. That proved to be a bit of a blessing on Princess Elizabeth's wedding day when the frame of the tiara snapped as she was putting it on. Fortunately, the court jeweler was standing right there in case of just such an emergency.
10. Philip had two stag parties.
Lieutenant Philip Mountbatten, prior to his marriage to Princess Elizabeth, talking to a group of Naval officers on his return to Royal Navy duties, at the Petty Officers Training Centre in Corsham, Wiltshire, July 31st 1947 / Douglas Miller, Keystone/Getty Images
While the couple agreed to keep the ceremony itself as low-key as possible, Philip's stag party was another story. The night before the wedding, Philip hosted a bachelor party at London's Dorchester Club … with media in attendance.
"An eager press had been invited, but it was meant to observe the protocol of the day, which respected the privacy of the royals," Claire Stewart wrote in As Long As We Both Shall Eat: A History of Wedding Food and Feasts. "The prince's group must have been having some kind of fun, because eventually the flash bulbs of the journalists' cameras were torn off and stamped on the ground, with the groom's party moving on to the closed doors of the Belfry Club."
11. There were lots of title changes just before the marriage ceremony.
Princess Elizabeth of Great Britain and her husband Philip the Duke of Edinburgh, pose during their honeymoon, 25 November 1947 in Broadlands estate, Hampshire / AFP/Getty Images
There are certain rules that are required for marrying into the royal family, many of them set by the Act of Settlement, 1701. As a result, Philip had a bit of work to do before the wedding: in addition to renouncing his Greek and Danish titles, he took on the surname of his (British) mother's family. He was also required to convert from Greek Orthodoxy to Anglicanism. King George made it worth his while though: the day before the wedding, he bestowed the "His Royal Highness" address styling on Philip. On the morning of their wedding, he gave him a whole mouthful of other titles: Duke of Edinburgh, Earl of Merioneth, and Baron Greenwich.
12. Queen Elizabeth and Prince Philip were married at Westminster Abbey.
London's Westminster Abbey / iStock
Elizabeth and Philip married at Westminster Abbey at 10:30 a.m. on November 20, 1947. Nearly a quarter-century before, on April 26, 1923, Elizabeth's parents—King George VI and Queen Elizabeth (then known as the Duke and Duchess of York)—also married at Westminster Abbey. Princess Elizabeth was the tenth member of the royal family to be wed at the Abbey.
13. Elizabeth followed royal tradition and carried myrtle in her bouquet.
A recreation of the Duchess of Cambridge's wedding bouquet is photographed before it goes on display at Buckingham Palace during the annual summer opening on July 20, 2011 in London, England. / Lewis Whyld, WPA Pool/ Getty Images
Princess Elizabeth's white orchid bouquet also included a sprig of myrtle from the garden at Osborne House, a former royal residence on the Isle of Wight. It was a tradition that began with Queen Victoria and has carried on through the ages: Lady Diana Spencer's bouquet included a sprig of the Osborne House myrtle, as did Kate Middleton's (pictured). Another royal tradition that Elizabeth followed: the day after her wedding, her bouquet was sent back to Westminster Abbey, where it was laid atop the Tomb of the Unknown Soldier.
14. Elizabeth and Philip had 200 guests in attendance.
Queen Elizabeth II (in coach) and her husband Prince Philip, Duke of Edinburgh are cheered by the crowd after their wedding ceremony, on November 20, 1947, on their road to Buckingham Palace / AFP/Getty Images
While they tried to keep the lavishness to a minimum (there were few flowers or other shows of extravagance), the guest list was, in a word, enormous. There were 2000 guests invited to the ceremony, with plenty of royals from around the world in attendance including the King and Queen of Denmark, the King of Iraq, the Shah of Iran, and Princess Juliana and Prince Bernhard of the Netherlands.
15. The Duke of Windsor (a.k.a. King Edward VIII) was not on Elizabeth and Philip's wedding guest list.
Wallis Simpson and the Duke of Windsor / Central Press/Getty Images
There's a lot of politics that go into who makes the cut for the guest list of any wedding, but Philip and Elizabeth had even more challenges to muddle through. Because the couple married so soon after World War II, it was deemed unacceptable for any of Philip's German relatives to be a part of the big day, which meant that he couldn't invite his three surviving sisters who had all married German princes. Also conveniently left off the guest list? George's brother, The Duke of Windsor, a.k.a. The Royal Formerly Known as King Edward VIII, who abdicated the throne in order to marry Wallis Simpson, thus changing the line of succession and making Elizabeth the heir presumptive.
16. Approximately 200 million people around the world listened to Elizabeth and Philip's wedding ceremony.
Four men and women gather closely together while listening to their home radio console, 1930s / Hulton Archive/Getty Images
While waking up early to watch the latest royal wedding may be the norm today (well, for as rarely as they occur), technology wasn't quite there at the time. Still, there was enough interest in the nuptials that more than 200 million people around the world listened to the couple exchange their vows via BBC Radio. Video footage of the event made its way into cinemas around the country shortly thereafter.
17. Elizabeth and Philip's wedding cake was 9 feet tall.
A slice of a wedding fruitcake / iStock
In keeping with royal tradition, Elizabeth and Philip's wedding cake was a fruitcake that earned the nickname "The 10,000-Mile Wedding Cake" because its ingredients were sourced from around the world, including sugar from Australia's Girl Guides. That designation could have just as easily referred to the confection's height: the four-tiered cake was 9 feet tall and weighed in at 500 pounds. It was decorated with the arms of both families and featured the monograms of both the bride and groom. In 2015, a 68-year-old slice of that very wedding cake sold for £500 (about $750 at the time).
18. Elizabeth and Philip received a lot of gifts and well wishes.
Wedding presents from Canada including silver candlesticks and a chest of drawers for Princess Elizabeth and Philip Mountbatten on view at St James' Palace / Central Press/Getty Images
Based on the number of gifts and well-wishes the couple received, it seemed as if the whole world was excited about Elizabeth and Philip's union. The couple received 10,000 telegrams and more than 2500 gifts from all around the world—including a piece of cotton lace from Mahatma Gandhi that he spun himself and had embroidered with the words "Jai Hind" ("Victory for India"). A box of home-grown apples, 500 tins of pineapple, two dozen handbags, 12 bottles of sloe gin, and 131 pairs of nylon stockings were also among the wedding loot.
19. Many of Elizabeth and Philip's wedding gifts went on display—twice.
A visitor to the 'Royal Wedding: 20 Novermber 1957' exhibition looks at a selection of gifts given to the royal couple at Buckingham Palace on July 27, 2007 in London. Queen Elizabeth II will be the first reigning sovereign to celebrate a 60th wedding ann / Peter Macdiarmid, Getty Images
Rather than keep the generosity of their well-wishers to themselves, Elizabeth and Philip showed off the bulk of the many wonderful wedding gifts they received to benefit charity. Between 1947 and 1948, more than 200,000 people came to St. James's Palace to view the royal wedding gifts. Some of these same gifts were showcased again in 2007, to commemorate the couple's Diamond Wedding anniversary, as part of the "A Royal Wedding" exhibition.
20. Queen Elizabeth's wedding dress was put on display, too. Then went on tour.
Princess Elizabeth of England and Philip The Duke of Edinburgh pose on their wedding day, 20 November 1947 in Buckingham Palace / AFP/Getty Images
Princess Elizabeth's iconic dress was also put on display for the public at St. James's Palace for curious fashionistas. So that it wasn't just Londoners who had a chance to get an up-close look at the frock, it then went on a royal tour across the UK with stops in Liverpool, Bristol, Nottingham, Manchester, Leeds, and Glasgow.
This story has been updated for 2021.