40 Strange Wedding Gifts Given to Royals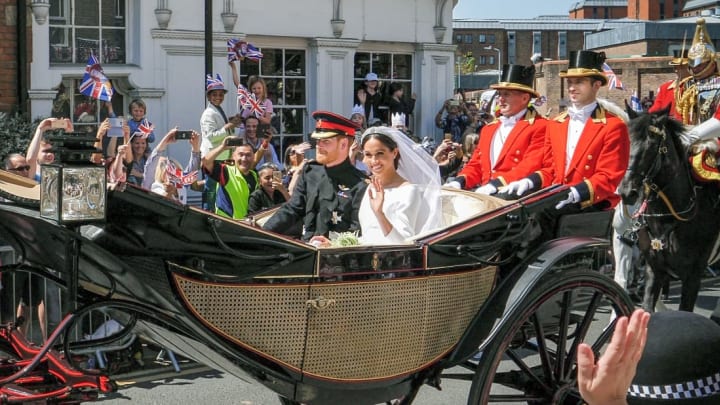 AdrianHancu/iStock Editorial via Getty Images Plus / AdrianHancu/iStock Editorial via Getty Images Plus
Although many royal couples, including the Duke and Duchess of Sussex, shy away from traditional wedding gifts and instead ask for charitable donations to be made in their names, that still doesn't stop the barrage of often fairly bizarre and random non-registry gifts sent by well-wishers (royals—they're just like us!).
Looking back through the history books, it seems that giving unusual wedding presents to royal newlyweds is nothing new. Below are 40 strange wedding gifts given to several happy royal couples, dating all the way back to ancient Egypt.
1. A tandem bike
Prince William and Kate Middleton exchange vows in 2011. / Dominic Lipinski, WPA Pool/Getty Images
When the Duke and Duchess of Cambridge—then Prince William and Kate Middleton—married in 2011, the then-Mayor of London (and current prime minister) Boris Johnson gifted the couple a tandem bike in the style of the city's then-relatively new bike-share program. "I look forward to seeing the newlyweds on tandem wheels as they start their new life in Anglesey," Johnson told a crowd in Trafalgar Square on the day. Not a bad gift for the sporty couple, but no one has seen them out riding it.
2. A cocker spaniel
Catherine, Duchess of Cambridge and Prince William, Duke of Cambridge pose for a photograph with their son, Prince George of Cambridge, and Lupo, the couple's cocker spaniel. / Michael Middleton, WPA Pool/Getty Images
Like Harry and Meghan, William and Kate had requested that donations be made to a charitable fund bearing their names—among the organizations they sent contributions to were the Canadian Coast Guard Auxiliary, an anti-bullying campaign, and the Zoological Society of London. Nevertheless, Kate's brother, James, couldn't resist giving the happy couple a black cocker spaniel puppy, Lupo, who is now a beloved member of the family.
3. A Land Rover
Prince William and Kate Middleton drive away from Buckingham Palace on their wedding day. / Christopher Furlong, Getty Images
One physical gift that Wills and Kate received that went straight to charity was a Land Rover Defender 110 Utility Wagon. Prince William—who is the patron of the Mountain Rescue England and Wales organization—wrote the names of 50 different mountain rescue teams from across the country on slips of paper and asked Prince Harry to pick one out at random. The car was ultimately awarded to a team based in Patterdale in the English Lake District.
4. A kayak
Prince Carl Philip of Sweden and his wife Princess Sofia ride in a carriage on their wedding day. / Ian Gavan, Getty Images
Prince Carl Philip of Sweden and his wife Sofia Hellqvist (now Princess Sofia) are well known for their love of the outdoors, and were gifted a two-seater kayak by the Swedish government on behalf of the people of Sweden for their wedding in 2015. Naturally, they also received their very own nature reserve in Värmland, the region in which they are the Duke and Duchess, in which to try it out.
5. A tennis court
Crown Prince Frederik and Crown Princess Mary of Denmark after their wedding in 2004. / ODD ANDERSEN, AFP/Getty Images
When Crown Prince Frederik and Mary of Denmark wed in 2004, the Danish municipality of Sønderborg gave the couple a tennis court and pavilion at Gråsten Castle, the summer residence of the Danish royals.
6. A poem
Prince Charles and the Duchess of Cornwall, formerly Camilla Parker Bowles stand during the Service of Prayer and Dedication at Windsor Castle in 2005. / CHRIS ISON, AFP/Getty Images
Tradition dictates that the British Poet Laureate pen a new poem to celebrate each royal wedding, which led Andrew Motion to write "Spring Wedding" in 2005 to celebrate the marriage of Prince Charles and Camilla Parker Bowles (now the Duchess of Cornwall). The poem was met with mixed reviews: Given the couple's history, some thought lines mentioning "winter-wreckage" and "the heart which slips" weren't quite appropriate.
7. A giant jigsaw puzzle of the bride and groom
Princess of Asturias Letizia Ortiz and Spanish Crown Prince Felipe of Bourbon at their wedding in 2004. / ODD ANDERSEN, AFP/Getty Images
When Felipe, Prince of Asturias (now King Felipe VI of Spain) married Letizia Ortiz Rocasolano in 2004, the people of the Asturian capital Oviedo sent them a gigantic jigsaw puzzle depicting their portrait. It was assembled by visitors to a local shopping mall.
8. A "stop smoking" course
Norwegian Crown Prince Haakon and Mette-Marit Tjessem Hoiby leave the Oslo Cathedral August 25, 2001 after their wedding. / Anthony Harvey, Getty Images
When Crown Prince Haakon, heir to throne of Norway, married Mette-Marit Tjessem Høiby in Oslo in 2001, one of the gifts reportedly sent to the couple was a course on how to quit smoking, intended to curb the bride's smoking habit.
9. A private Whitney Houston concert
Brunei's royal weddings have a ceremony that takes place in the Throne Chamber of the Istana Nurul Iman palace. / Bernard Spragg NZ, Flickr // Public Domain
When the eldest daughter of the Sultan of Brunei, Princess Rashidah, married Pengiran Anak Abdul Rahim Pengiran Kemaludin in 1996, her uncle Prince Jefri Bolkiah hired Whitney Houston to perform as a gift for the happy couple. According to some accounts, Houston was paid $1 million for the gig—but others claim the notoriously profligate Prince Jefri handed Houston a blank check and asked her to fill out whatever figure she felt she was worth: a cool $7 million.
10. A song by Elton John
Parade following the marriage of Andrew Mountbatten-Windsor, Duke of York to Sarah Ferguson in London. / Elke Wetzig, Wikimedia Commons // CC BY-SA 3.0
Rumor has it that when the UK's Prince Andrew, Duke of York, married Sarah Ferguson in 1986, Elton John wrote a song especially for the occasion. As a longtime friend of the royal family, John had also performed at Andrew's 21st birthday in 1981 and at his bachelor party.
11. One ton of peat
Lady Diana, Princess of Wales with Prince Charles of Wales at their wedding at St Paul Cathedral in London in July 1981 / STR/AFP/Getty Images
When Prince Charles married Lady Diana Spencer in 1981, they received a number of traditional gifts, including paintings, jewelry, a four poster bed, and an art deco Cartier clock. Charles's interest in agriculture was picked up on by a local village council in Somerset, in southwest England, who opted to send the prince one ton of high-quality peat for use on his Gloucestershire estate.
12. A "really lovely rug"
Anne, the Princess Royal and Mark Phillips pose on the balcony of Buckingham Palace in London, UK, after their wedding in November 1973. / Fox Photos, Hulton Archive/Getty Images
When Princess Anne, Queen Elizabeth II's daughter, married Captain Mark Philips in 1973, the members of the British Cabinet all pitched in and bought the couple a rug. Like many office-pooled gifts, every member of the Cabinet contributed an equal share—which private papers later revealed to be just £10.53 each. The princess wrote each member a personal note thanking them "most warmly" for "a really lovely rug." When it was revealed that President Nixon and the U.S. government had sent the couple a solid crystal bowl and four gold candlesticks, Principal Private Secretary to the Prime Minister Sir Robert Armstrong wryly commented, "This makes an old Persian rug look pretty crumby."
13. A 147-foot yacht (that you can holiday on today)
U.S. actress Grace Kelly and Prince Rainier of Monaco during their wedding ceremony in Monaco. / AFP, Getty Images
Shipping magnate Aristotle Onassis—future husband of Jackie Kennedy—gave Prince Rainier of Monaco and Princess Grace (a.k.a. Hollywood actress Grace Kelly) a 147-foot yacht, the Arion, as a wedding present in 1956. They honeymooned on it off the coast of Corsica and Sardinia; it's now a luxury floating hotel operating in the Galapagos Islands.
14. The ingredients for a wedding cake
The Princess Elizabeth of England and Philip The Duke of Edinburgh pose on their wedding day in November 1947 in Buckingham Palace. / AFP, Getty Images
Wartime rationing was still in place in Great Britain when Princess Elizabeth, now Queen Elizabeth II, married Lieutenant Philip Mountbatten, now Prince Philip, in 1947. To get around the food shortages, the Australian Girl Guides Association chose to gift the couple the ingredients they would need for their wedding cake.
15. A box of apples
Queen Elizabeth II (in coach) and her husband Prince Philip, Duke of Edinburgh are cheered by the crowd after their wedding ceremony, on November 20, 1947, on their road to Buckingham Palace, London. / AFP, Getty Images
Rationing didn't stop the British public from giving Princess Elizabeth and Prince Philip presents either. In addition to a box of home-grown apples, the royal couple were also sent 500 tins of pineapple, two dozen handbags, 12 bottles of sloe gin, and 131 pairs of nylon stockings.
16. A hand-spun lace tray cover (that looked like a loin cloth)
Members of the British Royal family and guests pose around Princess Elizabeth (future Queen Elizabeth II) and Philip, Duke of Edinburgh. / STR, AFP/Getty Images
Elizabeth's wedding was just two months before 78-year-old Mahatma Gandhi's death, and the famed activist sent the couple an Indian lace tray cover that he wove himself. Reportedly, Elizabeth's grandmother, Queen Mary, thought it was a loin cloth.
17. A nationwide amnesty
In the late 19th century, the Imperial Chinese government celebrated the wedding of two members of its ruling Qing Dynasty by enacting a 20-day nationwide amnesty in their honor, during which no one would be punished for any crime. On the day of the wedding itself, the entire population of the Empire was mandated to wear red and green clothing.
18. A half-ton wheel of cheese
Queen Victoria and Prince Albert on their return from the marriage service at St James's Palace, London in 1840. / Engraved by S Reynolds after F Lock, Wikimedia Commons // Public Domain
When Queen Victoria married Prince Albert in 1840, one of the couple's wedding gifts was one of the largest wheels of cheese in British history. Measuring more than 9 feet across, weighing in at more than 1000 pounds, and made from the milk of 750 cows, the cheese was prepared for the occasion by villages in Somerset. And befitting the happy occasion, a cheesy song was written as well:
"The Pennard men then built a cheese The like was never seen! 'Twas made, and press'd, and fit to please Our gracious lady Queen! And wedded to her royal love May blessings on her fall, And Pennard cheese at dinner prove The best thing—after all!"
19. A mini chateau
The funerary monuments (not the graves) of King Louis XVI and Queen Marie Antoinette at the Basilica of Saint Denis, France. / Eric Pouhier, Wikimedia Commons // CC BY-SA 2.5
When 15-year-old Dauphin Louis-Auguste (later Louis XVI) of France married 14-year-old Marie Antoinette in 1770, he gave her Le Petit Trianon, a three-story miniature chateau set in the grounds of the palace of Versailles, as a wedding present. "This pleasure house is yours," he reportedly told her. In the uneasy first years of their marriage, the future queen spent much of her time at Trianon, and though Louis would join her for dinner, he never spent the night there (which likely contributed to their not consummating the marriage for seven years).
20. An opera
William IV, Prince of Orange, his wife, Anne of Hanover, and their children Carolina and William V. / Wikimedia Commons // Public Domain
When Prince William of Orange (later William IV) married Anne of Hanover in 1734, the composer George Frederic Handel composed Parnasso in festa, a three-part Italian serenata, to mark the occasion. Handel also composed a wedding anthem for the bride; though he disliked serving as a music teacher, he had made an exception for her when she was a child, calling her a "flower of princesses."
21. A feast made entirely of sugar (and a sugar replica of the groom)
King Henry IV of France and Queen Marie de'Medici / Hulton Archive, Getty Images
When King Henry IV of France married Marie de'Medici in 1600, he presented her with a grand Florentine banquet of fish and roast meats—at least at first glance. Turns out, the feast was made entirely from sugar. The groom perhaps took the European love of sugar a bit too far. Their ceremony was a wedding-by-proxy; in his stead, Henry sent a near life-size sugar replica of himself riding a horse.
22. A gold cup designed by Hans Holbein
King Henry VIII and Jane Seymour / National Portrait Gallery of London, Wikimedia Commons // Public Domain
When Henry VIII married his third wife, Jane Seymour, in 1536 (just 11 days after Anne Boleyn was beheaded), he gave her a solid gold drinking cup designed by German Renaissance master Hans Holbein as a wedding present (Holbein was the court artist; many of the most famous portraits done of the Tudors were by Holbein). Alas, all that remains of Queen Jane's gift is a sketch of it: Charles I pawned the cup in 1625 and had it melted down four years later.
23. A book of French romances and an essay on warfare
Detail of the illuminated miniature on the presentation page of the Talbot Shrewsbury Book, showing the donor, John Talbot, 1st Earl of Shrewsbury, presenting the book as a gift to Margaret of Anjou and Henry VI. / Wikimedia Commons // Public Domain
When Margaret of Anjou married Henry VI of England in 1445, John Talbot, the Earl of Shrewsbury, who had accompanied her on her journey from Normandy to London, presented her with a book of illuminated French poems, folktales, romances, and political treatises. The Talbot Shrewsbury Book, as it's now known, also contains a complete list of statutes governing the Order of the Garter, and several lengthy treatises on warfare, husbandry, and hunting. It was likely perfect bedtime reading for the ambitious new queen of England, especially considering that she often had to rule in Henry's place.
24. Three leopards
Eleanor of Provence and King Henry III of England. / Hulton Archive, Getty Images
King Henry III is credited with establishing much of the royal menagerie that used to be housed at the Tower of London. In 1235, to mark his betrothal to Eleanor of Provence, he was given three leopards (or possibly lions) to add to his collection by the Holy Roman Emperor, Frederick II.
25. An entire town
"King Solomon with his wives at table," by Anton Koburger, 1491. / Hulton Archive, Getty Images
According to the biblical 1st Book of Kings, when King Solomon married the daughter of the Egyptian pharaoh sometime in the mid-10th century BCE, the pharaoh conquered the Canaanite town of Gezer in the Judean Mountains, massacred its people, and gifted it to his daughter as a dowry.
26. A pair of koalas
When Prince Harry and Meghan Markle married in May 2018, they requested that in lieu of gifts, friends and family donate to one of seven handpicked charities, including an HIV charity, a coastal ecology charity, and a fund for children who have lost parents in military service. That, however, didn't stop a handful of well-wishers from doing both—among them, the regional assembly of New South Wales. In addition to making a donation to a local conservation charity in their honor, premier of New South Wales Gladys Berejiklian had two baby koalas at the Taronga Zoo in Sydney named after the couple "as a gift from the people of New South Wales."
27. A bespoke James Bond-style cigarette lighter
French president Emmanuel Macron also broke the Duke and Duchess of Sussex's embargo on personal gifts, and presented the couple with a bespoke gift set from ST Dupont's 007 collection, including two engraved James Bond-style pens and a matching cigarette lighter. The gift had precedent, though: When the future Queen Elizabeth II married Prince Philip in 1947, the royal couple were gifted a Dupont travel case by then French president Vincent Auriol, and the tradition has been maintained ever since.
28. A one-ton Indian bull
Of all the gifts the Duke and Duchess of Sussex received in 2018, however, perhaps the most unique was news that PETA had adopted a one-ton malnourished Indian bullock on their behalf. Named Merry (an amalgam of Harry and Meghan, of course), the bull now sees out its days in an animal sanctuary in Maharashtra.
29. A pair of solid silver kiwis
When Princess Margaret, Elizabeth II's younger sister, married society photographer Anthony Armstrong-Jones in 1960, many Commonwealth countries sent wedding presents as a sign of their best wishes. Among them were two solid silver kiwis—one nestling an egg between its legs—that were presented to the couple on behalf of the people of New Zealand. In 2006, four years after Margaret's death, the models were auctioned off for charity in London; despite an early estimate of less than $1000, they eventually sold for £36,000—which would be the equivalent of more than £51,000, or about $66,000 today.
30. An empty plot of land (on a private Caribbean island)
After their wedding, Princess Margaret and her new husband—now officially the Earl of Snowden—spent their honeymoon on a six-week Caribbean cruise aboard the Royal yacht Britannia. During that time, the British socialite and aristocrat Colin Tennant (whose wife, Anne Coke, was Margaret's lady-in-waiting) gifted the couple a plot of land on Mustique, the 2-square-mile private island in the Grenadines that he had purchased just two years earlier. Margaret later developed the plot into a private villa called Les Jolies Eaux—"The Beautiful Waters"—where you can now spend the week (if you have a spare $21,000).
31. Two soufflé dishes
When Princess Mary, the Princess Royal—only daughter of George V, and Elizabeth II's aunt—married Viscount Lascelles in 1922, she gifted her husband a pair of antique soufflé dishes. Princess Mary, incidentally, put most of her collection of wedding gifts on display at Buckingham Palace, and used the proceeds the exhibition raised to purchase Foxlease Hall, the headquarters of the Girl Guide Association.
32. A seat in the royal box
When the Russian princess Irina Romanov married her sweetheart Felix Yusupov in February 1914, Tsar Nicholas II reportedly asked his new son-in-law what he would like as a wedding gift. Yusupov requested a seat in the Imperial box in the Marinsky Theatre in St. Petersburg.
33. A bag of 29 uncut diamonds
While Felix took his seat in the Tsar's box at the theater, Princess Irina was given a pouch of 29 uncut diamonds, each weighing between three and seven carats. These—plus the countless other precious stones the couple were gifted as wedding presents—helped maintain them financially during their life in exile after the Russian Revolution in 1917.
34. A diamond-encrusted fan
Besides her own mini-chateau, another lavish (but slightly more practical) wedding present Marie Antoinette received from Louis XVI was a diamond-encrusted fan, presented to Marie on her wedding day along with an ornate cabinet full of jewels and gemstones.
35. A quaich
When King James VI of Scotland married Anne of Denmark in 1589, he presented her with a traditional Scottish quaich—a type of shallow, dual-handled drinking bowl. Quaichs have been a traditional wedding gifts in Scotland ever since.
36. Five notebooks (including one that belonged to the husband's ex-wife)
Henry VIII went on to marry his fifth wife, Catherine Howard, just three weeks after his fourth marriage (to Anne of Cleves) was annulled in July 1540. As a wedding gift, he presented Catherine with a set of five miniature jewel-encrusted notebooks, or "girdle-books." Unfortunately, arranging a wedding in less than a month apparently doesn't leave much for checking little things, like whether or not you and your ex-wife's initials are still embossed on the wedding present you've just given to your new spouse. Yes, one of the books in Catherine's collection had the letters "H." and "I." in black enamel on the front cover, suggesting the book had probably originally been a gift from Henry for Jane Seymour (I standing in for J in the Tudor-period alphabet). Alas, re-gifting her his dead wife's possessions wasn't even the worst thing Henry did to poor Catherine: Their marriage lasted just a little over a year, and in February 1542—on a trumped up charge of adultery with her distant cousin, Thomas Culpepper—Catherine was executed at the age of 19.
37. A small wooden chest engraved with knotted thistles
In 2014, a fairly unassuming oak chest owned by an amateur furniture collector from Aberdeen, Scotland, was actually found to be a priceless 500-year-old royal heirloom. The chest's unusual engravings—featuring a lover's-knot made of entwined thistles—matched those in the Book of Hours of James IV of Scotland, a devotional prayer book published to mark James's marriage to Margaret Tudor, the eldest daughter of the Henry VII of England (and the older sister of Henry VIII). Their so-called "Thistle and the Rose" marriage in August 1503 united the Tudor and Stuart dynasties after decades of conflict, and the chest was apparently commissioned as a wedding gift to mark the occasion.
38. An orange tree
According to legend, to celebrate the marriage of Louis XII of France to his second wife, Anne, the Duchess of Brittany, the Spanish queen Leonora of Castile gifted the couple an orange tree in 1499, which the king had planted in the gardens of his palace in Paris. The tree's fruit—thought to be an early cultivar of either blood or navel oranges—proved immensely popular, and were soon being grown and sold all across Paris and beyond.
39. A personalized book of psalms.
It's fair to say that Edward II and Queen Isabella of France didn't have the easiest of marriages. After all, few healthy marriages tend to involve the husband being embroiled in romantic relationships with his male courtiers, and the wife being questionably implicated in her husband's gruesome murder. But despite those ups and downs, Edward and Isabella did at least keep up appearances by lavishing a great many expensive gifts on one another. Royal records show that Edward showered his young wife in gemstones and jewelry throughout their marriage; had her carriage fitted with extra cushions during her pregnancies; and, in return, Isabella continued to send the king gifts and letters, even after his deposition and eventual imprisonment in the 1320s.
Of all the presents the couple gave each other, however, perhaps the most remarkable is an illuminated books of psalms that Edward apparently gifted Isabella on their wedding in 1308. The book, known as the Isabella Psalter, depicts the queen in various biblical and religious scenes throughout its 280 highly decorated pages.
40. The deposed Emperor of Cyprus
Richard the Lionheart—a.k.a. the 12th century English king Richard I—spent so much time reconquering the Holy Land, that barely six months of his 42-year reign was actually spent in England. (It's even unclear, for that matter, whether he ever found time to learn to speak English.) Richard's preoccupation with the Crusades also meant that, for their wedding day to go ahead, his young wife-to-be, Berengaria of Navarre, was compelled to meet him halfway: In 1191, she sailed from her home in northeast Spain and caught up with Richard on the island of Cyprus. There, the couple—who had never met before—were finally wed in a tiny chapel in Limassol.
Before Richard continued on his Crusade, however, he had just enough time to depose the tyrannical self-styled "Emperor" of Cyprus, Isaac Comnenos, and claim the island for England. According to tradition, having promised Isaac that he would not imprison him in irons, Richard had the emperor wrapped in gold and silver chains instead—and then presented him to his new queen as a rather unorthodox wedding gift.