Chefs Launch World's Highest Pop-Up Restaurant at Mt. Everest Base Camp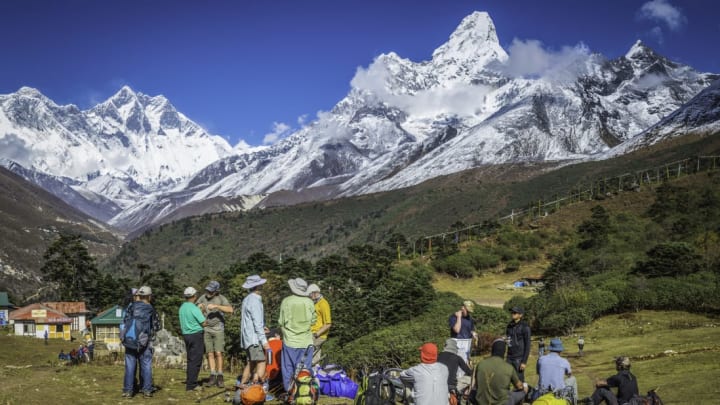 iStock / iStock
A touch of altitude sickness shouldn't stand in the way of a good meal. At least that seems to be the idea behind a plan to serve a seven-course dinner to trekkers at Everest Base Camp, the gateway for those planning to climb Mt. Everest in Nepal.
The four chefs leading this trip hope it will land them a new Guinness World Record for the highest pop-up restaurant on the planet, according to Architectural Digest. At the end of May, the chefs will take 10 people on an eight-day trek from the town of Lukla (at an altitude of about 10,000 feet) to Everest Base Camp (at 11,600 feet), all while foraging along the way for ingredients that can be incorporated into the meal. (For a true luxury experience, guests also have the option of traveling by helicopter.) The full package of flights, accommodations, and meals costs about $5600 per person.
After reaching their destination, trekkers will get to sit back and enjoy a feast, which will be served inside a tent to protect diners against the harsh Himalayan winds. Indian chef Sanjay Thakur and others on his team say they want to highlight the importance of sustainability, and the money they raise will be donated to local charities. Thakur said most of the food will be cooked sous vide, which allows vacuum-packed food to be cooked in water over a long period of time.
"The biggest challenge, of course, will be the altitude, which will affect everything," Thakur tells Fine Dining Lovers. "Flavor [perception] will be decreased, so we will be designing a menu of extraordinary dishes accordingly, where spices will have the upper hand."
This isn't the first time an elaborate meal will be served at Everest Base Camp, though. According to Fine Dining Lovers, another chef launched a pop-up at the same spot in 2016, but it presumably wasn't registered with the Guinness Book of World Records. Other extreme restaurants include one carved into a limestone cliff in China, one dangling 16 feet above the ground in a rainforest in Thailand, and one submerged 16 feet below sea level in the Maldives.
[h/t Architectural Digest]