A Visual History of Captain America's Shields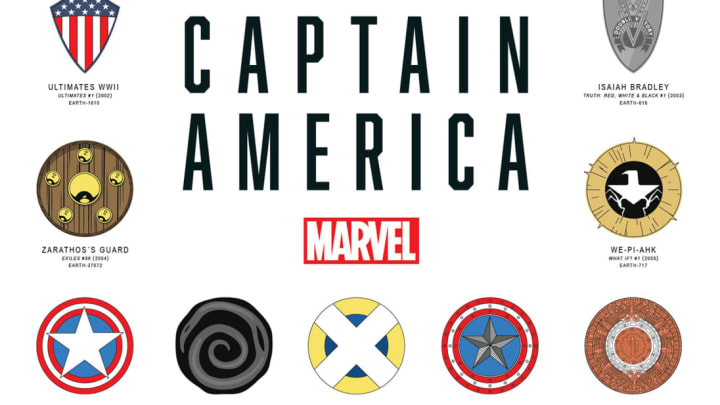 Pop Chart Lab / Pop Chart Lab
Captain America has gone through plenty of wardrobe changes since his comic book debut in 1941, but it's his iconic shield that has had the most makeovers. Over the past eight decades, fans have seen the shield change its shape, color, and even the material from which it's crafted. For the folks at Pop Chart Lab, the shield's storied history provided the perfect subject matter for their latest poster.
On this piece, the company teamed with Marvel to give a rundown of 50 of Cap's shields—from the instantly recognizable to the downright obscure. Here we see his classic Golden Age shield, with its slightly different color scheme, and the different variations from Jack Kirby's time-traveling Bicentennial Battles book. Then there are entries like the vibranium shield he received from Black Panther in Captain America #342 and an adamantium one made by Tony Stark.
Those different shields just scratch the surface of the deep cuts Pop Chart Lab provides. There are also shields from Captain Americas across Marvel's numerous alternate universes, like the ones used by the Ultimate Universe Steve Rogers and the android Cap from Earth-725.
Each shield is illustrated to match its comic book counterpart and comes with a description specifying the series it debuted in and which Earth it exists on (the Marvel Universe has thousands of different versions of Earth, after all).
The posters will begin shipping on May 23, and you can pre-order yours now starting at $29 on the Pop Chart Lab website. You can check out a full look at the poster below.
Pop Chart Lab