Why Do Americans Call It 'Soccer' Instead of 'Football'?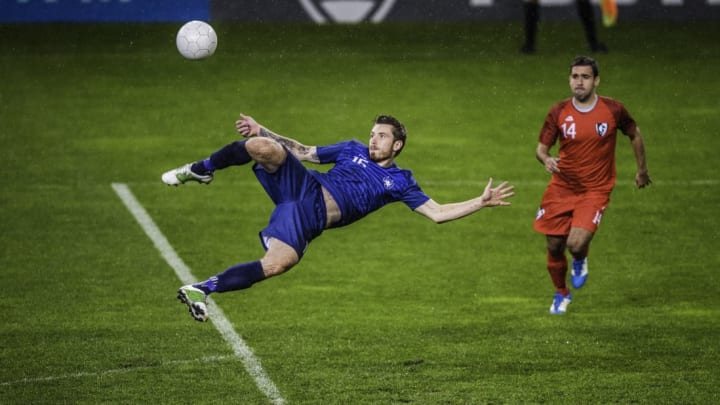 iStock / iStock
While more Americans than ever are embracing soccer, they can't even get the sport's name right, according to some purists. For most of the world, including the vast majority of Europe and South America, it's football, fútbol, or some other variation. In the United States, Canada, Japan, and a few other stragglers, it's firmly known as soccer, much to the annoyance of those who can't understand how a sport played with feet and a ball can be called anything else. So why the conflict?
According to a paper [PDF] by University of Michigan professor Stefan Szymanski, it all began in England in the early 1800s, when a version of the sport of football—based on a game played by "common people" in the Middle Ages—found its way into the recreational scene of some of the country's most privileged schools. To give uniformity to the competitions between these schools and clubs, a set of standard rules was drafted by students in Cambridge in 1848. These rules would become further solidified when they were adopted by the more organized Football Association in 1863.
It wasn't long before variations of the sport began to splinter off—in 1871, the Rugby Football Union was founded, using Rugby School rules from the 1830s that allowed a player to run with the ball in their hands. This new take on the sport would be known as rugby football, or rugger, to separate itself from association football, the traditional feet-only version of the sport. From there, association football would get the nickname assoccer, leading eventually to just soccer. The addition of an "er" at the end of a word was something of a trend at the time, which is why we get the awkward transformation of association into assoccer and soccer.
The first recorded American football game was between the colleges of Rutgers and Princeton in 1869 and used unique rules derived from those in both association and rugby football. Though this new, evolving game would just be called football in the U.S., elsewhere it would become known as gridiron football or American football, much in the way Gaelic football and Australian football have their own distinctions. Eventually in England, rugby football was shortened to just rugby, while association football simply became known as football. Which meant that now there were two footballs, on opposite sides of the Atlantic, and neither side would budge. And Americans would begin referring to England's football by the previous nickname, soccer.
Despite the confusion nowadays, soccer was still a colloquial term used in England well into the 20th century—it rose in popularity following World War II before falling out of favor in the 1970s and '80s, according to Szymanski. In more recent years, it's mostly been used in England in a strictly American context, like when publications and the media refer to U.S. leagues like Major League Soccer (MLS). Currently, soccer is mostly used in countries that have their own competing version of football—including the United States, Canada, and Australia.
While it boils the blood of certain traditionalists, soccer is by no means an Americanism—like the sport itself, this is purely an English export.
Have you got a Big Question you'd like us to answer? If so, let us know by emailing us at bigquestions@mentalfloss.com.