11 Bizarre Things Done in the Name of Love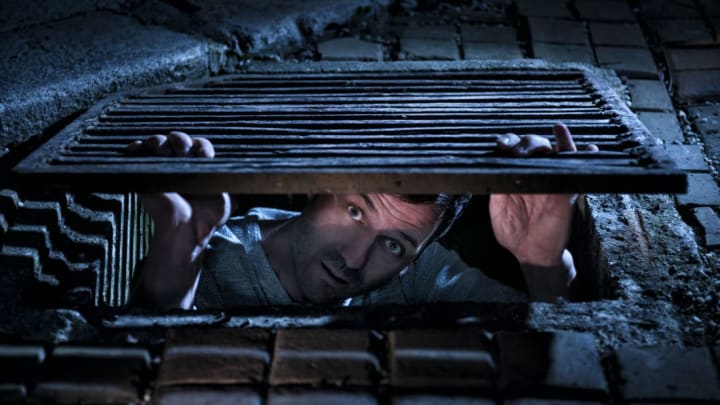 iStock.com/Kemter / iStock.com/Kemter
Love. It can make you do crazy things, or so the saying goes. And there are plenty of recorded incidents of people doing really crazy things, purportedly in the name of amore, that back that cliché up. Here are 11 of them.
1. Fake your own death
Alexey Bykov must have wanted to be sure that his future bride would take the whole "'Til death do us part" thing seriously. In 2012, the Omsk, Russia native hired a team of filmmakers to help him fake his own death. Right in front of his girlfriend. As part of an elaborately choreographed wedding proposal. "We'd arranged to meet at a certain place but when I arrived there were mangled cars everywhere, ambulances, smoke, and carnage," Irena Kolokov, his lucky gal pal, told the Daily Mail. "Then when I saw Alexey covered in blood lying in the road a paramedic told me he was dead and I just broke down in tears." Wait for it ... surprise! Just when Irena thought all was lost, Alexey sprang into action and asked her to marry him. Perhaps most surprisingly, she said yes.
2. Cohabitate with a corpse
iStock.com/nico_blue
"'Til death do us part" wasn't good enough for Carl Tanzler. In 1940, the radiologist was charged with "wantonly and maliciously destroying a grave and removing a body without authorization" when police discovered that he was in possession of the corpse of Maria Elena Milagro de Hoyos, a young woman who had died of tuberculosis in 1931. (In case you don't want to do the math, that's a full nine years earlier.) Tanzler's obsession with Hoyos began in 1930, when she was a patient at the United States Marine Hospital in Key West, Florida. Though there is no evidence that she reciprocated his feelings, Tanzler fought desperately to save Hoyos's life. Following her passing on October 25, 1931, Tanzler became a regular visitor to her above-ground mausoleum, which he had paid for and to which he had a private key. After two years of snuggling with the corpse, he removed her body and brought it home with him, which is where it remained until Tanzler's arrest a full seven years later.
3. Rob a Waffle House
Forget breakfast in bed—Marquis Baldwin will bring you the entire Waffle House. Well, at least whatever's in its cash register. In 2013, the then-22-year-old Pensacola resident was arrested on four counts of armed robbery and six counts of aggravated assault after he held up four businesses with a BB gun, three of them Waffle House restaurants. But the money Baldwin stole wasn't being saved for a rainy day; he used it to pay off his girlfriend's probation fees. Awww.
4. Register a URL
In the age of online dating, it only makes sense that a twenty-something would take to the Internet in order to connect with the girl of his dreams. In the case of former Vimeo employee Patrick Moberg, that meant registering a website—NYGirlOfMyDreams.com—in order to track down a cute brunette with fancy braided hair, rosy cheeks, and blue gym shorts with whom he locked eyes on a Brooklyn-bound 5 train in 2007. Within 48 hours, Moberg had found the young lady in question, Camille Hayton, and the two began dating. Two months later, the fairytale was over. "The situation was so intense that we bonded in a way that you could mistake for being more romantic than it was," Hayton said of their breakup. "But I wanted to give it a go, so I wouldn't later wonder, 'What if, what if?'"
5. Cry about it on YouTube
Not to be outdone with using the Web to get what (read: who) you want is Kelly Summers. In 2010, Summers decided to pay a surprise visit to the long-distance love of her life, Keith Tallis, only to meet his roommate: his longtime girlfriend. Shortly thereafter, Tallis paid Summers a visit to announce that he was now a single man, but then took off for home again 10 days later. Reeling from the betrayal, Summers set up The Froglet Diaries, which she described as a "self help video series," on YouTube to help deal with the breakup. It didn't take long for her videos to gain some dedicated followers, Tallis among them. "I watched each video and I couldn't believe the devastation I left behind," Tallis told the Daily Mail on September 10, 2010 of his decision to reconcile with Summers. "I'd never seen such raw emotion, and it made me realize how much I loved her." On October 7, 2010, Workshop Guardian reported that Tallis had once again returned to his ex-girlfriend.
6. Steal a moon rock
"The simple answer's to say that I did it for love," aspiring astronaut-turned-convict Thad Roberts told CBS News's Mo Rocca when asked about his reasons for stealing a safe containing $21 million worth of moon rocks from NASA scientist Everett Gibson. "I did it because I wanted to be loved," he continued. "I wanted someone to know that I'd literally cared about them that much. And to have the symbol there to remind them of it." Unfortunately, the "someone" in question was not Roberts's doting wife, but the 22-year-old intern who aided him in the heist, whom he had met just three weeks earlier. Ben Mezrich, author of Bringing Down the House and The Accidental Billionaires, wrote about Roberts in 2011 in his book Sex on the Moon.
7. Set your loved one's crotch ablaze
When Berlinda Dixon-Newbold wasn't getting the attention she wanted from her boyfriend, Sheldon Gonzalez, she decided to take matters into her own hands … and set the crotch of his pants on fire while he slept. "You tend to, like, get upset when somebody [is] trying to harm the family jewels," Gonzalez told Fort Lauderdale's WFOR-TV of the 2010 incident. "I just felt the heat in my groin area and I just reacted and she was right over me." Gonzalez was able to extinguish his pants before any serious injury occurred. Which is one way to ensure the end of a relationship.
8. Throw lye in your beloved's face
Getting involved with a married man is always a recipe for romantic complications. Which is a lesson Linda Riss learned the hard way. In 1959, the then-21-year-old began dating lawyer Burt Pugach, a married father of one. Riss knew about his occupation, but not about his family, and promptly dumped him. He allegedly retaliated by paying a few thugs to throw lye in her face, blinding her in one eye and causing permanent scarring. Pugach denied any involvement in the attack, but was convicted and served 14 years in jail for the crime, during which he regularly wrote to Riss. Upon his release in 1974, Pugach divorced his first wife and married Riss. Two years later, they co-wrote a book, aptly titled A Very Different Love Story. In 2007, filmmaker Dan Klores made a documentary about their life, Crazy Love. On January 22, 2013, Riss passed away at the age of 75—with Pugach by her side.
9. Escape from jail
One might describe California's Santa Cruz County Jail as Craig Souza's second home. In 2012, the then-34-year-old was being booked for his 22nd stint behind bars at this particular penal institution when he made a not-so-bold escape (he rang a door buzzer, and a guard let him out). His reason? He was worried how his wife might react to all the time he had been spending in the clink. "I want everyone to know that I did it for love," Souza told local television station KSBW.
10. Go on a fecal rampage
We'll keep this one short, as the phrase "fecal rampage" sort of says it all. But that's exactly how police and witnesses described what went down in Staten Island in 2011 when aspiring rapper Rasheen "Illuminati" Harrison stripped naked and defecated in the elevator of his pregnant girlfriend's building, then—errr, ummm—"decorated" her door before setting it on fire. His explanation? "She stole my cell phone. I had a yellow lighter. I set it on fire," Harrison told police. Sounds reasonable.
11. Cut off your tattoo ... and mail it to him
iStock.com/ra3rn
If Johnny Depp's romantic history has taught us anything, it's that getting your loved one's name tattooed on your body is no way to ensure the relationship will last. While Depp's solution was to simply morph "Winona" into "Wino," 26-year-old Londoner Torz Reynolds came up with a more gruesome plan: take a scalpel to her own arm to remove the tattoo entirely. Reynolds then sealed it in a jar, wrapped it up nice and pretty, and mailed it to her ex. The worst part? The tattoo was big—it read "Chopper's Bitch." Next time she might want to consider dating an Ed.