The Bones of an Early Jamestown Settler May Soon Be Identified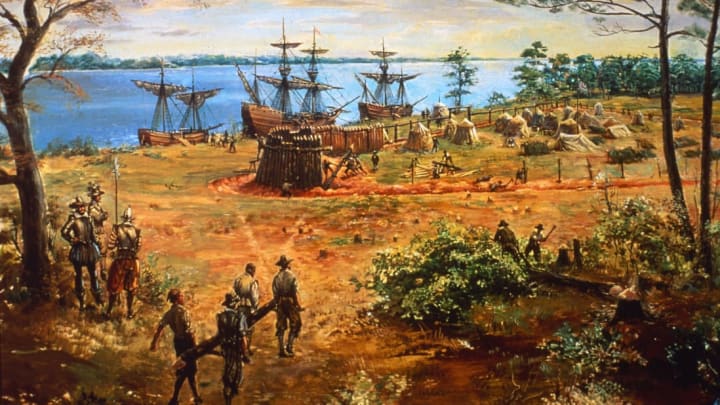 Hulton Archive/Getty Images / Hulton Archive/Getty Images
The 400-year-old skeleton of one of Jamestown's earliest settlers was unearthed during an archaeological dig at the former colony site, and scientists think they know who it is, The Washington Post reports. The bones may belong to Sir George Yeardley, an early governor of colonial Virginia.
The remains were found at the site of the Jamestown 1617 church, which archaeologist Mary Anna Richardson described as "one of the most complicated sites that we have ever worked on here at Jamestown," according to footage from the Smithsonian Channel, which will air a documentary on the results of the dig in 2019. The archaeological site features three churches compressed into one small area.
Researchers from Preservation Virginia, a nonprofit preservation group, have been exploring the historic clues left behind at Jamestown since 1994. In recent years, the group partnered with the Smithsonian Institution to turn its attention to the tiny churches that once dotted America's first permanent European settlement. Many high-profile figures from that time period were interred in the cemeteries attached to these places of worship.
The newly discovered remains belong to a man about 40 years old, according to a preliminary forensic analysis, which is consistent with biographical information about Yeardley. As the head of the first representative legislative assembly in colonial North America, Yeardley played an important role in the formation of early colonial government. Virginia's assembly was the model for democracy in the U.S., according to American Evolution, a partner of Jamestown Rediscovery. 
Beyond the church find, the Jamestown exploration has yielded some interesting finds over the years. In 2016, archaeologists who studied the bones of a 15-year-old boy at Jamestown determined that he had been struck and killed by an arrowhead in 1607, just a couple of weeks after the settlers arrived. By examining a root canal, scientists were also able to tell that he probably ate a bland diet of mostly grains like oats, wheat, and barley. The New World was no picnic.
[h/t The Washington Post]