10 Iconic Pieces of Movie History That You Can Own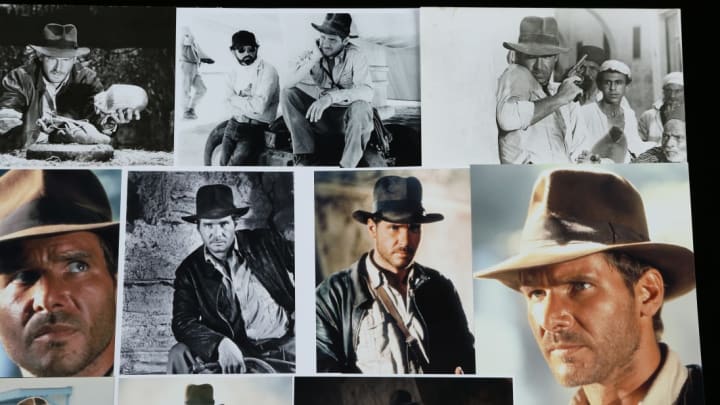 Prop Store / Prop Store
Over 600 rare movie props and costumes that were once used by some of Hollywood's leading actors will be up for grabs at the Prop Store's upcoming Entertainment Memorabilia Live Auction, which will be held in London on September 20. Here's a sneak peek at some of the items that will be going under the hammer:
1. HAN SOLO'S JACKET
Prop Store
Estimate: $661,000-$1.3 million
Anything that was once worn by Harrison Ford is bound to be cool, but the sleek, slate grey jacket that he wore in The Empire Strikes Back (1980) wouldn't look out of place at a modern-day concert or art gallery. Of course, you probably wouldn't want to wear a potentially million-dollar jacket around town, but it doesn't hurt to dream.
2. CATWOMAN'S CORSET
Prop Store
Estimate: $3,970-6,620
Michelle Pfeiffer wasn't the first actress to play Catwoman, but she did give the villain-slash-superhero a sultry, red-lipsticked look. This corset worn by Pfeiffer probably isn't the most comfortable attire for defeating nemeses, but it is an iconic piece of movie memorabilia.  
3. THE BACK TO THE FUTURE HOVERBOARD
Prop Store
Estimate: $39,680-$66,140
Many people hoped we'd have hoverboards and flying cars by now. Unfortunately, that has yet to become a reality, but you can still take home this retro, neon-colored hoverboard prop used in Back to the Future II (1989). 
4. TYLER DURDEN'S FIGHT CLUB ROBE
Prop Store
Estimate: $12,750-$19,130
In his role as Tyler Durden in the 1999 movie Fight Club, Brad Pitt is seen wearing this item—a deliberately worn and stained robe adorned with steaming coffee mugs—a design that "befits Tyler's eclectic aesthetic," according to the listing on the Prop Store's website.
5. INDIANA JONES'S FEDORA 
Prop Store
Estimate: $265,000-$397,000
Again, you can't go wrong with a piece of Harrison Ford memorabilia. Fedoras may have fallen out of fashion, but it will always be the perfect hat for raiding temples, escaping booby traps, and saving the day. Also up for grabs is Indy's bullwhip from Temple of Doom (1984), which is expected to sell for upwards of $66,000.
6. THE JUMANJI BOARD GAME
Prop Store
Estimate: $10,200-$12,760
Fear not—it's just an empty case. According to Prop Store, several "static versions" of the board game were used for stunts in the 1995 film, as well as scenes in which actors carried the game around. Although the front of the game looks like it's made of ivory, it is actually cast in resin.
7. OLLIVANDER'S WAND BOXES
Prop Store
Estimate: $510-$765
Wingardium leviosa! You won't need a spell to bring these wand boxes back to your home—just a few hundred dollars lying around. The lot comes with two wand boxes that appeared in a scene showing Ollivander's wand shop in the film Harry Potter and The Sorcerer's Stone. The boxes were given to fans who attended the movie's premiere at London's Leicester Square in 2001.
8. ROSE'S FAREWELL NOTE IN TITANIC
Prop Store
Estimate: $5000-$8000
This simple, handwritten farewell note that Rose (Kate Winslet) gave to her fiance Cal (Billy Zane) before running away with Jack could fetch thousands of dollars. As fans of Titanic may remember, it reads, "Darling now you can keep us both locked in your safe." It's still one of the best burns in movie history. 
9. LEGOLAS'S ARROW
Prop Store
Estimate: $10,580-$13,230
Legolas, played by Orlando Bloom in The Lord of the Rings saga, was one sharp shooter. Now you can get your hands on the Lothlórien arrow that he used—but if you want to shoot like an elf, you may want to brush up on your archery skills first.  
10. AGENT J'S NOISY CRICKET
Prop Store
Estimate: $10,500-$15,800
This weapon is the first one given to Agent J (Will Smith) when he joins the Men in Black in the 1997 blockbuster. Although he was initially disappointed by its small size, "he later discovered that it packed quite a punch," according to the Prop Store. The replica gun lights up when you pull the trigger.