The Most Fun Cities in America, Ranked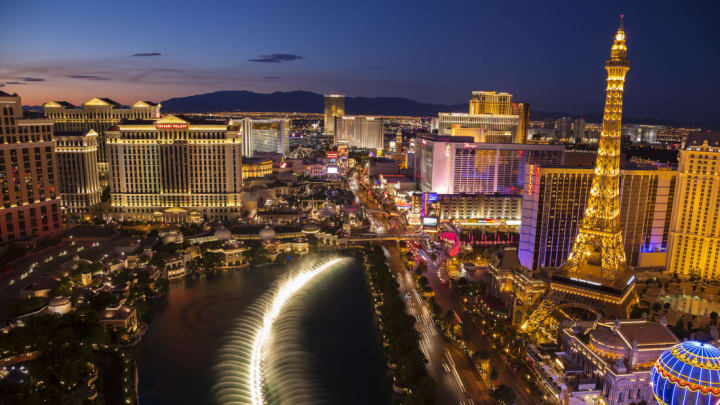 iStock / iStock
You can argue all you want about how great your favorite city is, but the data doesn't lie: If you want to have fun, head to Vegas. WalletHub compared 182 different cities across the U.S.—the country's overall most populous cities, plus at least two of the biggest cities in every state—to come up with a list of the most fun cities in the entire country, and Sin City took the cake.
The scores are based on 56 different metrics in three different categories: entertainment and recreation; nightlife and parties; and cost. The metrics included appearances on lists like the TripAdvisor's Travelers' Choice Awards for top destinations; the number of beaches, movie theaters, casinos, hiking trails, festivals, bars, and clubs; how accessible bars are (both in number and geographical proximity); and the average cost of food, wine, hotels, and movie theater trips. Some of these metrics were adjusted to account for differences in city size, since, for instance, New York City would obviously have more restaurants than a smaller city like Lincoln, Nebraska.
Accounting for all these factors, these are the most fun cities in America, according to this particular dataset.
1. Las Vegas, Nevada
2. Orlando, Florida
3. New York City, New York
4. Atlanta, Georgia
5. Miami, Florida
6. Chicago, Illinois
7. Portland, Oregon
8. San Francisco, California
9. New Orleans, Louisiana
10. San Diego, California
Though the order of the rankings might be a little surprising, many of the cities are well-known as vacation destinations. Vegas, obviously, is a legendary destination for partying. Orlando is home to not just Disney World, but Universal Studios Florida (where the Wizarding World of Harry Potter is located) and SeaWorld Orlando, among others. New York City hosts the most tourists of any city in America each year. New Orleans is renowned for its food, bar scene, and music, in addition to the two weeks of parades and celebrations the city hosts during Mardi Gras—and yet it barely managed to break into the top 10, at No. 9.
Indeed, while the top 10 list isn't necessarily surprising on its face, the order may be. Atlanta managed to beat out Miami, though the latter is more famous for its party atmosphere and picturesque beaches. Disney World apparently beats out the Statue of Liberty and 30 Rock, because Orlando is ranked as more fun than the Big Apple. And New Orleans was surpassed by less-popular destination cities like Portland and San Francisco. (Not to mention the fact that poor Los Angeles, the country's second-biggest city and a major tourist destination in its own right, didn't even crack the top 10, coming in at No. 13.)
As for the least-fun major cities included on the list— which you can dive into below—you may not have ever heard of them. Aside from perhaps Juneau and Pearl City (on the north shore of Pearl Harbor near Honolulu), most aren't tourist destinations. Perhaps they're better for residents than they are for tourists, though. Both Oxnard and Bridgeport appeared on National Geographic's list of the happiest cities in the U.S. in 2017.
1. Pearl City, Hawaii
2. Oxnard, California
3. Bridgeport, Connecticut
4. Santa Rosa, California
5. Fontana, California
6. Yonkers, New York
7. Rancho Cucamonga, California
8. South Burlington, Vermont
9. Juneau, Alaska
10. Moreno Valley, California
Disagree with the list? See where your favorite city ended up and the breakdown of scores of on WalletHub, or explore the map below.
Source: WalletHub