Cottingley Fairy Photos That Fooled Arthur Conan Doyle Sold for More Than $26,000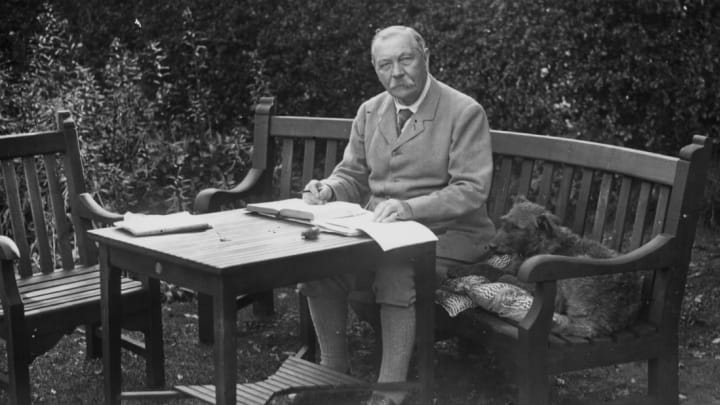 Fox Photos/Hulton Archive/Getty Images / Fox Photos/Hulton Archive/Getty Images
Decades before the advent of Photoshop, two girls from England fooled the world with images that appeared to depict fairies dancing in their garden. The story they told has since been debunked, but the Cottingley Fairies photographs remain famous for being one of the most successful hoaxes in history. Interest in the photos is still so strong today that The Guardian reports two of them were just sold at auction for $26,000—more than 10 times their projected value.
Nine-year-old Frances Griffiths and her 16-year-old cousin Elsie Wright took the photographs at Wright's mother's house in the village of Cottingley, England in 1917. Wright's father, the owner of the camera and an amateur photographer, suspected they were fakes, but his wife Polly was convinced they were the real thing.
After attending a lecture on fairy life at the Theosophical Society, Polly shared the pictures with the speaker and they were made public for the first time. The photographs might have stayed within spiritualist circles if they hadn't caught the eye of Sir Arthur Conan Doyle in 1920. The Sherlock Holmes author was writing an article about fairies for Strand Magazine, and he featured the photos in his piece as proof of their existence. The story of the Cottingley Fairies quickly made global headlines.
Wright and Griffiths maintained that the pictures were authentic until 1983, when they confessed that they had faked them by copying images from a children's book and propping up the cut-outs with hatpins. The two cousins disagreed on the story behind the fifth photograph, however, with Wright saying it was a hoax like the rest of them and Griffiths insisting it was genuine until her death.
When the first two of the original photographs recently hit the auction block at Dominic Winter Auctioneers in Gloucestershire, England, they were expected to sell for between $900 and $1300. The price the UK-based buyers paid for the images far exceeded the auction house's expectations.
Despite the auctioneers' low estimates, this isn't the first time that Cottingley Fairy artifacts have sold big at auction. In 1998, prints of the photographs and a first edition copy of Doyle's book on the subject, The Coming of the Fairies, were auctioned off for £21,620, or about $28,300.
[h/t The Guardian]