Scientists Find Fossil of 150-Million-Year-Old Flesh-Eating Fish—Plus a Few of Its Prey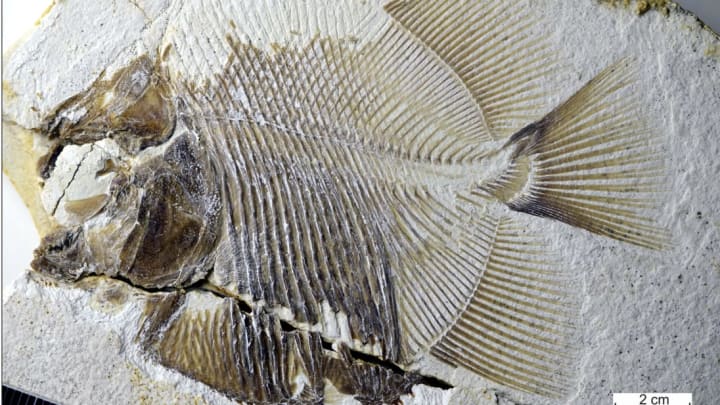 M. Ebert and T. Nohl / M. Ebert and T. Nohl
A fossil of an unusual piranha-like fish from the Late Jurassic period has been unearthed by scientists in southern Germany, Australian news outlet the ABC reports. Even more remarkable than the fossil's age—150 million years old—is the fact that the limestone deposit also contains some of the fish's victims.
Fish with chunks missing from their fins were found near the predator fish, which has been named Piranhamesodon pinnatomus. Aside from the predator's razor-sharp teeth, though, it doesn't look like your usual flesh-eating fish. It belonged to an extinct order of bony fish that lived at the time of the dinosaurs, and until now, scientists didn't realize there was a species of bony fish that tore into its prey in such a way. This makes it the first flesh-eating bony fish on record, long predating the piranha. 
"Fish as we know them, bony fishes, just did not bite flesh of other fishes at that time," Dr. Martina Kölbl-Ebert, the paleontologist who found the fish with her husband, Martin Ebert, said in a statement. "Sharks have been able to bite out chunks of flesh, but throughout history bony fishes have either fed on invertebrates or largely swallowed their prey whole. Biting chunks of flesh or fins was something that came much later."
Kölbl-Ebert, the director of the Jura Museum in Eichstätt, Germany, says she was stunned to see the bony fish's sharp teeth, comparing it to "finding a sheep with a snarl like a wolf." This cunning disguise made the fish a fearful predator, and scientists believe the fish may have "exploited aggressive mimicry" to ambush unsuspecting fish.
The fossil was discovered in 2016 in southern Germany, but the find has only recently been described in the journal Current Biology. It was found at a quarry where other fossils, like those of the Archaeopteryx dinosaur, have been unearthed in the past.
[h/t the ABC]