The Most Popular Classic Horror Movie Villain in Each State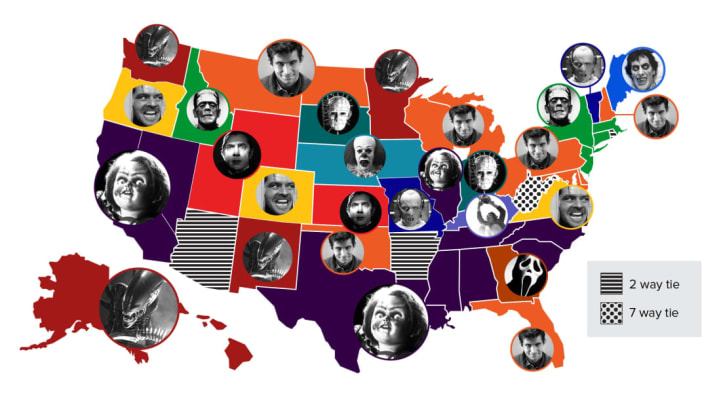 Frontier Communications / Frontier Communications
Norman Bates is America's favorite psycho, according to an analysis by Frontier Communications. The hotelier-turned-killer from Alfred Hitchcock's 1960 film Psycho is the most popular classic horror villain in 13 states, beating out runners-up Chucky (the preferred choice in 11 states), Frankenstein's Monster (in 6 states), and Alien (in 5 states).
Frontier, a telecommunications company, pre-selected 15 popular horror villains from movies made before the year 2000. They then used Google Trends to determine which ones were the most searched-for in certain states over the last 12 months.
Frankenstein, released in 1931, appears to be a timeless classic. It's especially popular in the Northeast, as well as in Idaho. The Shining's Jack Torrance—played by none other than Jack Nicholson—came in swinging and claimed the No. 4 spot, winning over residents of Colorado, Oregon, Vermont, and Virginia.
There are also a few surprises on the list. Classic slashers like Freddie Krueger, Michael Myers, and Jason Voorhees were the top choice in only one state each, while David Kessler (from '80s cult classic An American Werewolf in London) was the top choice in Maine. And West Virginia seems to like horror movies so much so that it couldn't make up its mind: There was a seven-way tie with Pinhead, Michael Myers, Count Dracula, Hannibal Lecter, Freddie Krueger, Jason Voorhees, and Pennywise.
Keep scrolling for the full list, courtesy of Frontier.
Alabama: Chucky
Alaska: Alien
Arizona: Chucky / Norman Bates
Arkansas: Hannibal Lecter / Norman Bates
California: Chucky
Colorado: Jack Torrance
Connecticut: Frankenstein's Monster
Delaware: Norman Bates
Florida: Norman Bates
Georgia: Ghostface
Hawaii: Alien
Idaho: Frankenstein's Monster
Illinois: Chucky
Indiana: Pinhead
Iowa: Pennywise
Kansas: Count Dracula
Kentucky: Leatherface
Louisiana: Chucky
Maine: David Kessler
Maryland: Norman Bates
Massachusetts: Frankenstein's Monster
Michigan: Norman Bates
Minnesota: Alien
Mississippi: Chucky
Missouri: Hannibal Lecter
Montana: Norman Bates
Nebraska: Pennywise
Nevada: Chucky
New Hampshire: Norman Bates
New Jersey: Frankenstein's Monster
New Mexico: Alien
New York: Frankenstein's Monster
North Carolina: Chucky
North Dakota: Norman Bates
Ohio: Norman Bates
Oklahoma: Norman Bates
Oregon: Jack Torrance
Pennsylvania: Norman Bates
Rhode Island: Norman Bates / Frankenstein's Monster
South Carolina: Chucky
South Dakota: Pinhead
Tennessee: Chucky
Texas: Chucky
Utah: Count Dracula
Vermont: Hannibal Lecter
Virginia: Jack Torrance
Washington: Alien
West Virginia: Pinhead, Michael Myers, Count Dracula, Hannibal Lecter, Freddie Krueger, Jason Voorhees, and Pennywise
Wisconsin: Norman Bates
Wyoming: Count Dracula
Why settle for just one villain when you can enjoy them all, though? Check out Mental Floss's guides to the 20 best horror movies and 25 highest-grossing horror movies of all time.