Attention Remote Workers: Tulsa Will Pay You $10,000 to Move There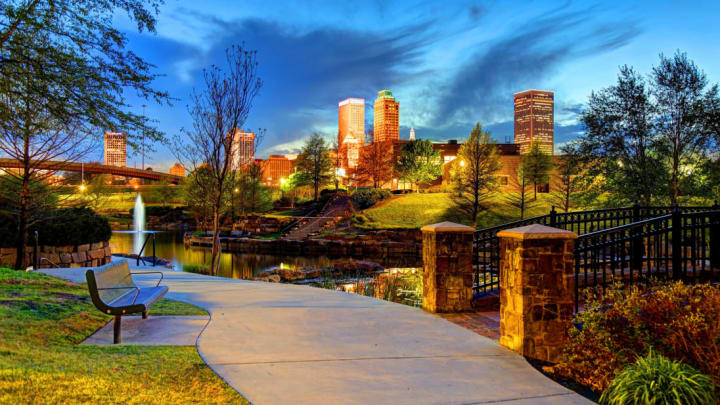 iStock.com/DenisTangneyJr / iStock.com/DenisTangneyJr
Work at home and need a change of scenery? Moving to Tulsa could net you some extra cash. A new program called Tulsa Remote is offering $10,000 to remote workers willing to move to Oklahoma's second-largest city for a year or more.
To be considered, applicants must either be self-employed or work full-time for a business located outside of Tulsa County. Grant recipients will be given $2500 upfront to cover relocation fees. After that, they'll receive $500 per month, plus $1500 at the end of the year.
In addition to a stipend, remote workers who move to Tulsa will receive discounted rent (to the tune of 33 percent off) and free utilities for the first three months. The offer applies to new, furnished apartments in the Tulsa Arts District. Participants will also be given a membership to a local coworking space (valued at $1800), and invites to various events in the community tailored to remote workers and entrepreneurs.
The program is sponsored by the City of Tulsa and the George Kaiser Family Foundation. Tulsa's cost of living is low compared to other U.S. cities—the median cost of a home is $157,200—but some would like to bring a little more innovation to the Midwestern city. "We hope that this sparks more tech talent and gets entrepreneur-oriented people to make Tulsa their home and pursue their career further or ultimately start new businesses," Ken Levit, executive director of the George Kaiser Family Foundation, told Forbes. "It could diversify our workforce."
To apply, visit TulsaRemote.com. Applicants may be asked to participate in a video chat, and they'll have the chance to visit Tulsa before accepting an offer
Not ready to move to Oklahoma? Tulsa isn't the only place looking to attract new residents. Vermont launched a similar program last May to attract remote workers from other states, and New Haven, Connecticut, recently began offering first-time homeowners in the city up to $80,000 in incentives to buy property there.