5 Simple Ways to Upgrade Your Green Bean Casserole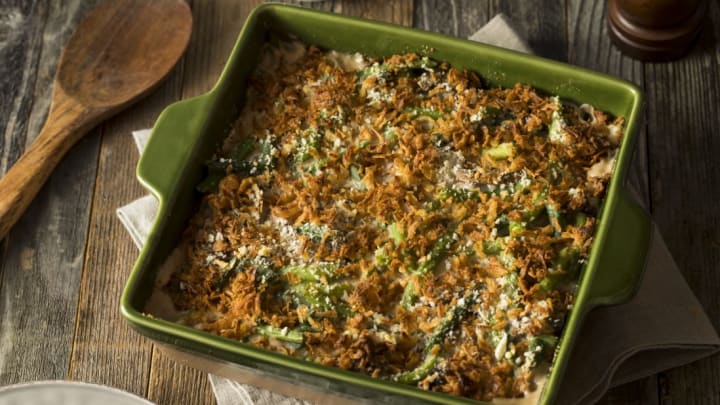 iStock.com/bhofack2 / iStock.com/bhofack2
Green bean casserole became a fixture of Thanksgiving spreads shortly after Dorcas Reilly invented the dish in 1955. The classic recipe, which includes Campbell's condensed cream of mushroom soup and French's French fried onions, is a sacred piece of Americana—but there's nothing stopping you from playing around with it this Thanksgiving. Just brace yourself for skeptical looks from your more traditional relatives when these variations hit the table.
1. USE HOMEMADE FRIED ONION RINGS.
Green bean casserole typically calls for crispy fried onion bits from a can—and that's fine if you're pressed for time on the big day. But if you're looking to make your casserole taste unforgettable, it's hard to beat to fresh onion rings fried at home. Homemade onion rings are more flavorful than the store-bought stuff and they provide an eye-popping topper for your dish. If you're interested in making onion rings part of your Thanksgiving menu, this recipe from delish will walk you through it.
2. ADD SOME GOUDA.
This recipe from Munchies gives the all-American green bean casserole some European class with shallots, chanterelles, and smoked gouda. Some family members may object to adding a pungent cheese to this traditional dish, but tell them to wait until after they taste it to judge.
3. LIGHTEN IT UP.
As is the case with any recipe that calls for a can of creamy condensed soup, green bean casserole is rarely described as a "light" bite. Some people like the heavy richness of the dish, but if you're looking to give diners a lighter alternative, this recipe from Food52 does the trick. Instead of cream of mushroom soup, it involves a dressing of crème fraîche, sherry vinegar, mustard, and olive oil. Hazelnuts and chives provide the crunch in place of fried onions. It may be more of a salad than a true casserole, but the spirit of the classic recipe is alive in this dish.
4. MIX IN SOME BACON.
Looking to make your green bean casserole even more indulgent this Thanksgiving? There are plenty of recipes out there that will help you do so. This "jazzed-up" version from Taste of Home includes all the conventional ingredients of a green bean casserole with some inspired additions. Crumbled bacon and water chestnuts bring the crunch, and Velveeta ups the cheesy decadence factor to an 11.
5. TURN IT INTO A TART.
If your Thanksgiving menu is looking heavy on the side dishes, consider making your green bean casserole into an appetizer. This green bean and mushroom tart from Thanksgiving & Co. has all the flavors of the traditional casserole baked on an easy-to-eat tart. A tart is also a tasty option if you're looking to repurpose your green bean casserole leftovers the day after.