SMART SHOPPING
11 Thoughtful Gifts for Commuters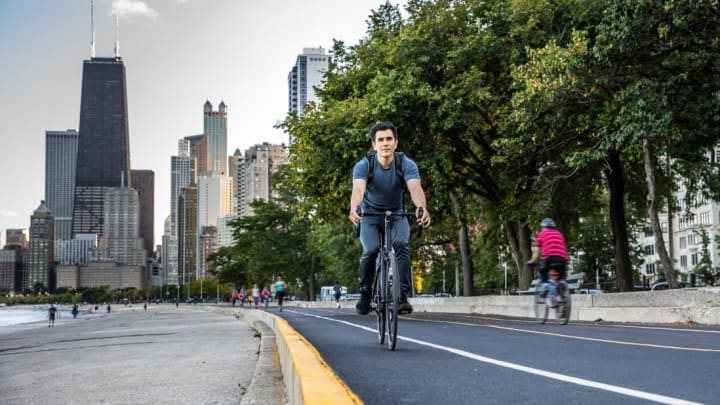 iStock.com/LeoPatrizi / iStock.com/LeoPatrizi
This article contains affiliate links to products selected by our editors. Mental Floss may receive a commission for purchases made through these links.
Whether they get to work by bike, car, train, or foot, most commuters could use something to make their twice-daily trips a little easier. This holiday season, consider giving a gift that may actually make the commuter in your life look forward to heading to the office.
Mental Floss has affiliate relationships with certain retailers and may receive a small percentage of any sale. But we only get commission on items you buy and don't return, so we're only happy if you're happy. Thanks for helping us pay the bills!
1. Sykes Wood Fenders
The fenders from Sykes do more than protect bikes and bikers from rain, mud, and dust. Each piece is crafted from stain-free, dye-free wood, which means it will add rustic style to any ride. Sykes fenders come in a variety of woods, including walnut, white oak, blond bamboo, mahogany, and cherry. Epoxy lamination and multiple coatings of marine varnish help them last through years of travel.
Find It: Sykes Wood Fenders for $175 and up
2. Hub Mini
Amazon
Stranded in a car or train with a dead smartphone is a commuter's worst nightmare. The Hub Mini ensures that a smartphone will outlast any traffic jam. The external battery pack comes with a lightning cable built in, eliminating the need for commuters to carry their phone charger with them at all times. It also includes an integrated micro-USB cable and a USB-A port, so it's possible to plug three devices into the charger at once.
Find It: Amazon for $50 and at these other retailers:
3. Tapplock; $100
Give the commuter in your life the gift of peace of mind this holiday season. The Tapplock keeps bikes secure throughout the work day with stainless steel shackles, a double-layered lock design, and anti-shim and anti-pry technologies. It opens after scanning the owner's fingerprint, and thanks to its adaptive algorithm, it works faster and more accurately with each use. The Tapplock is waterproof and weatherproof, making it great for locking up bikes, but it works anywhere a padlock does.
Find It: Tapplock for $100
4. Wall-mounted Bike Rack and Shelf; $140 and up
Etsy
Etsy shop Quartertwenty has made the space-saving wall-mounted bike rack even more practical. This rack doubles as a shelf, and it can be used whether or not the bike is on display. Just select the materials you like best (maple ply, walnut, and white oak are some of the options) and Quartertwenty will ship the rack for you to install in your home.
Find It: Etsy for $140 and up
5. Plugfones
Amazon
Noise-blocking headphones don't have to be bulky. The Plugfones take design inspiration from the earplugs people where to concerts and sporting events, muffling environmental noise by up to 26 decibels while allowing wearers to listen to their preferred audio discreetly. They're great for public transit commuters looking to tune out the world (or the loud sounds of public transit) on the way to the office.
Find It: Amazon for $20 and at these other retailers:
6. TravelPro BackpacK
TravelPro
If commuters ever need to take their work home with them, the Travelpro backpack gives them the option. The bag has special compartments for laptops, tablets, pens, headphones, and chargers. And if wearers are traveling with sensitive materials like a passport or credit card, they can store those items in the ID TheftBlock pocket where they'll be protected from identity theft scanners.
Find It: TravelPro for $240 and at these other retailers:
7. Moko Travel Mug
Amazon
Travel mugs are great—until you're stuck lugging around an empty one all day. The Moko travel mug solves this problem for commuters. It's collapsable, making it easier to carry or slip into a bag when it's not being used. Unfold the cup and it can hold up 12 ounces of liquid while keeping the contents warm.
Find It: Amazon for $9 and at these other retailers:
8. Audible Membership
iStock.com/Pekic
Rush hour goes a lot faster when you're listening to a good audiobook. If you know a book lover who drives or takes public transit to work, make their commute more enjoyable by giving them an Audible membership. You can pay for a one-month, three-month, six-month, or 12-month membership. Each plan comes with one book credit per month plus access to monthly Audible originals.
Find It: Audible for $15 and up
9. Storm Glass
Amazon
There are many apps out there that will give you the weather forecast, but not many do so with the same flare as Storm Glass. Using 19th-century technology, this desktop device reacts to changes in air pressure and temperature to signal the day's weather. Based on how many crystals form at the bottom of the glass, owners can decide whether or not they should grab a jacket before heading to work.
Find It: Amazon for $42 and at these other retailers:
10. Kensington Chelsea Boot
Cougar
There's no reason to sacrifice comfort for style when hoofing it to the office. These slip-on boots from Cougar are comfier than most professional footwear, with memory-molded insoles and knit lining. They're also waterproof, so they'll keep feet feeling snug and dry even on the rainiest days.
Find It: Cougar for $70
11. Moso Natural Air Purifying Bag
Amazon
Not all car air fresheners smell like pine trees. Instead of filling a car's interior with an artificial scent, this bamboo and charcoal bag absorbs odors in the air, leaving it smelling naturally fresh. The air purifier is an effective tool for car commuters, but it can cover up to 90 square feet in a home as well.
Find It: Amazon for $10 and at these other retailers: