Carvel Made Mental Floss a Gritty Ice Cream Cake
When Gritty, the new mascot of the Philadelphia Flyers hockey team, made his debut on September 24, the internet reacted with horror that quickly turned to delight. The googly-eyed mascot filled a void the internet didn't know it had, and he was quickly memefied, deified, and Jimmy Fallon-ified. Mental Floss even wished him luck in a list about short-lived mascots. We love Gritty.
Despite her devotion to the New York Rangers, Mental Floss's editor in chief Erin McCarthy is as obsessed with Gritty as the rest of the world, frequently posting his latest antics to Slack. On November 9, she was thinking about Gritty and also Carvel ice cream cakes when something occurred to her. Take Carvel's Cookie Puss, remove the nose, add a gaping mouth, make it orange, and BAM, it's Gritty. So, naturally, she tweeted about it:
cookie puss, but make it gritty pic.twitter.com/X88TyOz5Cx

— Erin McCarthy (@erincmccarthy) November 9, 2018
Mental Floss senior editor Jennifer Wood (also a Gritty enthusiast) boosted the signal to the mascot himself, as well as Carvel—which at first responded with confusion:
??

— Carvel Ice Cream (@CarvelIceCream) November 10, 2018
Then they went silent. Erin and Jenn still thought the idea was brilliant, but they recognized that they had to move on.
And then, Carvel began tweeting to Erin about the Gritty cake again.
We have a surprise...

— Carvel Ice Cream (@CarvelIceCream) November 30, 2018
We can't rush greatness.

— Carvel Ice Cream (@CarvelIceCream) November 30, 2018
Until finally, they revealed … GRITTY ICE CREAM CAKE.
What do you think...we see a resemblance pic.twitter.com/cIuyHMrSLm

— Carvel Ice Cream (@CarvelIceCream) November 30, 2018
The eyes! The helmet! The beard! This dead ringer for the best mascot on the ice was designed by Alexandra Soranno, Carvel Culinary Trend and Innovation Specialist, and here's how it came together:
Start with a classic Cookie Puss cake base ...
... Add the eyes, the hELMET, and the mouth ...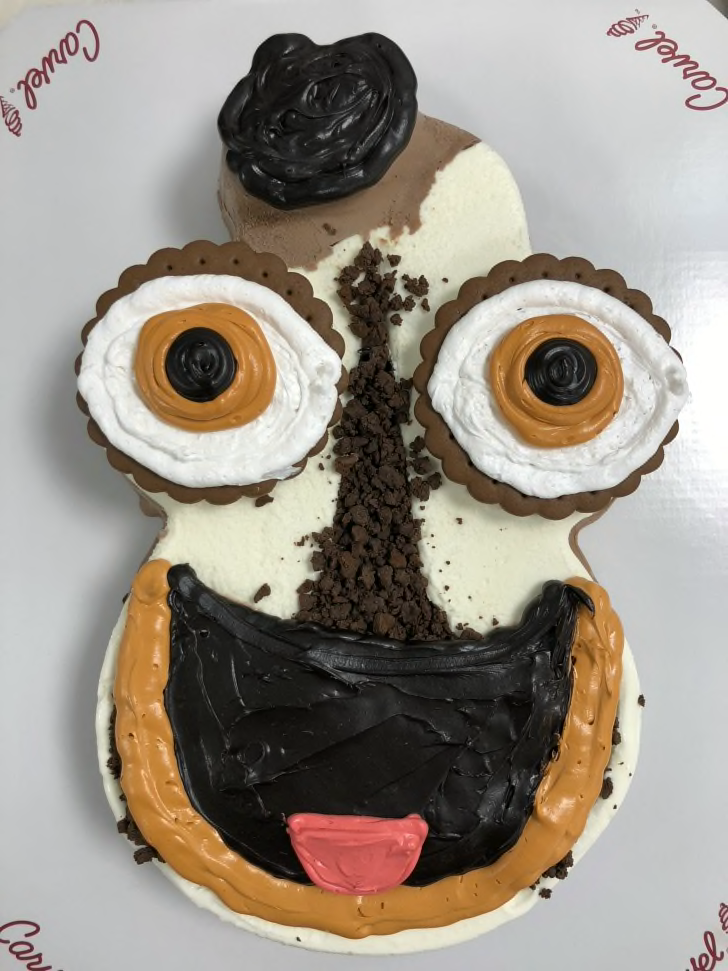 ... Pipe on that orange fur. It's Gritty!
You can see a video of the cake being made here:
6SgCikNG
To our delight, Carvel sent the cake to the Mental Floss offices, where we devoured it—but not before taking a few detail shots, which we now present for your enjoyment: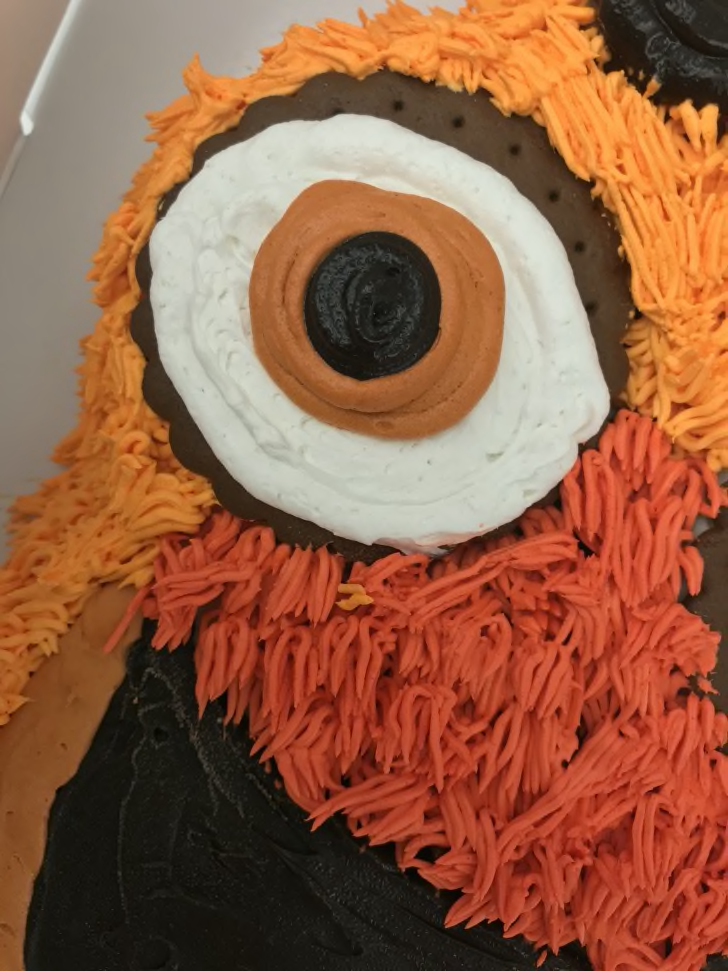 Gritty Ice Cream Cake tastes exactly how you'd expect—like chaos and sugar and the color orange, like if Fudgy the Whale met the void. Gritty Ice Cream Cake tastes incredible.
So how does our editor-in-chief feel about this whole situation?
Editor's note: Jenn Wood did not get to partake in the deliciousness of this Gritty ice cream cake party, and is currently not speaking to her co-workers as a result.