This Wall Chart Shows Every Species in the Cat Kingdom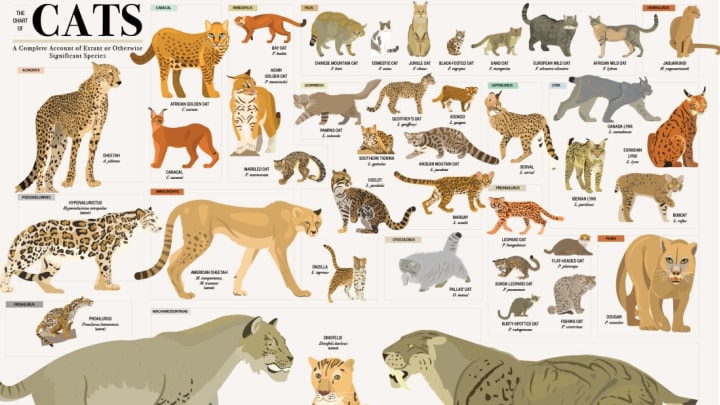 Pop Chart Lab / Pop Chart Lab
This article contains affiliate links to products selected by our editors. Mental Floss may receive a commission for purchases made through these links.
A cat is still a cat, whether it's a domesticated Bengal or its larger, wilder relative, the leopard cat. In celebration of all things feline, Pop Chart created a wall print showing the many different types of cat, as well as your fur baby's place in the kitty kingdom.
"The Chart of Cats" breaks the kingdom down by genus, highlighting the fact that the humble domesticated cat (Felis catus) shares a category with the scruffy-looking Chinese mountain cat as well as the diminutive yet adorable black-footed cat of Africa. (I mean, just look at that face).
"We've charted and illustrated to scale the full family felidae with this paw-sitively pleasing print, including all extant and notable species—from the lordly lion, to the ostentatious ocelot, to even extinct entries like the jaw-dropping sabertooth tiger," Pop Chart writes in its description of the poster.
Pop Chart
It even provides an evolutionary timeline, which begins with the extinct Proailurus cat—a small carnivorous animal that resembled a mongoose or civet—about 30 million years ago. The more modern-looking Pseudaelurus evolved about 20 million years ago, and sabercats emerged 10 million years ago.
It wasn't until fairly recently—just 10,000 years ago—that cats became domesticated. And in typical cat fashion, they domesticated themselves and decided to start living in harmony with humans around the same time that humans settled down and started farming the land.
If you love cats as much as we do, you can pre-order this $30 print from Pop Chart's website. Orders ship on February 5.