11 Things You Might Not Know About Mary, Queen of Scots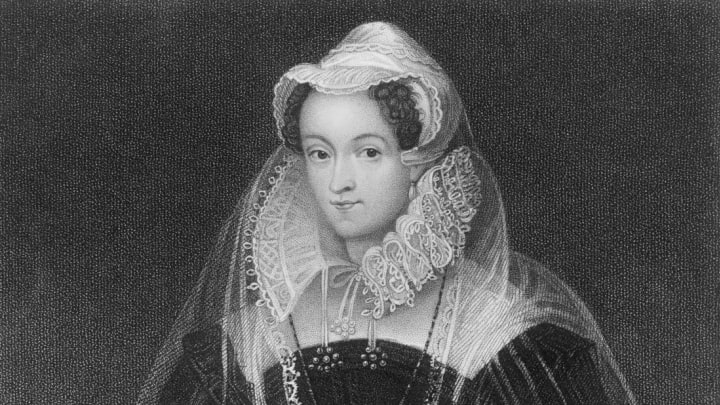 Hulton Archive/Getty Images / Hulton Archive/Getty Images
Mary, Queen of Scots has long been written about and portrayed as the beautiful, tragic cousin queen of Elizabeth I—the one whose disastrous marriage choices left her without a country while Elizabeth's fiercely guarded independence gave her complete control but no heir. But though Mary was forced to abdicate her Scottish throne to her infant son after a rash of uprisings and conspiracies and live out the rest of her life as an imprisoned guest in England, her desire to rule both Scotland and England did eventually come to pass when her son inherited both thrones. Her story has been told a number of ways, from Vanessa Redgrave's Oscar-nominated portrayal in the 1971 film, to the CW series Reign, to the 2018 movie starring Saoirse Ronan in the title role—but here are 11 facts about Mary that you might not know.
1. Mary became Queen of Scotland when she was 6 days old.
Mary's father, James V of Scotland, had become king at just 17 months old when his father was killed in battle. But on December 14, 1542, at age 30, he died "of no discernable cause," according to Allan Massie's book The Royal Stuarts. "He seems simply to have lost the will to live."
Mysterious as the king's death was, Mary's birth had fortuitous timing. She was born on December 8—just six days prior. Mary's father had numerous illegitimate children, but his two legitimate infant sons (one was 11 months, the other only a week old) by second wife Mary of Guise had both died the prior year within a day of each other. And so, as the only surviving legitimate heir, Mary became queen immediately, making Mary, Queen of Scots the youngest-ever British monarch.
2. She is not Bloody Mary.
Mary, Queen of Scots—a.k.a. Mary Stuart—had many things in common with Mary Tudor, a.k.a Mary I. They were both Catholic (though Mary Stuart did not persecute her Protestant subjects); they were both Tudors (Scots Mary's grandmother was Margaret Tudor, the eldest daughter of King Henry VII, the first monarch of the House of Tudor); and they both had major beefs with Elizabeth I (Mary Tudor's half-sister and Mary, Queen of Scots's first cousin once removed).
But even if they're sometimes confused, Mary I was old enough to be Mary Stuart's mother. In fact, at one point, King Henry VIII had offered his eldest daughter, Mary Tudor, as a wife to Scotland's King James V. If that marriage had happened, King James would never have married Mary of Guise, Mary Stuart's mother.
3. Mary changed the spelling of the family name.
Mary Stuart, Queen of Scots, circa 1558. / Hulton Archive/Getty Images
The Stewarts were the ruling family of Scotland for centuries, starting in 1371 with Robert II (a grandson of Robert the Bruce). Mary Stewart, Queen of Scots, was the eighth in this line. But at age 5, her guardians secured a marriage treaty that would unite Scotland and France, and Mary was sent to be brought up in the French court with her intended, the 3-year-old Dauphin, Francis. Sometime before their marriage in 1558, she changed the spelling of Stewart to Stuart to "make it easier for the French to pronounce."
4. Mary was fluent in Latin.
She was also fluent in French and the Scots dialect of the Lowlands (and was proficient in Italian, Spanish, and Greek), but the Seigneur de Brantôme, a soldier and historian who had known Mary as a child in the French court and wrote a memoir of her long after her death, recalled that around the age of 13 or 14, she "recited publicly, in the presence of King Henri, the Queen, and the entire court, in a room of the Louvre, a speech in Latin composed by herself, sustaining against the common belief the thesis that it is becoming in women to be acquainted with literature and the liberal arts."
5. She was very tall.
At least, by contemporary standards. "By the time she was 14, Mary was much taller than average," John Guy wrote in his biography Queen of Scots: The True Life of Mary Stuart. "In an age when a woman was considered tall if she reached 5 feet 4 inches, Mary finally grew to almost 6 feet." (As an adult, Mary is often listed as being 5 feet 11 inches.)
6. Bucking tradition, she wore white for her first wedding.
Mary, Queen of Scots in mourning wear, circa 1560. / François Clouet, The Royal Collection, Wikimedia Commons // Public Domain
White was considered a color of mourning at the time, but Mary loved the shade (and likely how it looked against her pale skin and striking red hair). She chose a white gown for her Notre Dame wedding to Francis II. According to the Discours du grand et magnifique triumphe, an historical account of the day, "[The] Queen-Dauphine … was dressed in a garment white as a lily and so sumptuously and richly made that it would be impossible to describe it and of which two young ladies carried a wonderfully long train." The marriage only lasted two and a half years—Francis, who was always in poor health, died in December 1560 at age 16.
7. Mary loved golf.
Golfers worldwide revere Scotland's St. Andrews as the "Cathedral of Golf." It's considered the oldest golf course in the world, and Mary had a vacation cottage there and played often. She had likely learned the game as a child in France (or, at least a similar pastime called pell mell), and one longstanding story is that she coined the term caddie based on the military cadets who carried the clubs for royal players. According to sports columnist Sally Jenkins, "It's thought that her accented pronunciation of the term was further bent by a brogue when she came to Scotland to assume the throne."
But Mary's love of golf also drew harsh criticism and was seen as proof that she conspired to kill her second husband, Henry Stuart, Lord Darnley. "She was so keen on the game that she was accused of cold-bloodedness for playing a round just days after her husband was assassinated," Jenkins wrote.
8. She used to wash her face in white wine.
In the 16th century, it was fashionable for those who could afford it to bathe in white wine. Mary had incredibly fair skin, and the antiseptic properties of white wine essentially worked as a toner. During her long imprisonment in England, the Earl of Shrewsbury, to whom she had been entrusted, was known to complain about the costs of her beauty routine.
9. The Protestant Elizabeth I was godmother to Mary's son.
Though the crux of Mary and Elizabeth's rivalry was the line of succession and their religions (and those of their respective countries), Elizabeth served as the godmother to Mary's son, James VI. Elizabeth sent a proxy to the christening, and like her reluctance to meet Mary in person, Elizabeth only ever corresponded by letter with James VI.
The birth of James did eventually solve the ongoing issue of succession for both countries. Though Elizabeth insisted on keeping Mary under house arrest when she fled the uprisings in Scotland and sought solace in England (Mary was also forced to abdicate her throne to a then 13-month-old James), she did eventually name James as her successor. Upon Elizabeth's death in 1603, he became James VI and I—the sixth of Scotland and first of England—and the first monarch to jointly rule the sovereign states (known as the Union of the Crowns).
10. Her pet terrier was hiding under her skirts at her execution.
Hulton Archive/Getty Images
Much has been made of the botched beheading at Mary's execution. After 18-some years of living under house arrest in England (and as an ongoing, living threat to Elizabeth's crown), Mary was convicted of conspiring to kill her cousin. On February 8, 1587, at age 44, she approached the block, "cast off her black gown to reveal a red dress underneath, the shade of Catholic martyrdom," and had her neck hacked at least three times by the fumbling executioner, who then dropped her head when he grabbed it by the wig.
But as devastating as that entire episode was for everyone in attendance, what happened next made an awful situation even worse. Mary's pet terrier "had hidden itself in the folds of her petticoat and sneaked onto stage," according to Guy. "When detected, it ran about wailing miserably and lay down in the widening pool of blood between her severed head and shoulders."
11. Mary, Queen of Scots is buried at Westminster Abbey, right next to Elizabeth I.
Though they never met in person, despite all their correspondence, Mary and Elizabeth's tombs are side by side in Westminster Abbey's Lady Chapel. Following Mary's execution, Elizabeth ignored her request to be buried in France and had her interred at Peterborough Cathedral in a Protestant ceremony. Twenty-five years later, in 1621, Mary's son James VI and I had her reinterred at Westminster. And though her tomb is next to her rival cousin's, they are separated by a nave—even in death, their crypts aren't quite in view of each other.