Powerful Winds in Northern Ireland Uprooted One of the Trees Made Famous by Game of Thrones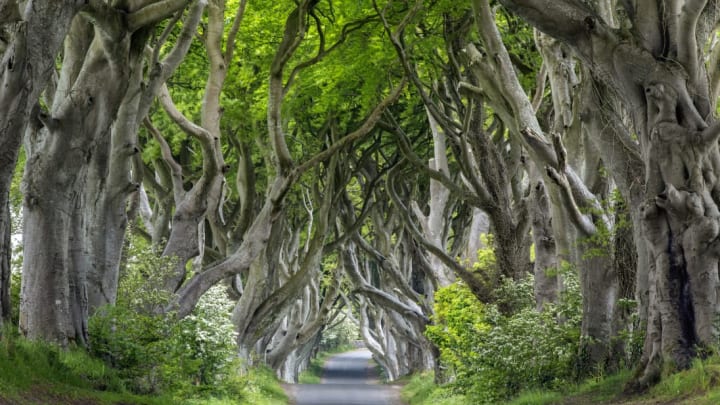 iStock.com/DieterMeyrl / iStock.com/DieterMeyrl
People have long flocked to Northern Ireland to explore the enchanting Dark Hedges, but the scenic location's appearance in season two of Game of Thrones really put the tourist attraction on the map. Visitors who walk down the "Kingsroad" this week may notice something amiss, though. According to The Independent, powerful winds uprooted one of Ballymoney's famous beech trees, which have been a prominent feature of the town since the 18th century.
Although it seemed sturdy enough, the tree was apparently no match for the 60 mph gusts that swept through the area last weekend. The Dark Hedges are located along Bregagh Road, near the entrance to the Gracehill House mansion. The original property owner, James Stuart, is thought to have planted the hedges around 1775. There were once 150 beech trees at the site, but only 60 to 90 trees are still standing today, according to different estimates. Some fell victim to past storms, while others suffer from rot.
The eerily beautiful location appeared in the first episode of the second season of Game of Thrones, in which Arya Stark escapes from King's Landing. In the wake of the show's popularity, local authorities had to enact a traffic ban to prevent damage to the road and to the trees' roots.
The trees are getting old, after all, and they could be gone in just 10 years. "They are coming to the end of their life," Paddy Cregg, from the Woodland Trust, told the BBC. "Normally beech trees survive around 250 years. They are probably now 240 years old."
Put differently, the trees are in their late seventies in human years, dendrochronologist David Brown tells the BBC. So if you're hoping to see the Kingsroad in person, you'd better start making travel plans.
[h/t The Independent]