Wildlife is Thriving at the Chernobyl Nuclear Disaster Site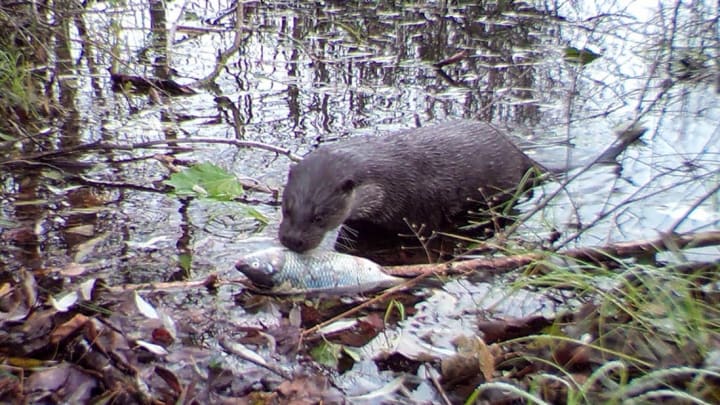 The University of Georgia / The University of Georgia
Stray puppies aren't the only signs of life in the Chernobyl exclusion zone (CEZ). Aside from the employees who continue to clean up the aftermath of the 1986 nuclear power plant accident, the area is teeming with wildlife—and not three-headed mutant animals, as one might expect.
A new study published in the journal Food Webs paints a very different picture of the Chernobyl exclusion zone. By placing motion-activated cameras on site, researchers from the University of Georgia had the chance to see white-tailed eagles, wolves, raccoon dogs, mink, and the elusive Eurasian otter. They confined their research to the Polesie State Radiation Ecological Reserve (PSRER), a 2600-square-kilometer area surrounding the Pripyat River in present-day Belarus. The area is highly restricted, and the lack of people in the area helped contribute to the boom in wildlife, researchers wrote in their paper.
Earlier research from 2015 revealed that wolves and other animals were abundant in the region. In this latest study, researchers placed fish carcasses along the banks of rivers and canals to see what types of scavengers would take the bait. Fifteen different vertebrate species, including a variety of mammals and birds, were spotted over the course of the month-long study. Some of the animals had never been spotted there before.
"We've seen evidence of a diversity of wildlife in the CEZ through our previous research, but this is the first time that we've seen white-tailed eagles, American mink, and river otter on our cameras," James Beasley, associate professor at the Savannah River Ecology Laboratory, said in a statement released by the University of Georgia.
This study helps researchers better understand the ecology of scavengers in the area, which is still contaminated with radioactive isotopes. The materials can pose health threats like cancer, cataracts, and digestive issues to humans. People are prohibited from staying in Chernobyl for longer than three weeks at a time.