An Ancient Shipwreck Has Been Turned Into an Underwater Museum Off the Coast of Greece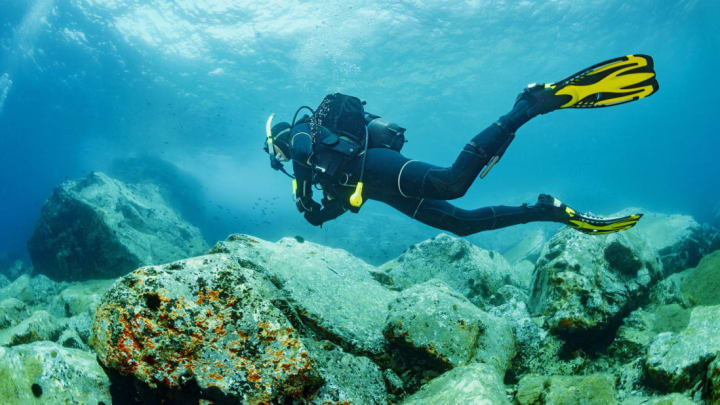 iStock.com/ultramarinfoto / iStock.com/ultramarinfoto
If you love ancient history and eerie, abandoned places, it might be time to break out the scuba diving gear and book a flight to Greece. As AFAR reports, the site of an ancient shipwreck near Alonissos, a Greek island in the Aegean Sea, has been turned into an underwater museum.
While underwater museums exist in Florida, Mexico, and Europe, those destinations are geared more toward art and sculpture lovers. In this case, divers will be swimming alongside a piece of history dating back to the late 5th century B.C.E. The wooden cargo ship, which sank for an unknown reason, disintegrated long ago. However, the seabed is still covered in thousands of amphoras (a kind of storage jar used in ancient Greece and Italy), which likely held wine.
Dubbed the Peristera shipwreck, the site was discovered in the early 1990s. It was named after the uninhabited island where it was discovered, but guided dives of the site leave from the harbor of Steni Valla on Alonissos, which is located in the Northern Sporades group of islands in the northwest Aegean Sea.
Peristera is the first shipwreck in Greece to be made accessible to the public, but it won't be the last. As part of a program funded by the European Commission, the country also plans to open up three other shipwreck sites in the Pagasetic Gulf. The efforts are part of a push to promote eco-friendly tourism while also highlighting the country's rich history.
"The goal is in the next two years to make the country's shipwrecks visitable, but also to provide important information and raise awareness about underwater monuments, such as the Peristera wreck off Alonissos," alternate culture minister Kostas Stratis said at an event, according to the Greek City Times.
Italy and Croatia are also expected to create their own underwater museums in the future via the same program, called BlueMed.
[h/t AFAR]