Meet Gracie: The Resident 'Bark Ranger' at Montana's Glacier National Park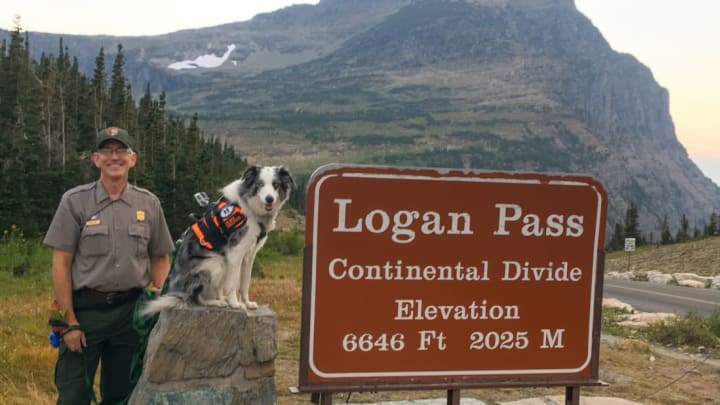 NPS/A.W. Biel / NPS/A.W. Biel
Gracie isn't like the other park rangers at Glacier National Park in Montana: She's not afraid to run after bighorn sheep and mountain goats in order to keep them at a safe distance from visitors. And while she doesn't earn a salary, she's content to work for belly rubs.
That's because Gracie is a trained border collie who became the first employee-owned dog to become a "bark ranger" at a U.S. national park. She was accepted into Glacier's wildlife shepherding program in July 2016 and has been protecting both humans and wildlife alike ever since.
One of Gracie's main duties is to keep sheep and goats away from areas with high foot traffic, like the Logan Pass parking lot. Through habituation, many of the park's native species have begun to feel comfortable around humans, and sometimes even approach them. This is problematic for a couple of reasons.
"When closely approached or provided with human food, bighorn sheep and mountain goats can become aggressive; each has the ability to kick, bite, gore, or trample when feeling threatened," the National Park Service (NPS) writes on its website. "This can cause injury—or in rare cases, death—to people and can cause the animal to be lethally removed from the population."
In the winter, Gracie also helps shepherd deer out of highly populated areas in an effort to keep predators—namely mountain lions—away from people. Gracie completed a 10-week training program in Florence, Montana, where she learned how to control her direction and speed. She also knows when to retreat at the command of her owner, Mark Biel, who works as the park's natural resources program manager.
Gracie's hard work has not gone unnoticed either. Her Instagram account, which chronicles the life of a #WorkingDog, has more than 17,000 followers. Check out some of the photos and videos below to see this very good girl in action.