Here's How You Can Help Rebuild Paris's Notre-Dame Cathedral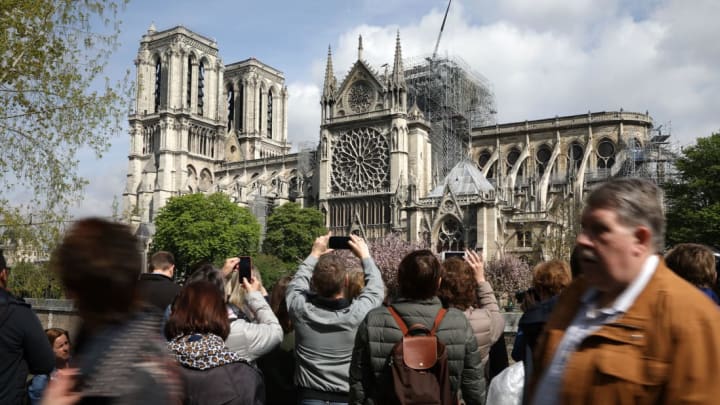 Kitwood, Getty Images / Kitwood, Getty Images
A fire at Paris's famed Notre-Dame Cathedral raged for nine hours on Monday, drawing the world's attention to the partial destruction of one of the best-known cultural monuments on the planet. The efforts of more than 400 firefighters managed to preserve much of the 859-year-old structure, but the roof and spire were destroyed.
Financial support for the building has already come pouring in, with billionaire François-Henri Pinault pledging $113 million toward reconstruction and another billionaire, Bernard Arnault, promising $226 million. A total of roughly $1 billion has come in from donations, but a revitalized Notre-Dame is a considerable expense that could cost even more.
For people who would like to assist, donations are being accepted by the nonprofit French Heritage Society for virtually any amount.
Why will expenses run so high? Prior to the fire, Notre-Dame was in dire need of extensive restoration. Buttresses caused instability to major walls, gargoyles were damaged, and cracks had formed in the now-destroyed spire. The cathedral is owned by the French government, which allots roughly 2 million euros (or about $2.26 million) annually to upkeep. Between the existing wear and the fire, it could take years or possibly decades for the work to be completed.
The publicity surrounding Notre-Dame has also motivated people to assist in rebuilding efforts on a smaller scale, and closer to home. Three churches in Louisiana that were recently targeted in allegedly racist arson attacks saw donations climb from $150,000 to over $1 million following the Notre-Dame fire. You can donate to that GoFundMe campaign here.
[h/t CNN]