Watch the Denver Zoo's New Baby Sloth Cuddle Up With Its Mom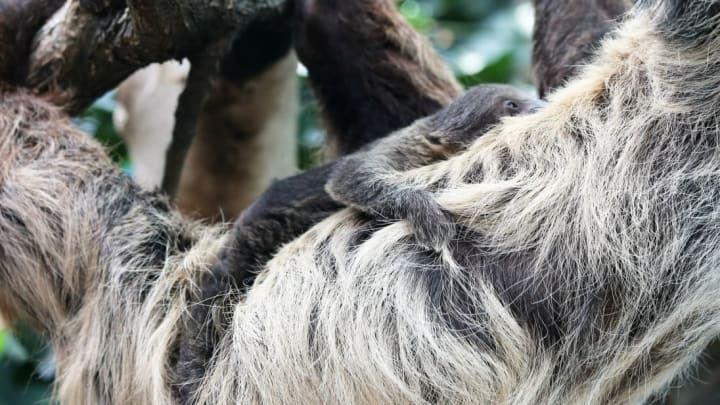 Denver Zoo / Denver Zoo
If you're a sucker for itty, bitty, furry animals, then you'll want to drop whatever it is you're doing and check out this video of the Denver Zoo's newest resident. Uploaded by The Denver Post, the video shows a week-old sloth clinging to its mother, and it's almost too cute to handle.
The healthy baby, whose name and sex have not yet been determined, was born on April 11 to its proud sloth parents: 23-year-old Charlotte Greenie and 28-year-old Elliot. It also has an older sister, named Baby Ruth, who was born in January of last year. Dad and Baby Ruth are "temporarily off-exhibit" to give mom and her newborn baby the chance to rest and bond in their habitat—an indoor aviary that's part of the zoo's Bird World exhibit.
The baby belongs to one of six species of sloth called the Linne's two-toed sloth, which is native to the rainforests of South America and are not currently considered threatened. Unlike their distant relatives the three-toed sloths, two-toed sloths are mostly nocturnal creatures. They also tend to move faster than their three-clawed counterparts, although fast is putting it generously.
Like many things sloths do, the baby was slow to arrive. Zoo officials predicted that Charlotte would give birth as early as January, but the expected due date may have been a miscalculation.
"Sloth due dates are notoriously challenging to predict because sloths are primarily active at night and we rarely observe their breeding," the zoo said in a statement. "Our animal care team closely monitored Charlotte for months to ensure that she and the baby were healthy and gaining the appropriate amount of weight."
The baby is expected to cling to its mother for at least six months. Zoo officials say the best time to visit mom and baby is in the late afternoon, when Charlotte is more likely to be active.
[h/t The Denver Post]