9 of the Most Unusual Museums in Paris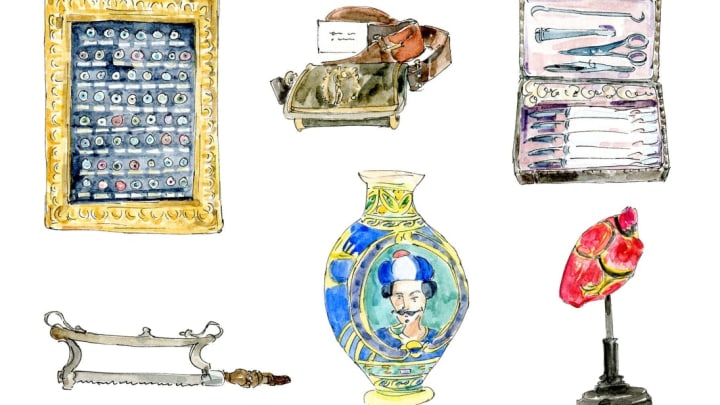 Items from the Musée d'Histoire de la Médecine (Museum of the History of Medicine) / Emma Jacobs
Paris has been home to collectors and collections for centuries, and they've left behind a landscape of small museums. The author Edmund White once wrote that "Paris has countless small and bizarre museums, little corners where someone's bid for immortality goes unnoticed." Occupying every sort of building, from former wine warehouses to 16th century cellars, the subjects of these small museums range from medical instruments to fairground automatons. Emma Jacobs, author of the new book The Little(r) Museums of Paris takes us through some of the most unusual offerings.
1. Musée d'Histoire de la Médecine (Museum of The History of Medicine)
The displays in this gallery, tracing the history of medicine from antiquity to the 20th century, have plenty of grim handsaws, drills, and other unnerving medical instruments. Some items, by contrast, are charming, like the painted pharmacy jars from Renaissance Italy. The museum also has an intricate wooden anatomical model that Napoleon Bonaparte ordered for Paris's medical school during his Italian campaign, as well as the tools used for his autopsy.
2. Musée de la Préfecture de Police (Police Prefecture Museum)
This admittedly grisly museum testifies to the long appeal of true crime stories in France. Gustave Macé, a 19th-century police chief, assembled cabinets of murder weapons and evidence in his office while writing a memoir he called My Criminal Museum. The objects have since entered this official museum, occupying a floor of an actual police prefecture on the Left Bank. Besides famous assassins, thieves, and spies, the museum also introduces famous figures in the history of Paris law enforcement, like Macé and forensics pioneer Alphonse Bertillon.
3. Musée des Arts Forains (Museum of Fairground Arts)
Cavernous warehouses built as part of Paris's wholesale wine market have been made over as a picturesque fairground. Vines twine around mermaids and chandeliers in the courtyard, while inside, carousels, arcade games, and other finds are artfully arranged and recombined. Figures rescued from a shuttered wax museum, including those of Louis Pasteur, painter Henri de Toulouse-Lautrec, and Thomas Edison, wear colorful costumes from a long-lived Paris theater, the Folies Bergère. Both children and adult visitors to the museum can play the vintage arcade games and ride the carousels.
4. Musée de la Chasse et de la Nature (Museum of Hunting And Nature)
Full of taxidermized trophies, the Musée de la Chasse et de la Nature could very easily feel dated, like an old hunting lodge, but instead it is a world of humor and whimsy. The design—with its feathered bronze banisters, and animals at large like a fox curled up on an upholstered chair—makes the museum feel both charming and contemporary, with modern works of art also integrated seamlessly into the décor.
5. Phono Museum
Items from the Phono Museum / Emma Jacobs
The Phono Museum has a collection of sound recording technology dating back as far as the 1880 cabinet-size mechanical music box from Switzerland, and spanning everything from 1930s phonographs to a record player from the studios of Radio France. Unlike many more traditional museums, the Phono Museum still regularly turns on vintage machines playing records or even antique wax cylinder recordings for visitors.
6. Musée de la Magie and Musée des Automates (Museum of Magic And the Museum of Automatons)
A visit to the Musée de la Magie begins with a performance of basic illusions by one of the resident magicians, followed by a tour (also in French) of the collection of magical objects displayed in atmospheric, 16th-century vaulted cellars. Just adjacent, more than 100 mechanical figures come to life with the push of a button, waving wands, playing instruments, or swinging on swings in the automaton collection. Most date to the 18th and 19th centuries, the golden age of the form, when automatons proliferated in fairgrounds, departments stores, and even on stage.
7. Musée Édith Piaf (Edith Piaf Museum)
Items from the Musée Édith Piaf (Edith Piaf Museum) / Emma Jacobs
In this pint-sized museum, two rooms are packed tightly with armchairs and clothing mannequins, and even more mementos on the walls: photographs, letters, paintings, and record covers. Even Édith Piaf's collection of decorative ceramic plates are arranged on hooks. A teddy bear precisely Piaf's diminutive height (4 feet 8 inches) occupies an armchair in the corner.
Piaf lived here for only a year in the early 1930s, when she was 18 and still singing for change around Paris. Piaf devotee Bernard Marchois, who met Piaf as a teenager, has lived discreetly in half the apartment, opening the rooms dedicated to Piaf three afternoons a week since the mid-1970s. Reservations must be made in advance by phone.
8. Maison d'Auguste Comte (Home of Auguste Comte)
Comte, a 19th-century French philosopher, has only become more obscure in recent decades. His apartment has undergone a natural aging—paint peeling, creaking floors—that enhances the feeling of walking around a hushed shrine to a forgotten hero. This seems appropriate for a man who created an actual, though little-known, religion. Called "positivism," or the "Religion of Humanity," this belief system revolved around Comte's optimism for organizing a better society based on science and reason. Comte's disciples kept his apartment and carefully reconstructed the furnishings in the 1960s based on a detailed inventory. Scientific instruments sit on mantelpieces and in cabinets. His utensils even have their own glass vitrine in the kitchen.
9. Musée des Plans-Reliefs (Museum of Relief-Maps)
A model from the Musée des Plans-Reliefs (Museum of Relief-Maps) / Emma Jacobs
Louis XIV (1638-1715) had 144 maps made to plan his military campaigns, which aimed to secure France's borders against its rivals, the Habsburgs and Protestants. This 3D atlas gave the king and his generals aerial views of France that may seem banal in the era of Google Earth, but that no one in the 17th century would ever have seen. During these wars, towns traded hands between the great powers, and so the same model could be used to plan fortifications against a siege and later to reconquer the same terrain. The king kept the models under lock and key in the Louvre's Grand Gallery, admitting only select visitors to view the sensitive material. His relief maps and those built by future French rulers now occupy an upper corner of the Musée de l'Armée in Les Invalides.
Adapted with permission from THE LITTLE(R) MUSEUMS OF PARIS © 2019 by Emma Jacobs, Running Press