5 Weird American Cemetery Legends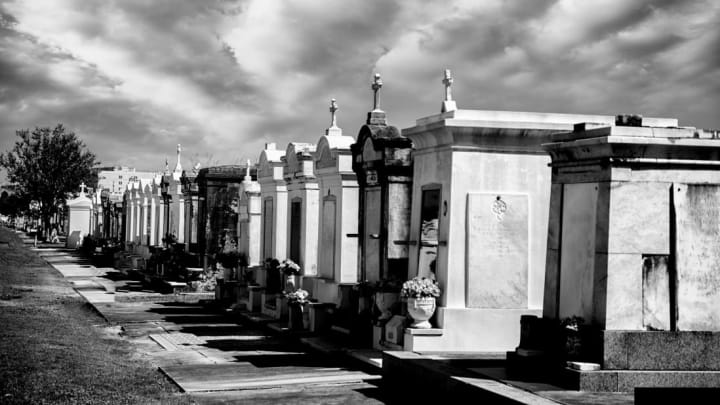 iStock/grandriver / iStock/grandriver
These strange, spooky cemetery tales of vampires, ghosts, and bloody headstones will keep you up at night. (If you're not too scared, add them to your next cemetery road trip, and keep this guide of common cemetery symbols handy for when you visit.)
1. The Vampire of Lafayette Cemetery
Perhaps it's not surprising that a grave with "born in Transylvania" etched on it would invite vampire comparisons. Local legends say that a tree growing over this grave in Lafayette, Colorado, sprung from the stake that killed the vampire inside, and that the red rosebushes nearby are his bloody fingernails. There are also reports of a tall, slender man in a dark coat with black hair and long nails who sometimes sits on the tombstone. It's not clear what the man who bought the plot—Fodor Glava, a miner who died in 1918—would have thought of all these stories, especially since he might not have actually been buried there.
2. The Green Glow of Forest Park Cemetery
The abandoned Forest Park Cemetery (also known as Pinewoods Cemetery) near Troy, New York, is known for several urban legends. One of the strangest concerns local taxi drivers, who say they pick up fares nearby asking to go home, only to have the passenger mysteriously vanish when they drive by the cemetery. Others tell of a decapitated angel statue that bleeds from its neck—although the effect may be attributed to a certain kind of moss. But one of the eeriest parts of the grounds is a dilapidated mausoleum said to be home to a green, glowing light often seen right where the coffins used to be located.
3. The New Orleans Tomb That Grants Wishes
Famed "Voodoo Queen" Marie Laveau is buried in arguably the oldest and most famous cemetery in New Orleans, St. Louis Cemetery No. 1. (Or said to be, anyway—some dispute surrounds her actual burial spot.) For years, visitors hoping to earn Marie's supernatural assistance would mark three large Xs on her mausoleum; some also knocked three times on her crypt. However, a 2014 restoration of her tomb removed the Xs, and there's a substantial fine now in place for anyone who dares write on her tomb.
4. Pennsylvania's Bleeding Headstone
The Union Cemetery in Millheim has one of the nation's weirder headstones: It's said to bleed. The grave belongs to 19th-century local William (or Daniel) Musser, whose descendants tried to replace the tombstone repeatedly, but the blood (or something that looked like blood) just kept coming back—until they added an iron plate on top.
5. Smiley's Ghost in Garland, Texas
A single plot in the Mills Cemetery is home to five members of the Smiley family, who all died on the same day. Rumor has it that if you lie down on the grave at midnight (especially on Halloween), you'll find it very difficult to rise back up, as the ghost of old man Smiley tries to pull you down, hoping to add one more member to the family's eternal resting place.