5 Cemetery Road Trips for the Ultimate Taphophile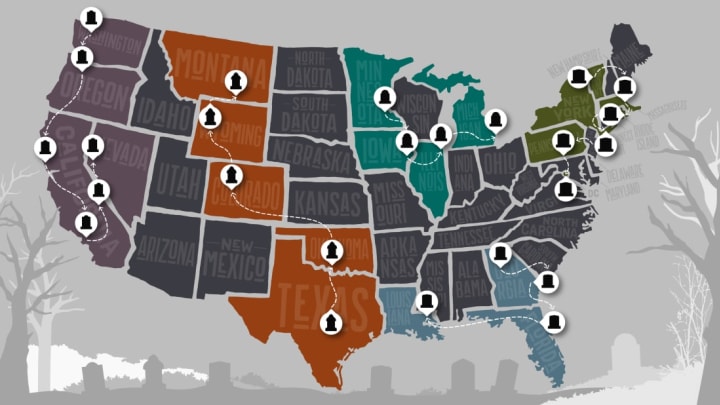 Lucy Quintanilla/iStock / Lucy Quintanilla/iStock
Autumn is the best time of year for a road trip. The weather is cooling down, the leaves are turning, and fewer people are on the roads. With Halloween on the horizon, cemeteries are natural destinations. These five journeys—compiled by Loren Rhoads, author of the book 199 Cemeteries to See Before You Die—are a great way to explore America's rich and varied history as recorded on its tombstones. Truly dedicated taphophiles (from the Greek for "tomb") can combine them into one itinerary covering 22 states and more than 10,000 miles. Tombstone tourists, rejoice.
1. Northeast
Lucy Quintanilla/iStock
A. Hope Cemetery
201 Maple Avenue, Barre, Vermont
44.2107° N, 72.4994° W
Barre's Hope Cemetery is a jaw-dropping open-air sculpture garden, featuring locally quarried granite carved into everything from angels to sports cars to life-sized portraits. The cemetery is especially gorgeous when the leaves turn in autumn.
B. Mount Auburn Cemetery
580 Mount Auburn Street, Cambridge, Massachusetts
42.3752° N, 71.1450° W
Designed by Dr. Jacob Bigelow, the foremost botanist of his day, this breathtaking place may be the most important cemetery in America. Its opening in 1831 signaled a shift from austere churchyards to park-like cemeteries full of trees and flowers. One of the most striking grave monuments remembers Mary Baker Eddy, founder of Christian Science.
C. Touro Jewish Cemetery
Touro Street, Newport, Rhode Island
41.48793° N, 71.30936° W
Open only one day a year, the Touro Cemetery is the second-oldest Jewish cemetery in the U.S. Henry Wadsworth Longfellow wrote a beautiful poem about the place. Nearby Touro Synagogue offers a brochure to explain the significance of the cemetery to visitors who come to gaze through its gates.
D. Green-Wood Cemetery
500 25th Street, Brooklyn, New York
40.6590° N, 73.9956° W
Lovely Green-Wood Cemetery is the forefather of city parks in America. Full of famous names and one-of-a-kind monuments, the cemetery rewards repeat visits. Among those buried here are Jean-Michel Basquiat, FAO Schwarz, and conductor Leonard Bernstein.
E. Soldiers' National Cemetery
Gettysburg National Military Park
1195 Baltimore Pike, Gettysburg, Pennsylvania
39.82177° N, 77.23256° W
Author's collection
President Lincoln's Gettysburg address announced the system of national cemeteries for casualties of federal battles. In Soldiers' National Cemetery, granite stones marked with the tally of unknown soldiers from each state in the Union provide a sobering reminder of the costs of war.
F. Congressional Cemetery
1801 E. Street SE, Washington, D.C.
38.8811° N, 76.9780° W
Originally designed as a graveyard for congressmen who died in office, the Congressional Cemetery became the final resting place for a wide assortment of public servants. FBI Director J. Edgar Hoover, Civil War photographer Mathew Brady, and march king John Philip Sousa—as well as pioneers in the fights for Native American rights, women's rights, and gay rights—are all buried here.
2. South
Lucy Quintanilla/iStock
A. The Martin Luther King Jr. Center for Nonviolent Social Change
449 Auburn Avenue NE, Atlanta, Georgia
33.7563° N, 84.3734° W
Dr. Martin Luther King Jr. rests on the grounds of the Center for Nonviolent Social Change, founded in his name by his widow Coretta Scott King in 1968. After her death in 2006, Mrs. King joined him in a matching sarcophagus. The King Center is open 9 to 5, seven days a week, except for major holidays.
B. Bonaventure Cemetery
330 Bonaventure Road, Savannah, Georgia
32.0444° N, 81.0467° W
Oaks draped with Spanish moss surround museum-worthy statuary in Bonaventure Cemetery. When John Muir camped there in September 1867, he wrote that the cemetery was "so beautiful that almost any sensible person would choose to dwell here with the dead" [PDF]. More than a century later, the cemetery still makes all the lists of most beautiful graveyards.
C. Tolomato Cemetery
14 Cordova Street, Saint Augustine, Florida
29.8970° N, 81.3151° W
American citizens of Saint Augustine started using this acre of land as a cemetery in 1777, although the Spanish used it as a graveyard even earlier. As such, it may be the oldest European-founded cemetery in the U.S. Although Hurricane Irma did significant damage in September 2017, Tolomato Cemetery opens on the third Saturday of each month from 11 a.m. to 5 p.m. Admission is free, but donations are encouraged to help with preservation.
D. St. Louis Cemetery #1
425 Basin Street, New Orleans, Louisiana
29.9608° N, 90.0754° W
Author's collection
New Orleans's tropical heat and humidity gave rise to the so-called oven tomb, which can reduce a corpse to bones in less than a year. In the back of each of these tombs stands a receptacle called a caveau, which contains the bones of all its occupants mixed together through the generations.
The most famous tomb in the oldest surviving cemetery in New Orleans may belong to Marie Laveau, the Voodoo Queen. The death date on the tomb is closer to her daughter Marie's, but since the bones of all the tomb's occupants lie jumbled together in its central caveau, it's believed the original Marie rests there as well. After vandalism of the tomb spiraled out of control, the cemetery now opens only to tour groups. Luckily, there are many tours from which to choose.
3. West
Lucy Quintanilla/iStock
A. Texas State Cemetery
909 Navasota Street, Austin, Texas
30.15994° N, 97.43553° W
Conceived as a pantheon to the famous sons of Texas, the Texas State Cemetery is the final home of Gene Cernan, the last man to walk on the moon, as well as Congresswoman Barbara Jordan, who helped impeach Richard Nixon. Also buried here are Governor Ann Richards, Chris Kyle (author of American Sniper), and Stephen Austin himself, all of whom lie beneath remarkable statuary.
B. Apache Prisoners-of-War Cemetery
The East Ridge at Fort Sill, Lawton, Oklahoma
34.6960° N, 98.3710° W
After his capture by the U.S. Cavalry, Apache chief Geronimo remained a prisoner of war at Fort Sill until his death in 1909. His grave remained unmarked for many years, but early in World War II, the 501st Airborne took his name as their motto. With the permission of Geronimo's descendants, paratroopers built the pyramid of stones that now marks Geronimo's grave. Around him lie men proud to be remembered as his warriors.
C. Riverside Cemetery
5201 Brighton Boulevard, Denver, Colorado
39.4739° N, 104.5733° W
Dating to 1876, the year Colorado attained statehood, Riverside Cemetery embraced African American pioneers, the first native New Mexican elected to Congress, and the first doctor to theorize that cholera was contagious. The cemetery has struggled recently, but the Fairmount Heritage Foundation welcomes visitors by leading monthly tours.
D. Fort Yellowstone Army Cemetery
Grand Loop Road, Yellowstone National Park, Wyoming
44.9646° N, 110.7002° W
Before the formation of the National Park Service, the U.S. Army guarded Yellowstone from poachers and souvenir hunters. Their sober little cemetery underlines the dangers lurking in one of the most stunning places in America. As reported in Lee H. Whittlesey's Death in Yellowstone, causes of death in this cemetery include drowning, avalanche, being struck by lightning, runaway horses, and grizzly bear attack.
E. Custer National Cemetery
Little Bighorn Battlefield National Monument, Crow Agency, Montana
45.5714° N, 107.4332° W
When gold was discovered in the Black Hills, the federal government demanded access across land it had set aside for the Lakota Sioux. As many as 10,000 Native Americans refused to renegotiate the treaty. In June 1876, Lt. Colonel George Armstrong Custer led the 7th Cavalry to attack, only to be wiped out by the Lakota, Cheyenne, and Arapaho. It took more than a century for the Native warriors to be commemorated here.
4. West Coast
Lucy Quintanilla/iStock
A. Lake View Cemetery
1554 15th Avenue E, Seattle, Washington
47.6341° N, 122.3153° W
High on a hill overlooking the city, Lake View's most famous residents are Bruce Lee and his son Brandon. Also buried here are Princess Angeline, daughter of Chief Sealth (who gave his name to Seattle), as well as madams, lumber barons, and politicians—a who's who of Seattle's historical figures.
B. Lone Fir Cemetery
SE 26th Avenue, Portland, Oregon
45.5173° N, 122.6446° W
Portland's pioneer cemetery is glorious in springtime, when its rhododendrons bloom. Full of pioneers, prostitutes, shanghai captains, mayors, and governors, the cemetery also features some unusual modern grave monuments. Vandalism and the weather have been hard on Lone Fir, but its Friends group offers tours to raise money for repair.
C. Fort Ross State Historic Park
19005 Coast Highway 1, Jenner, California
38.5143° N, 123.2485° W
Author's collection
In 1812, Russia invaded Northern California. Russian pioneers built a fort, married local women, and hunted sea otters along the coast. By 1839, they no longer needed to provision Russian settlements in Alaska, so the fort was abandoned, leaving behind a little graveyard. The California Historical Landmarks Committee took control of it in 1906.
D. Hollywood Forever
6000 Santa Monica Boulevard, Hollywood, California
34.0904° N, 118.3206° W
Once the swankest cemetery in Old Hollywood, Hollywood Forever is now the final resting place of Johnny and Dee Dee Ramone, Mel Blanc, Darren McGavin, Rozz Williams, John Huston, Cecil B. DeMille, and many more. The cemetery hosts concerts, movies, author events, and a magnificent Dia de los Muertos celebration.
E. Manzanar Cemetery
Manzanar National Historic Site, Inyo County, California
36.7255° N, 118.1626° W
The Manzanar War Relocation Center was the first American concentration camp to open during World War II. At its height, Manzanar imprisoned 10,000 men, women, and children of Japanese descent, most of whom were American citizens. Although the bulk of the camp was demolished, the cemetery's Soul Consoling Tower continues to mark the graves of people who died while interned there.
F. Silver Terrace Cemeteries
381 Cemetery Road, Virginia City, Nevada
39.3165° N, 119.6451° W
Author's collection
After the 1859 discovery of one of the richest lodes of gold in history, Virginia City became the largest town between Denver and San Francisco. Of course, this necessitated the largest cemetery district as well. The 22 adjacent graveyards making up Virginia City's Silver Terrace Cemeteries are now part of one of the largest National Historic Landmark Districts in the country.
5. Midwest
Lucy Quintanilla/iStock
A. Lakewood Cemetery
3600 Hennepin Avenue, Minneapolis, Minnesota
44.5659° N, 93.1734° W
Modeled on Istanbul's Hagia Sophia, Lakewood's Mortuary Chapel is a spectacular example of Byzantine Revival architecture. Mosaic tiles, some as small as a fingernail, adorn its interior. At Lakewood, politicians with modernist monuments are buried beside names familiar from the grocery store: Charles Pillsbury and Franklin Mars, who founded the candy company that bears his name.
B. Oakland Cemetery
1000 Brown Street, Iowa City, Iowa
41.6697° N, 91.5222° W
Urban legends surround the Black Angel of Oakland Cemetery: if you kiss the statue, you'll be struck dead; if a pregnant woman crosses its shadow, she will miscarry; if ever a virgin is kissed in front of the statue, it will resume its normal bronze color and the curse will be broken. Strangely enough, this is not the only black angel in Iowa—and the other has legends swirling around it as well. Daniel Chester French's monument to spiritualist Ruth Ann Dodge stands in the Fairview Cemetery in Council Bluffs.
C. Graceland Cemetery
4001 North Clark Street, Chicago, Illinois
41.9548° N, 87.6619° W
Known as the Cemetery of the Architects, Chicago's Graceland Cemetery holds the Carrie Eliza Getty mausoleum, considered one of the first examples of modern architecture. Graceland Cemetery also contains a wealth of magnificent statuary, including Lorado Taft's Eternal Silence and Daniel Chester French's Memory.
D. Elmwood Cemetery
1200 Elmwood Avenue, Detroit, Michigan
42.3466° N, 83.0179° W
Author's collection
Practically in the shadow of Detroit's Renaissance Center, this dramatic garden cemetery stands on ground fought over during the French and Indian War. Elmwood Cemetery is the final resting place of Canadian Club whiskey founder Hiram Walker, guitarist Fred "Sonic" Smith of the MC5, and Detroit's legendary mayor Coleman Young, who was a Tuskegee Airman.
Cemeteries are lenses, revealing what their local communities choose to celebrate alongside things that must not be forgotten. This list merely skims the surface—go see what you can discover.
This article was first published in 2017 and updated in 2019.
Mental Floss has affiliate relationships with certain retailers and may receive a small percentage of any sale. But we choose all products independently and only get commission on items you buy and don't return, so we're only happy if you're happy. Thanks for helping us pay the bills!