Host an Epic Summer Party at This 40-Seat Pop-Up Bar—Without Leaving Your Backyard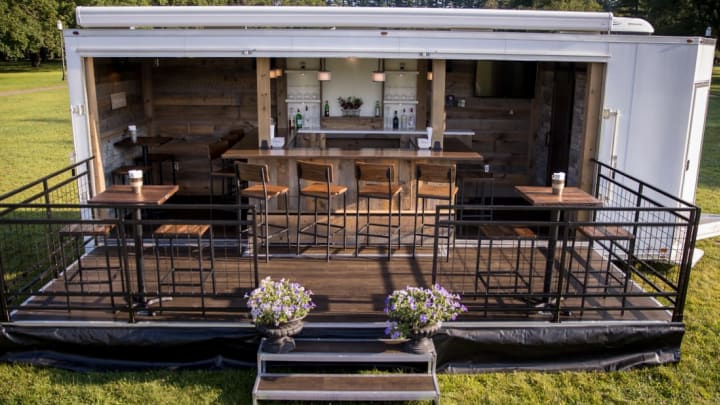 The Yard Bar / The Yard Bar
Wishing you could go down in history as the host of the best backyard summer bash that your neighborhood has ever seen?
With the Yard Bar, you can. The portable bar, created by husband-and-wife team Andy and Kerri Marin, is 30 feet long, seats up to 40 people, and comes with virtually everything you need for an unforgettable party: wooden bar stools and high-top tables, a flat-screen TV and commercial sound system, recessed lighting, running water, a generator, and plenty of room for a fully stocked bar. And the retractable awning will prevent any actual rain from raining on your parade, wedding, birthday party, or whatever offbeat summer holiday you might be celebrating.
You'll have to provide the alcohol yourself, but don't worry if you don't have much bar-stocking experience—the Marins can work with you to create specialty cocktail recipes for your event, and they'll even help you figure out how much alcohol you'll need depending on the size of your party.
If your own yard isn't quite ideal for such a legendary affair in the making, feel free to book the Yard Bar for somewhere less conventional. "If you can imagine it somewhere, it can probably go there," Kerri Marin told Philadelphia Magazine, "It's even been on top of a boat!"
The simple, rustic elegance of the Yard Bar achieves the perfect blend of indoor warmth and outdoor freshness, and it's a great solution for people who love the idea of going to a bar, but aren't so keen on the crowded, rowdy, noisy nature of hordes of strangers drinking in a contained space.
The Marins have seen such success with their Philadelphia-based bar that they've now expanded to upstate New York and several areas of Florida, including Orlando, Tampa, and Miami.
If you'd like a portable pub with more of an Irish vibe, be sure to check out The Shebeen or the inflatable PaddyWagon.
[h/t Philadelphia Magazine]