15 of the World's Most Popular Beaches as Seen From Above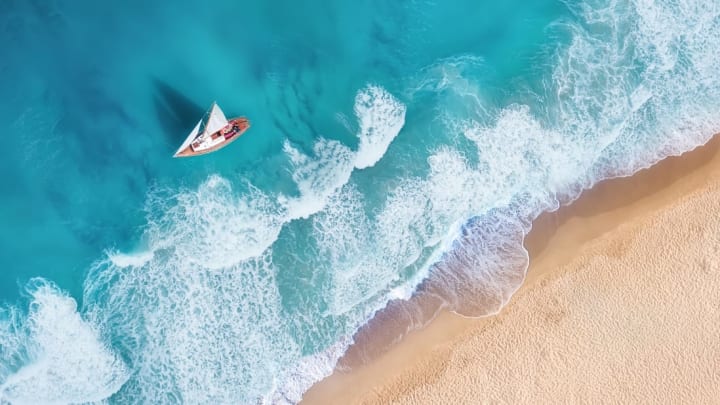 Biletskiy_Evgeniy/iStock via Getty Images / Biletskiy_Evgeniy/iStock via Getty Images
Planning your next great beach vacation? See what the world's most popular spots for sun and sand look like from the sky.
1. South Beach // Miami Beach, Florida
Lady-Photo/iStock via Getty Images
Miami Beach, Florida's South Beach is a major entertainment area, attracting tourists from all over the world to enjoy the city's unique nightlife, shopping, and restaurants.
2. Bondi Beach // Sydney, Australia
weareadventurers/iStock via Getty Images
With its breathtaking views and vibrant beach culture, it's no wonder that Bondi Beach is one of Australia's most iconic destinations.
3. Tulum, Mexico
Creative-Family/iStock via Getty Images
Tulum, Mexico's crystalline beaches are just one part of what makes this seaside town the third most visited site in Mexico.
4. Surin Beach // Phuket, Thailand
Travel Wild/iStock via Getty Images
Acting more like a coastal village than a beach resort, Thailand's Surin Seach is also known as "Millionaire's Row" because it's lined with luxury resorts that are filled with A-list celebrities.
5. Waikiki Beach // Honolulu, Hawaii
felixmizioznikov/iStock via Getty Images
Located in the Hawaiian capital of Honolulu, Waikiki Beach—which is 2 miles long—accounts for about 42 percent of the state's annual tourist industry revenue.
6. Deauville Beach // Normandy, France
RossHelen/iStock via Getty Images
Deauville Beach in Normandy, France is often referred to as the "queen of the Norman beaches." In addition to being surrounded by a ton of history, it's one of the most prestigious seaside resorts in all of France.
7. Navagio Beach // Zakynthos, Greece
FelipeDutra/iStock via Getty Images
Located in the Ioanian Islands of Greece, Navagio Beach, a.k.a. Shipwreck Beach, is a secluded cove and is often cited as the most beautiful beach in Greece (which is pretty high praise when you consider the competition).
8. Trunk Bay // St. John, U.S. Virgin Islands
SeanPavonePhoto/iStock via Getty Images
St. John's most famous beach, Trunk Bay, has a snorkeling trail for its visitors that includes information about coral formations and sea life.
9. Maya Bay // Phi Phi Islands, Thailand
Travel Wild/iStock via Getty Images
Danny Boyle's 2000 film The Beach, starring Leonardo DiCaprio, may have been a box office dud—but it made a star out of its filming location in Thailand. So much so that the beach became a sort of victim of its own success; because of the amount of tourists it attracted (it was regularly called "the most famous beach in Thailand"), it closed to tourists in 2018. Earlier this year, officials announced a tentative reopening in the summer of 2021.
10. Anse Source d'Argent // Seychelles
mariiakamenska/iStock via Getty Images
Located in the Seychelles, an archipelago off the cost of East Africa, Anse Source d'Argent—with its pink sands and rows of beaches—is a great place to both relax and explore.
11. Isola Bella // Taormina, Sicily
j-wildman/iStock via Getty Images
Isola Bella, one of Sicily's most beautiful beaches, is located in Taormina, a small hilltop town that is also home to Teatro Antico di Taormina, an ancient theater that's still in use today.
12. Newport Beach, California
TraceRouda/iStock via Getty Images
Whether it's hiking or water activities, Newport Beach has plenty to do for both sunbathers and adventure-seekers.
13. Railay Beach // Thailand
JaySi/iStock via Getty Images
Getting to Thailand's Railay Beach is part of the adventure: It's a small peninsula that is only accessible by boat.
14. Surfer's Paradise // Queensland, Australia
zstockphotos/iStock via Getty Images
This seaside resort in Eastern Australia offers great views and majestic waves, making it truly live up to its name.
15. Kamari Beach // Santorini, Greece
SStajic/iStock via Getty Images
Kamari Beach resides on one of Greece's most popular islands, Santorini, and is notable for its unique black sand.