Fabric Allegedly From Queen Elizabeth I's Only Surviving Piece of Clothing Is Going on Display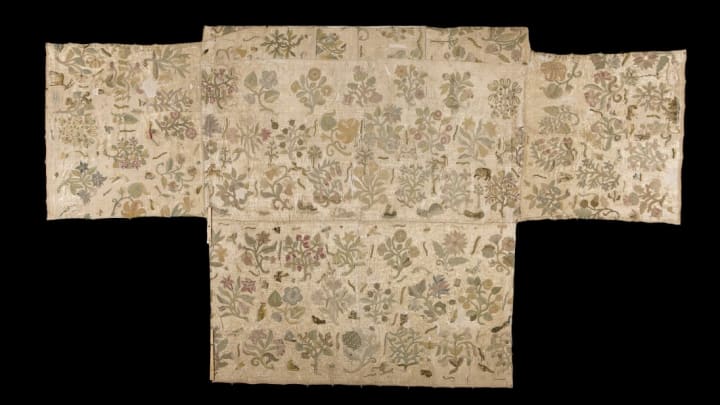 © Historic Royal Palaces Courtesy of St. Faith's Church, Bacton / © Historic Royal Palaces Courtesy of St. Faith's Church, Bacton
When Eleri Lynn, curator of historic dress at Historic Royal Palaces, first laid eyes on the Bacton altar cloth, she had a feeling that it wasn't your typical 16th-century altar cloth. She had come across it online while researching Welsh connections to the Tudor court, and decided to pay a visit to St. Faith's Church in Bacton, Herefordshire, England, to see it in person.
"I knew immediately that it was something special," she told The Telegraph. "As I examined it, I felt as though I had found the Holy Grail, the Mona Lisa of fashion." After a year's worth of careful analysis, experts believe it was originally part of a dress that Queen Elizabeth I wore in the Rainbow Portrait of 1602. That makes it the only known surviving piece of clothing worn by the Virgin Queen.
The cloth and Elizabeth I's dress are both embroidered with roses, daffodils, and other flowers. The altar cloth shows animals like butterflies, frogs, squirrels, and bears, which Lynn thinks were added after the Rainbow Portrait was painted. Lynn also noticed that the altar cloth contains strands of gold and silver, which only the royal family could wear during Elizabeth I's reign due to strict sumptuary laws.
© Historic Royal Palaces Courtesy of St. Faith's Church, Bacton
© Historic Royal Palaces Courtesy of St. Faith's Church, Bacton
Since royal attire was so extravagant, it was often handed down to the next generation or reincarnated as upholstery. And, according to a statement from Hampton Royal Palaces, Elizabeth I sometimes gave her hand-me-downs to Blanche Parry, her Chief Gentlewoman of the Bedchamber and the woman who had nursed her from infancy. Parry, as it so happens, belonged to St. Faith's Church. Lynn and her fellow historians posit that Elizabeth I may have even sent this particular fabric to St. Faith's in memory of her companion.
While recycling or reusing clothing was sustainable, it has made it difficult for Lynn and her contemporaries to track down fashion relics from the Tudor dynasty. In addition to that, Lynn told The Telegraph, "Oliver Cromwell sold off every item of clothing in the royal stores, so the only things we have, including a hat which might have been worn by Henry VIII, have come back to Hampton Court after they have survived elsewhere."
St. Faith's has loaned the cloth to Historic Royal Palaces, the charity that oversees Hampton Court Palace, where you can see it on display along with the Rainbow Portrait and other Tudor artifacts from October 12, 2019, to February 23, 2020.
[h/t The Telegraph]