How Anoka, Minnesota, Became the Halloween Capital of the World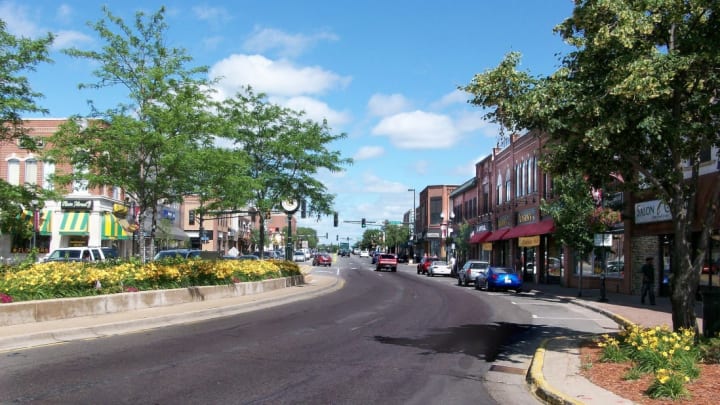 A photo of Main Street in downtown Anoka, Minnesota. / 123dieinafire, Public Domain // Wikimedia Commons
On November 1, 1919, the residents of Anoka, Minnesota, a suburb about 20 miles north of Minneapolis, woke up to what Smithsonian calls a "prank of epic proportions." Outhouses were overturned, wagons were parked on roofs, and cows roamed through the streets.
The prank was part of an epidemic of Halloween-related hijinks that seemed to grow more extreme with each passing year. Civic leaders decided that the time had come for the city to do something to dissuade such mischief—or at least to keep would-be pranksters so busy that they couldn't dream of causing trouble.
So in 1920 a Halloween committee, fronted by local businessman George Green, planned one of the first—and largest—community-wide Halloween celebrations in the United States. The 1920 celebration, featuring a parade, a bonfire, and free candy for children, and was so successful that the police received no reports of pranks.
The celebration only grew in subsequent years, and Anoka leaders wanted people to know it. In 1937, 12-year-old Anoka local Harold Blair was one of 200 Minneapolis Journal newspaper carriers to receive an all-expenses-paid trip to Washington, D.C. Members of the Anoka Commercial Club seized on the opportunity, sending Blair off with a request to Congress that Anoka be formally designated as the "Halloween Capital of the World." A fire in Anoka destroyed many of the city's earliest documents about the Halloween celebration, so it's hard to know whether Congress approved the moniker back in the 1930s. But in 2003, Minnesota state representative Mark Kennedy restated the proclamation, officially cementing Anoka's title.
"It's like a pebble being dropped into a pond," Karen George, a member of the board of directors of Halloween, Inc. (the nonprofit organization that plans Anoka's yearly festivities), told Smithsonian in 2019. "It's really the people of Anoka who want to enjoy this hometown festival, and then they bring along relatives and friends who tell others about it."
Today, Anoka's Halloween festivities have expanded to three parades instead of one, and includes other community activities such as a house decorating competition, bell ringing, and a group pumpkin smashing. In 2020, Anoka's Halloween festival is celebrating its 100-year anniversary. By most accounts, the holiday has become a part of Anoka's identity.
"I would say Halloween is in my bone marrow," Anoka resident John Jost told CBS Minnesota. "Being an Anokoan, the Halloween experience is tied directly to that."
This story has been updated for 2020.