Flamingo Yoga Is on the Itinerary at This Bahamas Resort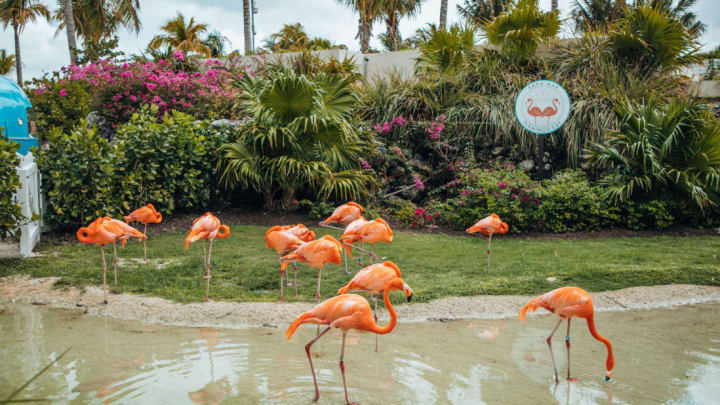 Courtesy of Julianna Vezza/Grand Hyatt Baha Mar / Courtesy of Julianna Vezza/Grand Hyatt Baha Mar
In recent years, the practice of yoga appears to have been co-opted by the animal kingdom. A series of programs offering everything from goat yoga in Oregon to cat yoga in Illinois have sprung up, promising a workout that involves communing with non-human participants.
You can now add flamingo yoga to the list. Visitors to the Baha Mar Resort in the Bahamas are invited to attend yoga classes featuring a small group of feathered assistants. A total of four pink flamingos—Baha, Lynden, Indy, and Luca—take an active role, climbing over guests and investigating their poses with prodding beaks. A flamingo handler is on hand to manage the birds while the yoga instructor takes care of the human population.
Courtesy of Maddie Winters/Grand Hyatt Baha Mar
Flamingos are social creatures with a large presence, reaching four or five feet in height but weighing just four to eight pounds. A pink flamingo's color comes from the beta-carotene in the seafood they eat. Without it, they would turn white.
The class is held every Wednesday morning. The cost is $40 and is open to all guests of the three Baha Mar resorts, including the Grand Hyatt, Rosewood, and SLS Baha Mar. There are also private flamingo yoga classes available upon request, or you can just enjoy a daily marching parade. If you can't make it, consider heading to Manitoba, where Alpaca dance classes promise to give you an equally intriguing vacation story.
[h/t Travel + Leisure]