Gorgeous Timelapse Shows What a Year in Vermont Looks Like in Two Minutes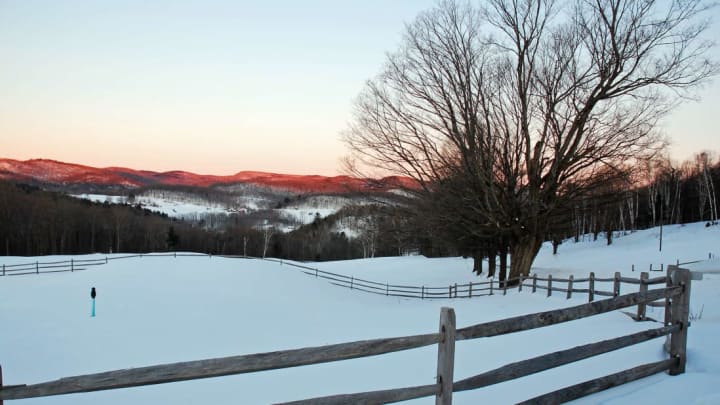 Kirkikis/iStock via Getty Images / Kirkikis/iStock via Getty Images
If you live in a state with a middling climate where seasonal changes are mostly just the difference between warm and cool breezes, you might not fully understand the impulse to take a photo of your front yard every single week for an entire year.
If you live in New England, on the other hand, you can probably identify with Jennifer Hannux, a Vermont resident who did just that. Then, she edited the 52 photos into one glorious, two-minute-long timelapse and posted it on Twitter.
Hannux, whose Twitter handle is @VermontJen, took the photos from her front porch, which overlooks a sometimes-grassy, sometimes-snowy clearing that leads into an expansive forest with Mount Ascutney visible beyond it.
The video features lush summer greenery, ethereal snowscapes, vibrant fall foliage, and just about every sunrise color you can imagine. Overall, it's a breathtaking homage to Vermont's natural beauty, and a pretty compelling reason to consider relocating to New England's least-populated state. It's good timing for that, too, since Vermont's government just launched a program that could pay you up to $7500 for becoming a full-time resident and employee in the Green Mountain State.
This is far from Hannux's first foray into landscape photography—according to NECN, she posted a similar (albeit snowier) timelapse of images taken from her front porch in 2018. She also runs a photography business called Northeast Kingdom Photography, which you can check out here.
[h/t NECN]