8 Surprising Facts About Andy Kaufman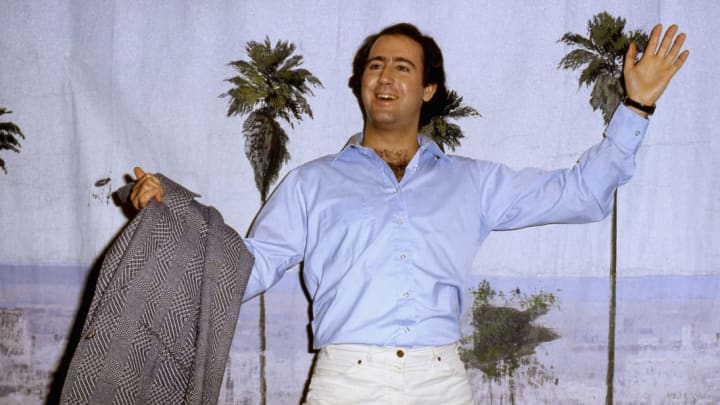 Andy Kaufman in 1981. / Joan Adlen, Getty Images
For fans of the late comedian Andy Kaufman (1949-1984), the debate over whether Kaufman was more interested in antagonizing audiences or making them laugh still rages. During a career that saw him appear on stage and on television (Taxi), the performer often blurred the lines between his real persona and the characters he inhabited.
For more on Kaufman, keep reading. Thank you very much.
1. Andy Kaufman got a letter from his doctor that kept him from being drafted.
Born in New York City on January 17, 1949, Kaufman was raised in Great Neck, Long Island and displayed an interest in performing from an early age, entertaining children at their birthday parties when Kaufman himself was only 8 years old. After graduating from high school in 1967, Kaufman though he might be drafted for military service but didn't wind up serving. His doctor wrote a letter explaining that Kaufman seemed to have no basic grasp of reality, let alone the Vietnam conflict. Joining the Army, the doctor wrote, might cause Kaufman to completely lose his mind. The letter, which likely contained a good measure of hyperbole, earned him a permanent 4-F deferment from service. He went on to attend Grahm Junior College in Boston.
2. Andy Kaufman's stand-up act was very, very bizarre.
Kaufman got his start in the early 1970s performing at comedy clubs in New York and Los Angeles. Unlike most comics of the time, Kaufman didn't write a conventionally-structured act. Instead, he would take on the role of performance artist, confusing audiences with stunts like reading from The Great Gatsby and threatening to start over if they complained. He would also drag a sleeping bag on stage and climb into it or do his laundry with a portable dryer. These appearances were sufficiently provocative that Kaufman sometimes hired off-duty police officers to break up fights in the crowd or intercept people trying to attack him.
3. Andy Kaufman once opened for Barry Manilow.
Before Kaufman got television exposure, it was easy for bookers to assume he was a polished and conventional performer. As a result, Kaufman got a number of gigs in the early 1970s opening for established musical acts like the Temptations and Barry Manilow. Appearing onstage in 1972 before the Temptations came out, Kaufman wept and then shot himself in the head with a cap gun. Similarly bizarre behavior was also displayed before a Manilow concert, with irate members of the audience having to be calmed down by Manilow himself.
4. Andy Kaufman was once voted off of Saturday Night Live.
Kaufman succeeded in drawing attention to himself on stage, which led to being invited to perform on Saturday Night Live beginning in 1975. During these appearances, Kaufman would take material from his act, including his lip-syncing of the theme to the Mighty Mouse animated series. Such stunts drew a mixed reception from viewers. From 1975 to 1982, Kaufman made a total of 14 appearances on the show. Then, producers decided to offer viewers the chance to "vote" Kaufman off by calling in to cast their ballot. On the November 20, 1982 broadcast, 195,544 callers asked that the show not permit him to come back on. They outnumbered the 169,186 viewers who called in support of him. While the bit was intended to be humorous, Kaufman honored the results and never appeared on Saturday Night Live again.
5. Andy Kaufman once took his entire audience out for milk and cookies.
Kaufman eventually took his show to Carnegie Hall in 1979, where he was greeted by 2800 people who had come to appreciate his eccentric approach to performing. At the show's conclusion, he invited the entire audience to board buses waiting outside the building. Kaufman took them to the New York School of Printing in Manhattan, where he served the nearly 3000 attendees milk and cookies. He later gave them a ride on the Staten Island Ferry.
6. Andy Kaufman thought about franchising Tony Clifton.
One of Kaufman's great ruses on the public was dressing as the abrasive lounge singer Tony Clifton, complete with prosthetic chin and torso padding, all while insisting Clifton was an entirely different person. Kaufman sometimes enlisted associates, including his brother Michael and his writing partner Bob Zmuda, to put on the make-up. In 2013, Michael told Vice that Kaufman's plan was to have Clifton become a roving character. "Andy had been talking about franchising Tony Clifton before he died," Michael Kaufman said. "He was going to have one in every state."
7. Andy Kaufman insisted on an Andy Kaufman stand-in for Taxi.
When Kaufman agreed to appear on Taxi (1978-1983) as Latka Gravas, a version of the "Foreign Man" character he had been performing on stage, he had a peculiar request: He wanted to be expected on set for only two of the five shooting days for each episode. While Kaufman didn't seem to want to do it at all, the paycheck allowed him to pursue his more experimental brand of comedy. Producers agreed. In 2018, co-star Carol Kane, who played Kaufman's love interest, told The Hollywood Reporter that the cast "would work with a fake Andy who wore a sign around his neck that said 'Latka.'"
Kaufman also showed up to shoot an episode as his alter ego Tony Clifton, insisting that he was not Kaufman. Star Judd Hirsch got so angry that he had Clifton thrown off the set.
8. Andy Kaufman broke character for Orson Welles.
While there were certainly times Kaufman spoke from the heart, it was rare to see him break any one of his myriad characters in front of an audience. That happened—fleetingly—when Kaufman appeared on The Merv Griffin Show in 1982 on a night it was being guest-hosted by legendary film director Orson Welles. Sporting a neck brace from his stint in professional wrestling, Kaufman didn't keep up appearances for long. After Welles told him he was "fascinated" by his characters, talk turned to Kaufman's "Foreign Man," his Elvis Presley imitation, and his "third character," Tony Clifton. "Well, he wasn't a character," Kaufman said, correcting himself. "There's a lot of debate over whether it's a character or a real guy, and that's Tony Clifton, but that's a whole other story."
"That's metaphysics," Welles replied.