Mark Your Calendars: The Lyrid Meteor Shower Is Coming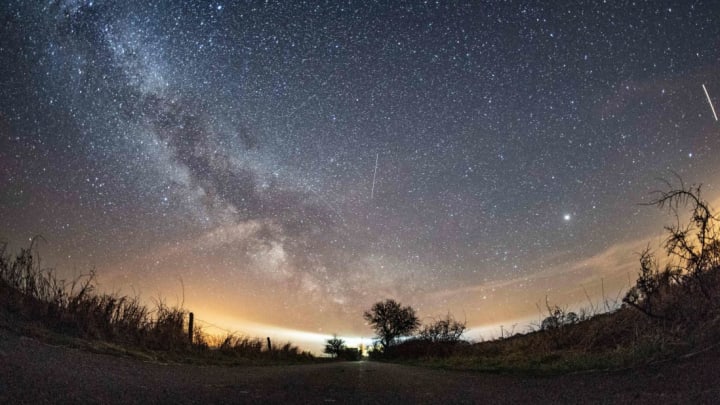 Daniel Reinhardt, Getty Images / Daniel Reinhardt, Getty Images
If you've grown tired of Zoom meetings, Netflix parties, and livestreams, take a break from staring at your screens to look up at the sky. Starting in April, the Lyrid meteor shower will make its annual appearance. Here's what you need to know to see the spectacle from wherever you're quarantined.
What are the Lyrids?
With written evidence of the event dating back to China around 690 BCE, the Lyrids are one of the oldest meteor showers on record. The light show occurs when our planet passes through the tail of the comet C/1861 G1 Thatcher, causing its rocky debris to burn up in the atmosphere.
From Earth, the Lyrids appear to originate from the constellation Lyra, which rises above the northeastern horizon after dusk, and the meteor shower borrows its name from the constellation. The Lyrids aren't as active as some other annual showers, usually maxing out at just 20 shooting stars per hour on peak nights. But patient spectators are sometimes rewarded: The event has been known to have outbursts of up to 100 meteors in a single hour. Such surges are rare and random, so all sky-gazers can do is look up at peak times and hope to get lucky.
How to See the Lyrid Meteor Shower
The Lyrids start every year around April 16, but your best chance at seeing them comes later in the month. Late April 21 through early April 22, the meteor shower is predicted to reach peak activity. Following that period, the shooting stars from the shower will become less frequent before finally fizzling out around April 25.
The Lyrids may be easier to spot in 2020 than in recent years. Since businesses closed and people started sheltering in their homes, there has been a slight dip in light and air pollution. Those darker, clearer skies will create better conditions for spotting shooting stars in some parts of the country. As always, waiting until skies are darkest—in the hours around midnight, typically—is the best way to boost your chances of seeing as many meteors as possible.