8 R-Rated Adult Coloring Books That Add a Little Edge to Your Relaxation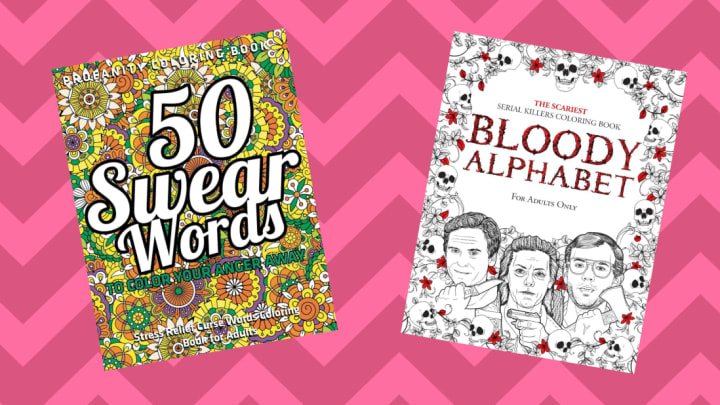 Amazon / Amazon
This article contains affiliate links to products selected by our editors. Mental Floss may receive a commission for purchases made through these links.
Coloring books marketed toward adults became big business back in 2015, and five years later, the trend continues. But if you're looking for something with a little more edge than the same ol' mandalas and nature scenes, these R-rated adult coloring books might be more your speed.
1. The Scariest Serial Killers Coloring Book; $10
True Crime Gifts/Amazon
If you're all out of Netflix true crime specials to binge, then satisfy your creative side with this coloring book full of some of the most heinous serial killers in history, including Ed Gein, Jeffrey Dahmer, and Ted Bundy. There are 23 in all, and each illustration includes details that are forever linked to the killers' calling cards.
Buy it: Amazon
2. Have a Nice Life A**hole: Breakup Stress Reliever Coloring Book; $7
CreateSpace Independent Publishing Platform/Amazon
Add coloring to the list of things you can do to deal with a major heartbreak. This coloring book includes more than 50 pages of tasteful floral patterns, accompanied by phrases like "I faked it every time" and "lying through your teeth is not considered flossing." Pair it with a pint of ice cream and a bottle of wine for maximum breakup tension relief.
Buy it: Amazon
3. Profanity Coloring Book: 50 Swear Words to Color Your Anger Away; $7
Amazon
Swearing is cathartic, researchers say. So is coloring! Why not combine the two? This coloring book features artistic designs of more than 50 of your favorite swear words. After a hard day at work or a difficult conversation with a friend or loved one, unwind by coloring an intricate, profanity-laced mandala that allows you to express how you really feel.
Buy it: Amazon
4. Drinking Animals Coloring Book; $9
Amazon
If you think kicking back with a drink is the pinnacle of relaxation, try combining it with some coloring next time you clock out on a Friday afternoon. Inside this coloring book, you don't just get pages of cute, cuddly animals enjoying their favorite libations—each one also comes with a recipe for their cocktail of choice. This way, you can drink along with that lion sipping a mint mojito or that bunny cradling a white wine spritzer, all in the name of art.
Buy it: Amazon
5. The Beauty of Horror: A GOREgeous Coloring Book; $16
IDW Publishing/Amazon
If your R-rated tastes run a bit more on the gory side, this is the coloring book for you. This book includes 80 pages of beautifully drawn decaying bodies, severed heads, and deadly weapons. It's perfect for the horror fan in your life. (If they really, really like it, there's a whole series of four gory coloring books, plus special editions for Halloween and Christmas).
Buy it: Amazon
6. Alien: The Coloring Book; $11
Titan Books/Amazon
Wear your red colored pencil down to the nub with page after page of chestbursters, facehuggers, and xenomorph swarms terrorizing the unfortunate humans who have graced the Alien franchise over the years. 
Buy it: Amazon
7. Color Me Drunk: A Drinking and Drawing Activity Book; $12
Potter Style/Amazon
Drinking while drawing is encouraged in this coloring book, which challenges you to solve puzzles and create doodles while drunk. Compare your drunk art to your sober art for extra fun.
Buy it: Amazon
8. Calm the F*ck Down: An Irreverent Adult Coloring Book; $5
Amazon
With 21 detailed illustrations of phrases like "suck it up, buttercup," "I color to hide the pain," and "meh," this coloring book suits whatever mood you're in. Inside, you'll find drawings of everything from abstract doodles to pictures of animals and fairies.
Buy it: Amazon
Sign Up Today: Get exclusive deals, product news, reviews, and more with the Mental Floss Smart Shopping newsletter!