The 10 Best Beaches in America, According to Dr. Beach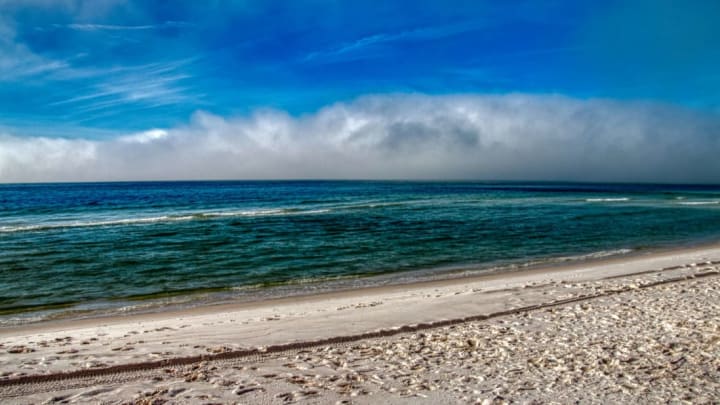 Grayton Beach? More like Blue-Ton Beach. / Jacob Boomsma/iStock via Getty Images
When searching for the perfect stretch of beach to laze away your vacation days, there are quite a few factors to consider. Some, like water clarity or sand texture, are more obvious than others; for example, you might not realize how much noise pollution a nearby highway generates until you're already on the beach.
To help you choose your next seaside getaway, Florida International University coastal research professor Stephen P. Leatherman, also known as "Dr. Beach," has released his annual list of the top 10 beaches in the U.S. Based on 50 criteria, ranging from the beach's width at low tide to the presence of jellyfish, the data reveals the Florida Panhandle is home to the best beach in the country. Grayton Beach State Park boasts exceptionally fine, white sand known as "sugar sand"; shallow, warm water with calm waves; and a 2000-acre nature park with rare coastal dune lakes and a hiking trail. It wasn't the only Florida beach to make the list—Caladesi Island State Park, off the coast of Dunedin and Clearwater, came in at number six.
North Carolina's Outer Banks islands were well-represented, too, with Ocracoke Lifeguarded Beach and Buxton's Lighthouse Beach taking the second and fifth spots, respectively. Dr. Beach also bestowed top honors on two of Hawaii's beaches: Oahu's Duke Kahanamoku Beach and the Big Island's Hapuna Beach State Park.
Even if you can't make it as far as Florida or Hawaii, Dr. Beach's metrics can help you decide what's important to you when it comes to choosing the best beach closer to home. Maybe you're not bothered by online reviews that warn about giant waves at a certain beach, but you're unwilling to budge about overcrowding.
The list of criteria isn't the only way that Dr. Beach is helping beachgoers plan the best, safest summer vacation possible—he's also compiled a few handy tips for heading to the beach during the coronavirus pandemic. First and foremost, you should check the beach's rules before you go; some places are only open for exercise, while others have made masks mandatory (even if yours doesn't require a mask, however, you should still wear one). Dr. Beach also recommends having a backup plan, just in case your ideal beach hits capacity before you get there.
See the full list of top 10 beaches below, and find out more about them here.
Grayton Beach State Park // Florida Panhandle
Ocracoke Lifeguarded Beach // Ocracoke, North Carolina
Coopers Beach // Southampton, New York
Duke Kahanamoku Beach // Oahu, Hawaii
Lighthouse Beach // Buxton, North Carolina 
Caladesi Island State Park // Dunedin, Florida
Hapuna Beach State Park // Big Island, Hawaii
Coast Guard Beach // Cape Cod, Massachusetts
Coronado Beach // San Diego, California
Beachwalker Park // Kiawah Island, South Carolina